Inside Donald Trump and Boris Johnson's Special Relationship
The two leaders have lavished praise on each other, but serious practical differences remain between them. How long will the honeymoon last?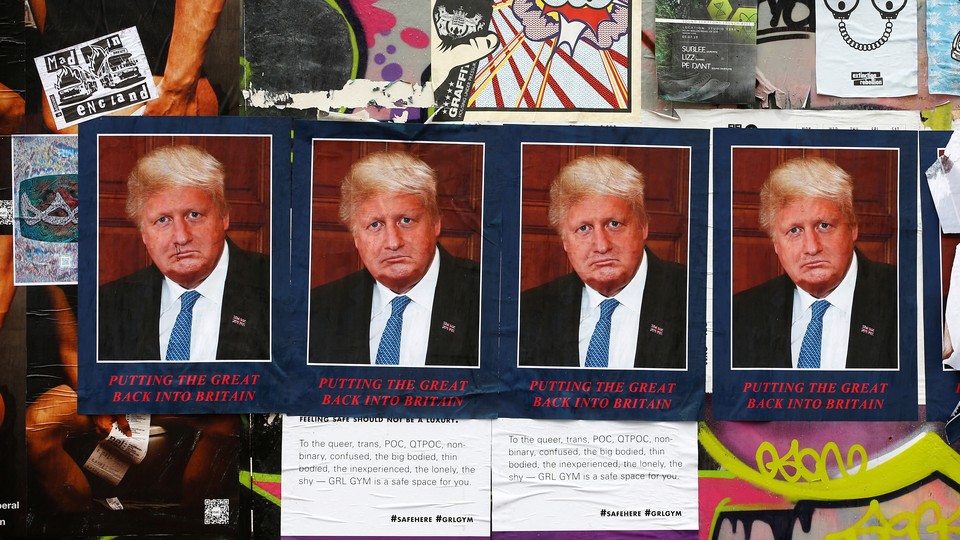 It was just after 8:30 p.m., and Boris Johnson was with a group of about 20 politicians and donors at a private dinner in central London. At the time—June 6, 2018—Britain was mired in what seemed like an unending Brexit deadlock, and Johnson, then the country's foreign secretary, was unhappy with the way Prime Minister Theresa May was handling it.
Away from the public glare, among friends and allies, he let his real feelings spill out.
"Imagine Donald Trump doing Brexit," Johnson said, according to an audio recording published by BuzzFeed News the following day. "He'd go in bloody hard. There'd be all sorts of breakdowns, all sorts of chaos. Everyone would think he'd gone mad. But actually you might get somewhere."
Implicit in Johnson's assessment was a damning verdict on May's cautious handling of the negotiations to take Britain out of the European Union. Yet a year on, having now unseated May as prime minister, Johnson's comments may also have been crucial in cementing his place in the U.S. president's mind as a brother-in-arms across the Atlantic. That in 2015, as London mayor, Johnson publicly criticized Trump as "out of his mind" and "unfit to hold the office of president of the United States" appears to have mattered little. To Trump, the leaked private praise is what has stuck—the surest path to Trump's affection being arrant flattery. The American leader has more recently rewarded Johnson with rare praise for a British politician, calling him "tough" and "smart," and the pair, in their first conversation since Johnson became prime minister, have extolled the possibilities of bolstering economic ties.
Despite the public love-in, though, serious practical differences remain between them—both philosophical and strategic, from how to deal with Iran and the strategic threat posed by China, to climate change, the future of NATO, and trade. Fundamentally, Britain's national interest, as currently calculated in London, sits uneasily with much of Trump's "America first" platform, pitting the two leaders against each other on core international strategy. Several current and former officials in London and Washington, most of whom requested anonymity to speak candidly about the two leaders and their interactions, pointed to this gulf as a looming issue. This tension, between personality and policy, may well define not just the "special relationship," but Britain's relations with much of the rest of the world, too.
In their first conversation as respective leaders—on Friday, 48 hours after Johnson's appointment as prime minister—Trump and Johnson spoke about the "unparalleled opportunity" to boost economic ties between the two countries after Brexit, and how much they looked forward to seeing each other in Biarritz, France, for a summit of the G7 group of industrialized countries in late August. The discussion was the latest in a string of recent positive remarks from each toward the other. Trump, in particular, has paid Johnson what he deems the ultimate compliment: "They're saying 'Britain Trump.' They call him 'Britain Trump.'"
Some former White House officials told us that Trump has also praised Johnson in private, seeing him as someone with the fortitude to achieve the goal that eluded his predecessor: leaving the EU. In prior conversations with Johnson—before he became prime minister, Trump spoke with Johnson over the phone while on a state visit to London in June—Trump had come away impressed, these people said.
That stood in contrast to his relationship with May, which had soured to the point that Trump viewed Johnson as a decided improvement, said people familiar with his thinking. He made clear to his advisers he didn't believe that May had what it took to lead Britain, and was particularly incensed over a dustup with May in 2017, after he retweeted false videos posted by a British far-right nationalist that appeared to show Muslim men carrying out acts of violence. When a spokesman for May criticized Trump for sharing the videos, the president privately raged against the prime minister, a former White House official said. "He said she was 'weak,' she didn't know what she was doing, and she was leading the country into the ground," this official said. "It was every possible insult and frustration."
"President Trump and May are just different personalities," said Clete Willems, a former senior White House trade official under Trump and now a partner at Akin Gump, a law firm. "President Trump sees Johnson as a kindred spirit, and that bodes well for their ability to work through problems."
But if Trump's almost three years in office have proved anything, it is that personal relationships count for little in raw, practical terms. French President Emmanuel Macron's early romance with Trump—cemented over dinner at the Eiffel Tower—has become strained in the face of political differences, and Japan's Shinzō Abe, who has maintained a good personal relationship with the U.S. president, has won few obvious concessions.
"Trump's whole record of relationships is, 'You're my best friend, as long as you're doing exactly what I want. And when you stop doing what I want, then I'm going to attack you,'" said William Reinsch, a trade expert at the Center for Strategic and International Studies, in Washington. "It takes a lot of work to maintain a good relationship with Trump, because loyalty only runs one way." Of Trump's relationship with Johnson, Reinsch continued: "They're buddies this week, but that doesn't mean they'll be buddies when they get around to negotiating a trade agreement. An awful lot of things can happen between now and then."
And therein lies the difficulty—personal affinity will only take this relationship so far. On issues of policy, there are real differences between Washington and London.
The U.K., for example, does not support the policy of maximum pressure on Iran and is keen to make the most of Chinese economic growth and cheap technology, much to the chagrin of the U.S. State Department. Even on trade policy, though Trump has been effusive about the possibility of an Anglo-American free-trade deal after Brexit, that is not wholly the U.S. president's gift to offer—Congress holds the power to veto any agreement negotiated by the Trump administration that changes U.S. law, further complicating the personal dynamic and its practical impact.
What's more, even negotiating a trade deal between the two nations would present enormous hurdles. Over a period of decades, Britain has embraced European standards that won't be easy to shed, experts said. Should Johnson make concessions to Trump and allow pharmaceutical companies and agricultural interests more access to the British market, the new prime minister could jeopardize his political support at home. "Trying to negotiate a trade agreement between the U.S. and the United Kingdom means asking the United Kingdom to decide whether it wants its primary trading partner to be us, or Europe," Reinsch said. "And they answered that question 20 years ago. We're longtime allies and friends, but [the British] are really tied to the Continent."
Still, the volatility of Johnson's "do or die" pursuit of Brexit—the prime minister has pledged to take Britain out of the EU by October 31, whether or not it has a deal on the terms of its withdrawal—has opened up a new prospect: a political partnership between the two leaders, based on shared strategic goals as well as personal rapport, which could reshape the special relationship between the U.S. and Britain.
Inside the British government machine, there has, until now, been a fierce reluctance to let the fallout from Brexit affect other core foreign-policy calculations, principally on Iran, where the U.K. has lined up with France and Germany in opposition to the United States. Senior officials in London still hope to quarantine Brexit from these wider strategic calculations of Britain's place in the world. Yet faced with the growing likelihood of an acrimonious divorce from the EU on October 31, serving and former officials in Washington and London suggested a Johnson premiership could reshape British foreign policy and orient it more sharply toward the United States.
The grand geopolitical picture now emerging is of a United States more and more at odds with Europe—and a U.K. locked in a bitter dispute that could poison its relationship with the Continent for years. Faced with the diplomatic and economic fallout of a no-deal Brexit, Johnson may feel forced to pivot toward the U.S. on foreign-policy questions, including Iran but also Britain's stance regarding China, to secure the economic and security benefits of a close relationship with Washington. There is a feeling in the U.K. that a major deepening of the relationship in this regard could be tempting for Trump, putting practical meat on the bones of what Trumpism actually entails in the world.
Even in this regard, though, there are complications. A former official involved in the Brexit campaign who has worked with Johnson and several members of his team said the group was not instinctively pro-Trump in its philosophical outlook, even if members admired some parts of his strategy. The same former official noted that the new foreign secretary, Dominic Raab, is a former international lawyer who believes in the rules-based order and felt comfortable with the May administration's calculations on China and Britain's involvement with Huawei, as well as the pro-European position on Iran.
Dominic Cummings, Johnson's principal adviser, is openly in thrall to Silicon Valley, captured by Facebook's early motto, "Move fast and break things." Yet his praise for what he has called the "great strengths of the Anglo-American system" does not carry over to Washington or its politics and institutions. Cummings has written that China's economy will likely "dwarf" the U.S.'s over the next two decades, and has described its leader, Xi Jinping, as "formidable" and "very different to Western leaders obsessed with the frivolous spin cycles of domestic politics." Cummings has suggested that the West should avoid defeat by not trying to "win" its strategic competition with China.
Regardless of his views and those of his staff, Johnson, still in the early days of his premiership, appears to have a positive relationship with Trump. The president has cast allies aside before, though. Without something to offer, "America first" will apply to Britain, just as it has to Canada, France, Japan, and others.