A New British Prime Minister Faces the Same Old Brexit Problem
Boris Johnson is convinced he can compel the EU to change its Brexit position. The bloc says it won't budge.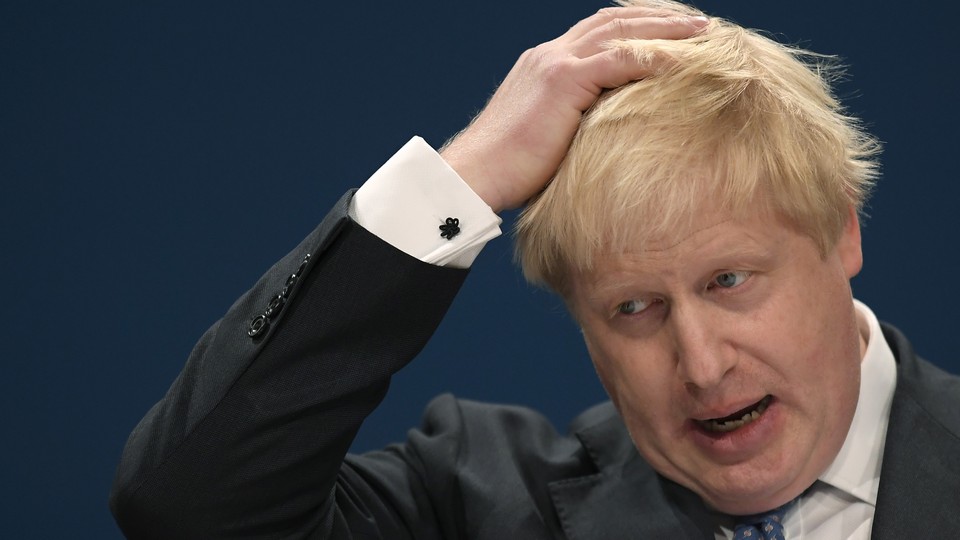 Insanity, the saying goes, is doing the same thing over and over again and expecting a different result. It's a tactic Theresa May demonstrated brilliantly during her three-year tenure as Britain's prime minister, in which she attempted to push her negotiated Brexit deal setting out the terms of Britain's withdrawal from the European Union three times—only to have it rejected by whopping majorities on each try.
Boris Johnson, who replaced May this week, has pledged to take a different path. Speaking on the steps of Downing Street on Wednesday, he committed to taking Britain out of the EU—"no ifs or buts"—by striking a new and better deal with the EU by the October 31 deadline. Barring that, Johnson said he would take Britain out of the bloc without a deal.
There is, however, a downside to Johnson's grand plan. Though the occupant of 10 Downing Street has changed, as has much of the British government, the other party in this negotiation, the EU itself, remains almost exactly the same.
In a show of unity across the bloc's 27 other member states, European leaders responded to Johnson's elevation to the premiership with muted optimism. Ireland's Prime Minister Leo Varadkar tweeted, "Look forward to an early engagement on Brexit, Northern Ireland and bilateral relations." Germany's Angela Merkel said, "Our countries will continue to be bound by close friendship in the future." In France, Emmanuel Macron said he was "looking forward to working with" Johnson.
But behind the canned congratulations was a more familiar message: that when it comes to Brexit, nothing has changed.
Michel Barnier, the EU's former chief Brexit negotiator, said the bloc would work constructively with the new prime minister to "facilitate the ratification of the withdrawal agreement"—a document that Johnson previously declared "dead." European Council President Donald Tusk, in a more curt message, told Johnson that he looked forward to discussing cooperation with Britain "in detail," emphasizing the area where Brussels has repeatedly claimed London is lacking. European Commission President Jean-Claude Juncker told Johnson in a phone call yesterday that the current deal is "the best and only agreement possible."
That the EU would easily greet Johnson with a different negotiating position from the one presented to his predecessor was always fanciful. It has spent the better part of the past year telling London that the deal agreed on between them was final, the inclusion of the so-called Irish backstop—a mechanism to prevent a hard border on the island of Ireland by temporarily keeping Britain close to EU rules and regulations—an unmovable red line.
"He hopes he will get a very different treatment from our side than Mrs. May," Danuta Hübner, a Polish member of the European Parliament who sits on the chamber's Brexit Steering Group, told me. "I don't think there is any logic in expecting that the Union can have a different offer for a new prime minister. For us, the partner was always the U.K. and the British people."
Part of the problem, Hübner said, is that the EU no longer has a mandate from its members to negotiate a new agreement from scratch with Britain. As far as Brussels is concerned, the deal is already done (a belief that was reaffirmed when the bloc's negotiating team was dismantled earlier this year). On the issue of the controversial backstop in particular, there is no incentive for the EU to make any changes that risk damage to the bloc's internal market. "We don't have the mandate from 450 million people on the continent, including Ireland, to damage the single market, which we have been building for so many years," Hübner said, adding: "We cannot dismantle it because of Mr. Johnson's vision of independence for the U.K."
Of course, the EU's position isn't the only thing that remains unchanged. At home, Johnson faces many of the same challenges that hobbled his predecessor. In Parliament, Johnson's Conservative Party's majority has been reduced to just a handful of votes, making the prospect of him passing a new deal through the House of Commons—let alone a no-deal outcome, which British lawmakers have already rejected—slim. Johnson also faces the same looming Brexit deadline: Lawmakers are now on a six-week summer recess, after which there will be just one month of parliamentary time left before the October 31 deadline.
That Johnson spent his first day in office packing his new government with hard-line Brexiteers—many of whom supported the Leave campaign and, like him, resigned from May's government in protest of her deal—suggests he may not be in a conciliatory mood. Virtually every member of Johnson's cabinet has backed his pledge to leave the EU without a deal if no new agreement with the EU materializes in time. Johnson also announced that his government would "turbocharge" no-deal preparations.
Still, for some in Brussels, there is hope that a breakthrough is still achievable—if Johnson is willing to sell it. "It's a risk and a chance with Johnson, because I believe being a Brexiteer from the very beginning, he has a different standing in the British population," Katarina Barley, a German representative and a vice president of the European Parliament, told me. "If Boris Johnson said we can't reach a better agreement than this, then I think even Brexiteers would tend to believe him more than they believed Theresa May."