Turkey's Global Soft-Power Push Is Built on Mosques
Ankara is funding thousands of mosques out of more than just goodwill.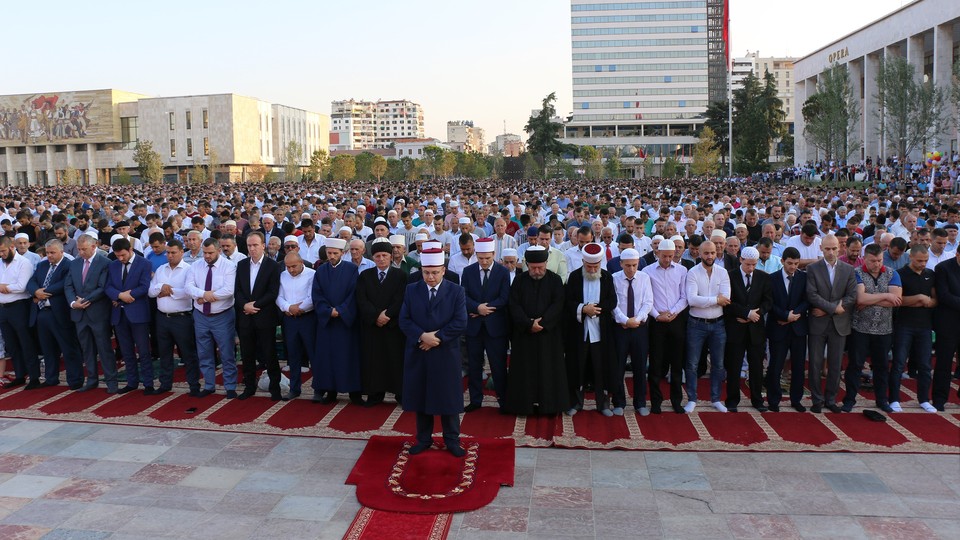 The mosque being built in Albania's capital will be the largest in all the Balkans. Still a few months away from opening, it already dominates a corner of Tirana, overshadowing the neighboring Parliament building from a 105,000-square-foot compound. The building's walls are clad in pale stone and topped with domes and minarets, which look nothing like any structures that have stood in the area before.
Instead, the building echoes classic Ottoman architecture, and for good reason—it is being funded by Turkey. It's among a series of new mega-mosques constructed by Turkish President Recep Tayyip Erdoğan's government at home and abroad. One in Accra, Ghana, is the largest in West Africa. Another in Bishkek, Kyrgyzstan, is the largest in Central Asia. A complex in Maryland is said to be the largest of its kind in the entire Western Hemisphere. There are at least 2,000 others of various sizes that are funded by Ankara, and still more have been planned or discussed in places such as Venezuela, where Erdoğan is bolstering Nicolás Maduro's beleaguered government, and Cuba, which Erdoğan claimed Muslim sailors reached before Christopher Columbus. Once completed, many of these mosques remain controlled by Ankara, and—in areas with large Turkish diasporas—deliver the same state-mandated weekly sermon heard in every city, town, and village back in Turkey.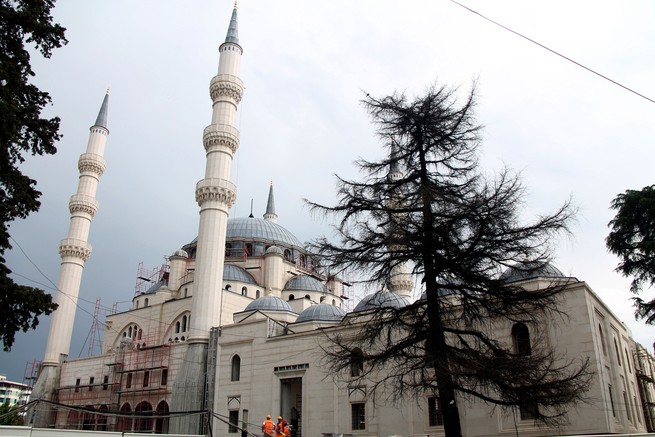 Erdoğan has faced criticism from Western powers in recent years for actions seen as anti-democratic and illiberal: Perceived domestic enemies have been purged and jailed; Kurdish armed groups have been attacked in both Syria and Iraq; banks and foreign powers have been harangued for Turkey's own financial woes. At the same time, his government has progressively expanded a global soft-power campaign, and mosques are only the most obvious result. It also supports religious schooling, a program for restoring Ottoman-era buildings, and extensive social and aid operations. Most beneficiaries have so far welcomed the assistance, but a few, notably in Germany, now worry that Turkish influence could deepen their own communal divides or even be a vehicle for espionage.
Erdoğan and his Justice and Development Party (AKP), which has close ties to the Muslim Brotherhood, aspire for Turkey "to be more than a normal country, to be something greater," Selim Koru, an analyst at the Economic Policy Research Foundation of Turkey, told me. "And they express that very often." Religion, he added, can prove a more potent tool than conventional cultural outreach or force projection.
Turkey's mosques are controlled by the Directorate of Religious Affairs, or Diyanet, a state body that employs imams, writes sermons, and issues fatwas. It was founded in 1924, but grew rapidly under the AKP to become a more overtly political organ with an ambitious global remit. With well over 100,000 people now on its payroll, its budget has expanded more than fourfold since 2006, during Erdoğan's first term as prime minister, to 12.5 billion lira ($2 billion) this year. That figure is orders of magnitude larger than many government ministries, and even the national intelligence agency. Diyanet spokespeople did not respond to repeated requests for comment.
The Diyanet often fills funding gaps in recipient countries, as it has done in Albania. In 1967, when Albania's then-dictator, Enver Hoxha, mandated state atheism, the public practice of religion was outlawed, and places of worship were demolished or repurposed. After his downfall, the population, which identified as 57 percent Muslim, 10 percent Catholic, and 7 percent Orthodox, found itself without mosques or churches and lacked the means to build them. Foreign money began pouring in: Pope John Paul II laid the cornerstone for a Roman Catholic cathedral in 1993; a few years later, the Greek Orthodox Church began work on its own, one of the largest of its kind in Europe.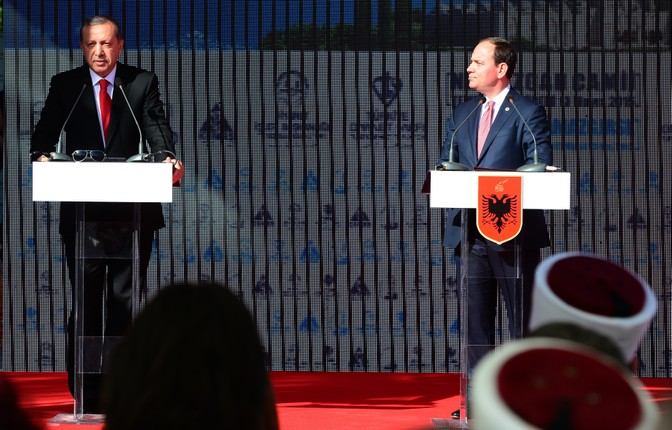 For a while, Tirana's Muslim majority lost out. In the center of the capital, only Et'hem Bey Mosque had survived the Hoxha era, and it has room for just a few dozen at prayer time. Come festivals and holy days, worshippers had to gather outside, in Skanderbeg Square. So in 2010, the city's mayor, Edi Rama, approved the construction of a new mosque, funded by the Diyanet. Erdoğan attended the groundbreaking ceremony five years later and thanked Rama, who by then was prime minister.
There have been gripes about Turkish involvement, and about the architectural style of the building, which will be called the Great Mosque of Tirana, but its construction is seen by many as only the latest foreign power to take an interest in their country, the Albanian historian Auron Tare told me. "There's a religious competitiveness," he said. "You have these different countries, these different sorts of religious bodies who are all converging here."
Turkish money has also reached Albania through the Turkish Cooperation and Coordination Agency (TİKA), which distributes most of the country's development assistance and which has carried out more than 200 projects there, according to Erdoğan's office, including restoring Ottoman mosques. The agency is also funding various other programs in Tirana, such as park development and the construction of university dorms, the city's current mayor, Erion Veliaj, told me. Albania is still one of the poorest countries in Europe, and he's happy to spare his own budget. However, a TİKA spokesman told me the organization had no relevant restoration projects in Albania, despite listing a number on its website, and did not reply to further requests for comment.
Seeing the new mosque close to the Catholic and Orthodox cathedrals, Veliaj said, gives him "immense pleasure." He's confident, too, that Albania's relaxed variety of Islam will remain unaffected by Turkish influence, partly due to an extensive intermingling of once-distinct religious groups during the atheist years. No one, he said, wants to start a fight at the dinner table. Besides, Turkey's Hanafi interpretation of the Sunni branch of Islam is, Veliaj added, far more tolerant than that propagated by "other countries"—a thinly veiled reference to more doctrinaire strains of Islam promoted by Saudi Arabia and others in Albania after Hoxha's fall. "As a mayor," Veliaj said, "I'm happy to see that assistance come from Turkey than from some other place."
Whereas Turkish efforts in Tirana, Accra, and elsewhere appear to point to a soft-power push in countries with relatively small Turkish diasporas, Ankara has also plowed money into countries where large numbers of Turks live, such as Germany. When Turkish guest workers began arriving in the 1960s, lawmakers there were also happy to have Diyanet assistance. The Turkish organization built mosques, provided social services, and significantly tamped down any risk of extremism. As time has gone on, though, Germany has become home to more than 3 million people of Turkish origin or descent, and lawmakers are beginning to have misgivings over Ankara's continued influence, particularly as Erdoğan's rule grows more and more polarizing.
The Diyanet, through the Turkish-Islamic Union for Religious Affairs (DİTİB), another Turkish government body, runs 900 of Germany's 2,400 mosques. It describes itself as politically neutral, but has been the subject of multiple controversies. Last year, the German magazine Der Spiegel reported that some DİTİB imams led prayers supporting Turkey's military incursion into Syria's Afrin region. Another DİTİB-run mosque held a performance to mark the Battle of Gallipoli that involved children dressed in fatigues lying as fallen soldiers under a large Turkish flag, Stern, a weekly, said. In 2017, German authorities investigated a number of imams on suspicion that they had spied on followers of Fethullah Gülen, the Pennsylvania-based preacher whom Ankara blames for an attempted coup against Erdoğan in 2016. At the time, Germany's domestic intelligence agency was reported to be considering placing DİTİB under official surveillance.
Markus Kerber, a senior civil servant in the German interior ministry, told me that it was now time to reduce the links between Ankara and his country's Islamic community. The Turkish diaspora in western Europe is seen as an important strategic asset for the AKP, he said, but Germany aims to have domestically educated imams and domestically funded mosques in the future.
DİTİB did not respond to requests for comment. After the appointment of a new board chairman in January, however, the organization seemed determined not to be sidelined. "DİTİB remains, and will continue to be, the strongest and most important guarantor of a resource and reason-based interpretation of moderate Islam for all Muslims," it said in a statement.
At a recent meeting in Ankara with the Diyanet president and some of Erdoğan's advisers, Kerber said he told his counterparts that "your Turks are now our Turks." Their immediate reaction, he added, was bewilderment.