Trump's Trade War With China Is Already Changing the World
His tariffs are contributing to a "generational shift" in which companies make their products.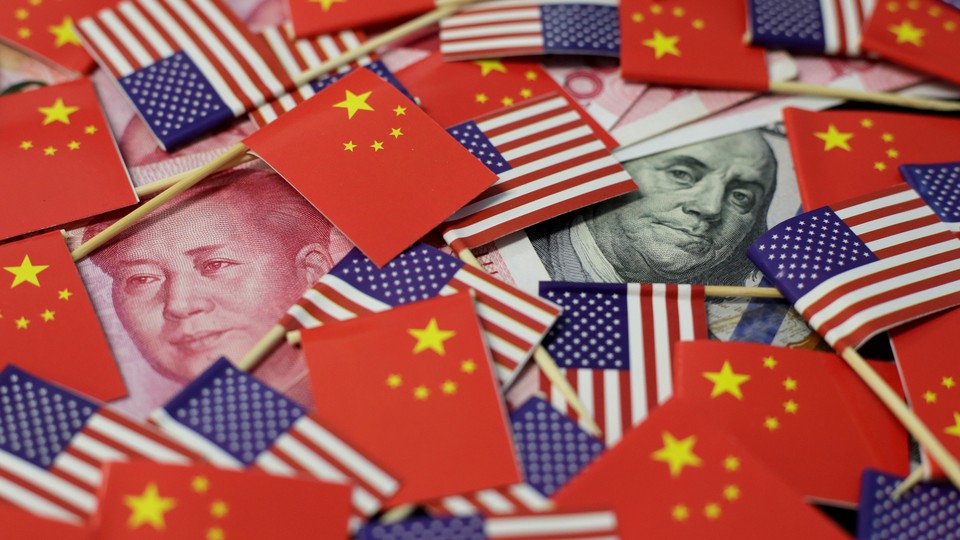 At a G20 summit in Osaka, Japan, this week, Donald Trump and Xi Jinping are set to have a one-on-one meeting, and hopes are high that a good conversation will restart stalled trade negotiations and convince the White House to hold off on further tariffs against China.
For Alfred LaSpina, the outcome may not matter very much, though. When LaSpina, the new vice president of eLumigen, based in Troy, Michigan, began thinking about a supply chain for the startup's industrial lighting products, China automatically came to mind: LaSpina—an old friend of mine—has had experience with manufacturing in China before, and knew he could find reliable, experienced suppliers there. Then came Trump's unexpected tariff hike on Chinese imports in May. LaSpina and his colleagues began to think twice, and they are now looking into alternative options in Southeast Asia. With so much uncertainty in the relationship between Beijing and Washington, he believes that's just the smart thing to do.
"If tariffs or disruption rear its head again, you can't afford to not have product coming in," he told me.
LaSpina's dilemma is just one small example of how the confrontation between the United States and China is already reshaping the world—in both good and bad ways—and even a final trade pact may not slow the momentum for change. Deteriorating ties between the two countries are influencing everything from grand geopolitical strategy to our daily lives: where products at your local Walmart are made; where jobs will be created or lost; the technology we will (and won't) be using; who may be studying next to you at Harvard; and how to invest your money.
That means we could be at a history-altering moment. Since the 1990s, policymakers and business titans have assumed that the globe will become more and more integrated. Perhaps the greatest symbol of that process was the relationship between the U.S. and China. Here were two powers with polar-opposite political systems and ideologies that were still becoming intertwined through bonds of trade, money and individuals—so much so that a term was coined to describe it: Chimerica. China became the central hub of planet-spanning links of production and exchange. Sure, people had the occasional gripes about human rights, closed markets, and other issues. But with the fall of the Soviet Union and the end of the Cold War, the creation of one world seemed the inevitable future.
Not anymore. With that partnership between the U.S. and China anything but assured, businesses are redrawing the map of global production. Apple is reportedly exploring shifting final assembly of as much as a third of some devices out of China to Southeast Asia or elsewhere. (Apple did not respond to a request for comment.) Terry Gou, the founder of Taiwan's Foxconn, which makes Apple gear in Chinese factories, recently said he would urge Apple to produce outside of China.
Other lesser-known companies such as Giant Manufacturing, the world's largest bicycle maker, have already shifted production for U.S. customers. Giant has moved the manufacture of many U.S.-bound models to its home base in Taiwan, and is opening a new factory in Hungary. "The world is no longer flat," Giant's chairwoman, Bonnie Tu, told Bloomberg.
These are far from isolated cases: A survey released in May by two branches of the American Chamber of Commerce in China revealed that about 40 percent of respondents said they have relocated or are considering moving manufacturing operations out of China.
This process has been underway for some time, due to rising costs in China and other factory. American toymaker Hasbro says it has been steadily reducing the share of products sold in the U.S. that are made in China, from 80 percent in 2012 to 67 percent at the end of 2018, and plans to shrink that further in coming years. But the trade war has compelled chief executives to step on the gas. "What companies are doing is accelerating their plans to move out of China," Stephen Lamar, executive vice president of the American Apparel & Footwear Association, told me. He calls it a "generational shift" in how U.S. companies are sourcing their products.
For some countries, that comes as good news. Businesses looking to shift assembly lines from China tend to target other emerging economies as a new base. Modern economic history tells us that the jobs created by such factories in poor countries can jumpstart economic growth and alleviate poverty (as happened in China itself). Already places such as Vietnam have benefited by siphoning factories away from China.
The United States, meanwhile, is probably facing a reordering of its trading relationships (and possibly of its trade disputes, too). Contrary to Trump's boasts, few U.S. firms are "reshoring," or moving production back to the United States from China. (In the American Chamber of Commerce in China survey, fewer than 6 percent said they were considering such a shift.) That means the trade deficit that so irritates the president will likely be reapportioned across different countries. For China, the changing face of global manufacturing puts pressure on Chinese firms to "move up the value chain," as economists call it. No longer able to rely on basic export manufacturing to sustain employment, China's business owners will have to learn to produce higher-quality, more innovative goods to keep the country's growth miracle alive. That's what Beijing's contentious industrial policies—fostering cutting-edge sectors from electric vehicles to microchips with state support—are designed to do.
But here, too, the dispute with the U.S. is potentially wreaking havoc. The Trump administration has been taking steps to keep vital U.S. technology out of Chinese hands—most dramatically, by banning American firms from selling critical components such as microchips to several important Chinese tech companies, including the telecom giant Huawei. Such measures, combined with Beijing's obsession with controlling homegrown technology, could separate the U.S. and China digitally, with consumers in each using different software and gadgets. Beijing has already started that process by erecting the Great Firewall to block many American internet firms from operating in the Chinese market. That's one reason why Chinese netizens live in a distinct online universe, microblogging on Sina Weibo rather than Twitter; and searching on Baidu, not Google.
The growing distrust between the U.S. and China is starting to pull apart their citizens in the real world as well as the digital one. Legislation has been introduced in Congress that would bar any Chinese scientists associated with its military from studying or researching in the United States. This month, Beijing's Ministry of Education issued a warning to Chinese students "of the need to strengthen risk assessment before studying abroad" in the U.S. Huawei, meanwhile, recently booted Americans from its R&D operations at its Shenzhen headquarters. A Huawei spokesman said the company is reviewing its responses to Washington's actions.
This realignment of business, technology and people is also taking place among nations. As China and the U.S. drift apart, a new pattern of global relations may be emerging. For instance, China and Russia are probably friendlier today than they were for most of the period when both were Communist. Russian President Vladimir Putin showed up at Xi's hotel with ice cream to celebrate the Chinese leader's birthday while the two attended a conference in Tajikistan this month. Italy boldly broke ranks with the U.S. and some of its European allies earlier this year to become the first G7 country to sign on to Xi's controversial infrastructure-building program, the Belt and Road Initiative. For many countries with economic ties to China but strategic alliances with the United States, straddling the fence between the two will becoming more and more difficult.
The U.S.-China conflict "puts Australia and a lot of the countries in Asia in a precarious position," Merriden Varrall, a nonresident fellow at the Lowy Institute, a Sydney-based policy think tank, told me. "We are not responding with the sophistication the issue deserves. I don't think we fully realize the challenge we are up against."
Just as the meshing of the U.S. and China was representative of the greater trend toward global cooperation, their new frostiness may be equally symbolic of rising nationalism and anti-globalization fervor, present from the United Kingdom to India. How far will this redesign of global business and diplomacy progress?
Lamar of the American Apparel & Footwear Association thinks that if a trade pact is reached and tariffs are removed, some business may try to return to normal—moving supply chains out of an efficient China is not so easy. But the uncertainty will remain. "There is a lot of feeling that we are in a long-term struggle as to who is going to be the leader of the 21st century," he said. "Even in a post-Trump Washington, we're still going to see a focus on China—is the country truly a partner of our country?"