An Aging Autocrat's Lesson for His Fellow Dictators
Kazakhstan's longtime leader ceded power to a self-appointed successor, who is all but certain to win this week's election.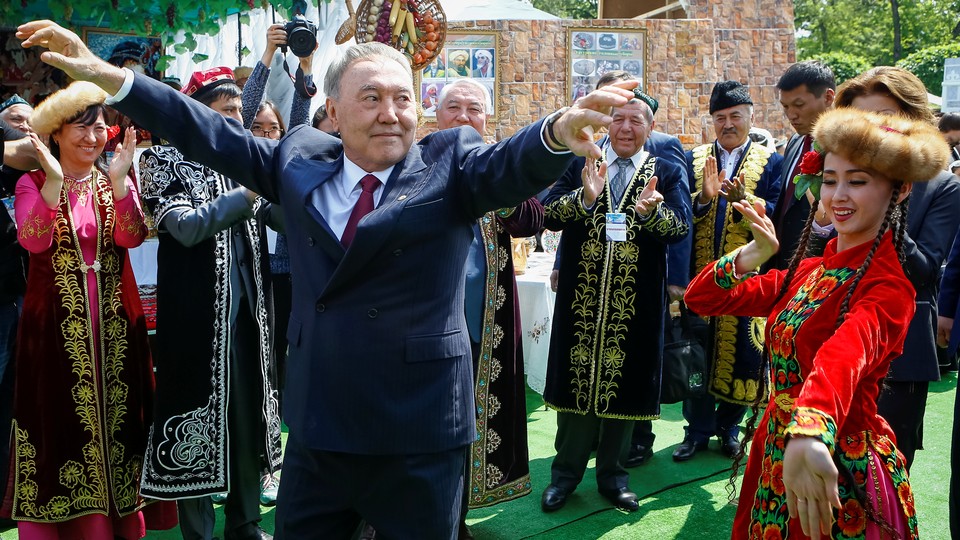 NUR-SULTAN, Kazakhstan—Looking around Kazakhstan's glitzy capital, you'd be forgiven for not realizing that the country is on the verge of one of its most meaningful political moments since the collapse of the Soviet Union.
Nursultan Nazarbayev, Kazakhstan's autocratic president who held power for nearly 30 years, resigned in March and tapped Kassym-Jomart Tokayev, a trusted ally, to follow him as interim president before snap elections were called. Yet apart from the odd billboard and poster set up around the bulky boulevards and bizarre architecture here, the campaign has largely been background noise in the oil-rich Central Asian country.
That's because the June 9 election is already a fait accompli, with Tokayev's victory assured. Like the capital, a display of gaudy opulence built on the Eurasian Steppe in the 1990s and 2000s on Nazarbayev's orders, the upcoming vote is a product of the Kazakh leader's vision. Nazarbayev made the decision to leave his post while still alive, a rarity among autocrats, who instead tend to die in office, exile, or prison, but he has not retreated from power. Through a parallel power structure, Nazarbayev can still shape domestic and foreign policy and is in charge of his own succession. To bring this point home, Tokayev's first act in office was to rename the capital from Astana to honor Nazarbayev.
Still, this election is being watched closely—just perhaps not by pro-democracy activists in the West. How to hand over power is a common problem for authoritarian regimes, and the process does not always go according to plan. By overseeing his own transition while retaining significant power, Nazarbayev signaled that he would be attempting an important experiment in how to modernize an autocratic system, which his fellow strongmen—notably those in the former Soviet space, such as Belarus, Tajikistan, and in particular, Russia—might be looking to borrow from.
"There is always lots of learning among dictators," Andrea Kendall-Taylor, a former senior U.S. intelligence analyst focused on Russia and Eurasia and now a senior fellow at the Center for a New American Security, told me. "Kazakhstan's neighbors will be following closely to see what works."
The most immediate ramifications of Kazakhstan's experiment may be in Russia, where Vladimir Putin will need to decide on a path forward before 2024, when he finishes his second consecutive term as president, the maximum allowed by the constitution. According to Kendall-Taylor, Putin's options are to choose a successor, amend the constitution, or abolish term limits altogether, like Chinese President Xi Jinping. Putin toyed with a division of power in 2008, when he and Dmitry Medvedev switched roles as prime minister and president. The key difference is that the upcoming decision may be Putin's final play—the Russian leader will be in his 70s by the time his second term finishes. As two former Soviet countries with similar economies, comparable GDP per capita, and personalized political systems, Kazakhstan and Russia share a great deal, making the current transition an important test case for the Kremlin.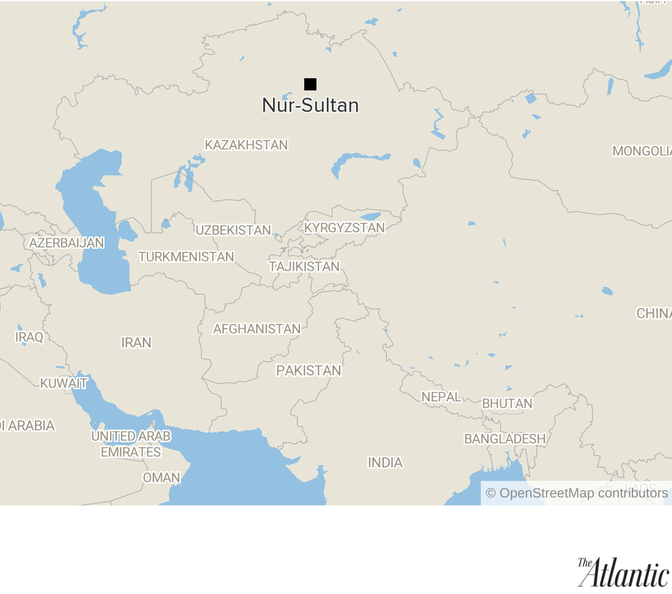 While the Kazakh regime's hold on power remains firm, the news of Nazarbayev's resignation has sparked an outpouring of dissent, a rarity in this country, where the rights to assembly and free speech are heavily curtailed. Kazakh authorities have reacted heavy-handedly, breaking up protests, arresting activists even for minor demonstrations, and blocking news and social-media websites. "I think the government miscalculated," Paul Stronski, a former director for Russia and Central Asia on the U.S. National Security Council who is now a senior fellow at the Carnegie Endowment for International Peace, told me. "Society is changing, and the government will have to adapt or face some serious problems."
Nazarbayev is not the first leader in the former Soviet world to attempt an orchestrated leadership change. An ailing Boris Yeltsin successfully handed power to Putin, then his prime minister, in 2000. Heydar Aliyev, the former president of Azerbaijan, also pulled off a power transfer, to his son, in 2003. But the region has plenty of examples where things have gone wrong: Disputed elections in Georgia and Ukraine in 2003 and 2004, respectively, resulted in Mikheil Saakashvili and Viktor Yushchenko emerging victorious, despite their predecessors supporting rivals. In Kyrgyzstan, Sooronbay Jeenbekov was elected president in 2017 with the backing of his predecessor, only to quickly dismantle the former leader's power base.
Research done by Kendall-Taylor and Erica Frantz, an assistant politics professor at Michigan State University, found that the scenario in which regimes were most likely to survive was for dictators to die in office. The same data showed that when dictators, especially in personalized regimes like Kazakhstan and Russia, left office by other means, the regime had a high likelihood of collapse. Nazarbayev's hybrid model, where he has created a new position that allows him to pull the levers of power from the sidelines, is tough to categorize, but it hints at an eventual settled outcome. "My assumption is that this will look more like a death in office in practice," Kendall-Taylor said.
Given that dying in office is the safest path forward, why bother experimenting with a managed exit at all? According to Luca Anceschi, an expert on succession in Central Asia at the University of Glasgow, Nazarbayev's main goal is to protect his family—and their wealth. "This is about learning from previous transitions in the region and saving the first family," Anceschi told me.
Islam Karimov, Uzbekistan's longtime dictator, died from a stroke while in office in 2016, and the succession has proved to be stable. However, his eldest daughter was sidelined in Karimov's final years and has been imprisoned by the new leadership. Nazarbayev's children play a prominent role in Kazakhstan's politics and business community. His daughter, Dariga Nazarbayeva, was promoted to speaker of the Senate following her father's resignation. The move makes her next in line to the presidency according to the constitution, and many analysts have speculated that Dariga—or another of Nazarbayev's prominent relatives—could be the Kazakh leader's true chosen successor, with Tokayev functioning as more of a placeholder. (The nonexistent public role that Putin's children play in Russia could make the Nazarbayev model less appealing to the Kremlin, the Russian analyst Tatyana Stanovaya has argued.)
Beyond protecting his family's future role, Nazarbayev, 78, is also motivated by securing his own place in history. As Kazakhstan's first leader since it gained independence in 1991, he has painted himself as the country's founding father and has often spoken of Lee Kuan Yew, Singapore's former prime minister who also stepped aside before his death, as a role model for a type of enlightened authoritarianism. While Kazakhstan remains distant from Singapore in nearly every key metric, cementing his legacy is clearly on his mind, Deirdre Tynan, a senior adviser at PACE Global Strategies and a longtime Central Asia watcher, told me: "Nazarbayev knows Kazakhstan must shake off its post-Soviet mantle, and the reputation of its neighbors, and have a succession process that is, at the very least, not embarrassing."
This hardly makes Nazarbayev unique among his fellow autocrats, but it could also mean that other leaders in the former Soviet Union won't be willing to accept the risks inherent within his chosen model of succession. Regardless of whether Putin looks to emulate Kazakhstan in the future, officials in Moscow, Minsk, and Dushanbe will be taking notes.