A Russian Journalist's Arrest Counters the Image of Putin the Puppet Master
Abroad, Putin is perceived as the master orchestrator of all of Russia's actions. But his hold on the state's security services is more limited.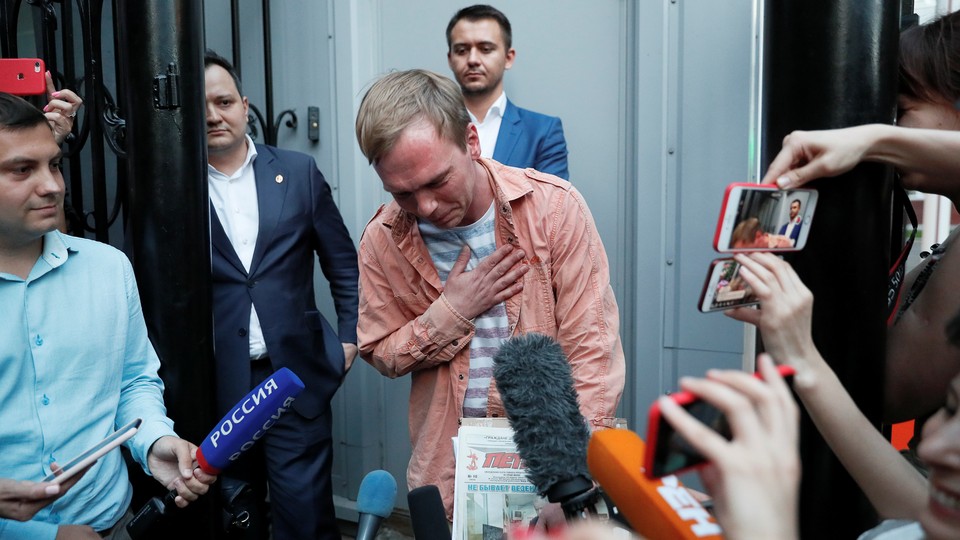 MOSCOW—In the days following the arrest of Ivan Golunov, an investigative journalist detained on drug charges, dozens of reporters and public figures began lining up—quite literally—to take part in a peculiarly Russian form of protest: the "single picket."
Demonstrations here require an official permit, and with authorities often loath to sanction critical rallies, protesters, in an effort to evade the requirement, will stand alone, holding up a banner or placard while a line of people will form nearby, ready to step in and offer relief. No two protesters can stand within 50 meters of each other.
And so, outside police headquarters in the center of the Russian capital, three separate "single pickets" were taking place at once, all to draw attention to what the authorities later admitted was the wrongful arrest of a respected journalist, one which drew condemnation from across Russian media, as well as around the world. After holding Golunov for several days, authorities finally dropped the charges against him today, with the interior minister announcing that he would seek to sack two senior police officers over the arrest, an apparent admission that it had been a botched operation.
Yet along with illustrating a loophole in Russian laws regulating protests and embarrassing some senior officials, the episode involving Golunov also highlights another issue: that of Vladimir Putin's control, or apparent lack thereof, over goings-on in Russia and its security apparatus. While the Russian president undoubtedly exercises a significant amount of power here, the latest episode highlights the dissonance between how he is portrayed abroad—as being a master orchestrator who is to blame for all of the country's actions, both at home and elsewhere—and the limits of his reach in reality.
Golunov, a reporter with the news website Meduza, had reported on alleged corruption on the part of Moscow Deputy Mayor Pyotr Biryukov, and had reportedly been investigating the apparent involvement of a senior intelligence officer in a funeral company when he was arrested on Thursday—police officers said they found drugs in his backpack and in his apartment, but the journalist said the narcotics were planted there. His detention overshadowed the St. Petersburg International Economic Forum, an annual Kremlin-organized event that the Russian government attaches great importance to: This year, Putin was meeting with his Chinese counterpart, Xi Jinping.
Those talks got scant press coverage, however. Instead, journalists focused on their colleague's arrest, and on Monday, the front pages of the country's leading business newspapers—Kommersant, Vedomosti, and RBK—all bore headlines that read, "We are Golunov," and carried editorials saying they did not believe statements being made by the police about his detention. "The entire forum's press center was buzzing with Golunov's name—none of us could focus on Putin and Xi," Olga Bychkova, the deputy editor in chief of the Echo of Moscow radio station, told me. According to Brand Analytics, a Russia-based research firm, the journalist's name was mentioned on social media at least 34,000 times, more than Putin's, on the last day of the event.
In short, the entire episode proved a distraction from a set-piece meeting that Putin had expected would garner wide media coverage. Hardly a strategy that the government would have orchestrated. "That was not the Kremlin who wanted to see Golunov behind bars," Tanya Lokshina, the Moscow-based associate director for Human Rights Watch's Europe and Central Asia division, told me.
Golunov's arrest and subsequent release are only the latest such example of questions over the limits of Putin's power. Analysts and critics say there is a degree of freelancing by security officers and government officials who believe they are carrying out the Kremlin's ultimate bidding, or at least have its passive acquiescence, only to see draconian measures like arresting or attacking critics backfire.
Earlier this year, for example, as Prime Minister Dmitry Medvedev was trying to convince thousands of leading economists and businesspeople at the Russian Investment Forum in Sochi that Russia was safe and stable for investors, security officers arrested the leading American investor Michael Calvey. Another incident that raises questions over whether Putin would have signed off occurred in 2009—when he was prime minister, but widely seen as the power behind the throne—when the lawyer Sergei Magnitsky died in a Russian prison. Magnitsky's death catalyzed a campaign that resulted in an American law that bears his name, allowing the United States government to impose targeted sanctions against individual Russians, including those close to Putin.
"There is a joke popular among the Moscow elite," Dmitry Gudkov, a Russian opposition politician, told me, "that Putin is only an avatar of the Russian secret service—he lives in a bubble, he is fed by the system, and he cannot control it any longer."
But perhaps the best single example came with the poisoning of Sergei Skripal, a Russian spy who was in fact a double agent for Britain, and his daughter Yulia. The pair survived the poisoning, which was carried out with a military-grade nerve agent and blamed on two members of Russia's military-intelligence agency. The operation, which Moscow denies involvement in, sparked international outrage and the expulsion of dozens of Russian diplomats (widely believed to be spies) from Western capitals.
Operations like that and the Golunov arrest may well be carried out not with the Russian leader's blessing, but in a "gray, semi-criminal, zone," Yuriy Krupnov, a pro-Kremlin political analyst, told me—one which, he said, "Putin cannot control."