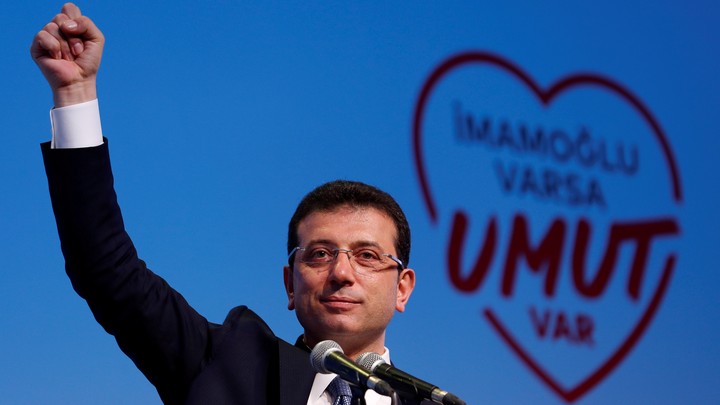 ISTANBUL—Consider the following scenario: You are an opposition leader in a deeply divided nation. Against all odds, you narrowly win a local election against a ruling party that controls the public space and censors the media, becoming mayor of the country's largest city. Under government pressure, however, the authorities rule that the vote was rigged, deposing you from office and triggering a new election.
What do you do?
This was precisely the dilemma facing the now-ousted mayor of Istanbul, Ekrem İmamoğlu, last month. Yet as many feared street protests or violence, he called for something perhaps more threatening to President Recep Tayyip Erdoğan's ruling Justice and Development Party (AKP)—love.
"They want conflict from us," İmamoğlu told his furious supporters on the night he was deposed from office. "But we, the people who do not want this nation to fight, we will insist upon embracing each other."
Turns out he meant it, quite literally. Ahead of the rerun of the mayoral election on June 23, İmamoğlu has taken to the streets of Istanbul, cuddling up with voters and uniting them around a slogan of disarming optimism: "Everything will be fine." While the AKP and the media outlets that support it accuse him of being an imported Greek backed by terrorists, the new star of the Turkish opposition has taken the lead in the polls by eschewing that confrontational approach. "Find a neighbor who doesn't think like you," he said, "and just give them a hug."
Read: Grocery stores are at the front line of Turkey's latest political battle
In an interview with The Atlantic, İmamoğlu underlined the global significance of his strategy. "Polarization is a universal problem," he said. "All around the world, populism is used to divide and rule. But I believe we can turn this trend upside down."
To do so, İmamoğlu is reaching out to the supporters of the government that pushed to depose him. Instead of retreating into the secular identity of his own Republican People's Party (CHP), he has toured the mosques of Istanbul to signal his respect for the religious lifestyle of many AKP voters. And instead of rejecting populism altogether, the deposed mayor trades in populist tactics of his own—promising to fight urban poverty by providing free water, milk, and bread to poor Istanbul families. "If a populist style helps to unite people, it is a good thing," İmamoğlu told me. "We are showing that walls can be torn down with love."
Not just love, but "Radical Love." That is the name of the CHP's new campaign strategy, outlined in a 50-page pamphlet, the Book of Radical Love. Though the document is adorned with flowery illustrations and citations from Sufi love poems, its author insisted to me there was nothing lighthearted about it: Far from lovey-dovey chitchat, "Radical Love" articulates the struggle to love others under the worst conditions, said Ateş İlyas Başsoy, a CHP strategist. "We saw that we cannot change Erdoğan," he said in an interview. "So we fight by changing ourselves."
Başsoy's work is based on the idea that polarization is closely tied to social life in a digital age. The constant use of mobile phones and social media, he argued, has introduced a form of restlessness and loneliness that stimulates anxieties and fears, which polarizing populists can feed off. To overcome such emotions, the Book of Radical Love proposes more patient and sincere forms of communication. It advises campaigners to talk less and listen more, be open-minded, avoid ideological debates—and, above all, avoid attacking Erdoğan or demeaning his supporters. "The first principle of Radical Love is very simple," Başsoy told me. "Ignore Erdoğan, but love those who love him."
The second component of his strategy is its emphasis on economic rather than identity issues. A self-declared socialist, Başsoy criticized the Turkish left for losing itself in futile culture wars, and said it should instead focus on the fight against Istanbul's spiraling levels of inequality. "The real divide in Turkey is not between secularism and Islam or between Turks and Kurds," he argued, "but between rich and poor."
"This is precisely what Turkey needs to move forward," Michael Wuthrich, a political scientist at the University of Kansas and the author of a 2015 book on Turkish electoral history, told me. Somewhat paradoxically, he noted, the other politician who once forced a breakthrough in Turkish politics by using similar tactics was Erdoğan himself. "In the early years, at least," Wuthrich said, "Erdoğan also built his popularity on inclusiveness and taking care of voters' material concerns."
Read: Turkey's identity crisis
The problem, however, is that İmamoğlu's party has long done the opposite. If today the AKP is trying to smear the Turkish opposition, the CHP has its own history of belittling Erdoğan and his supporters. "Many within the CHP just assumed people vote for Erdoğan because they are uneducated and religious," Wuthrich said. "In reality, these voters' motivations were often very pragmatic and rational. But when the CHP trampled on religious identity, it inadvertently turned it into a bigger issue, driving voters toward Erdoğan even when he no longer defended their economic interests."
İmamoğlu acknowledged to me that his party had made mistakes by "detaching itself from society," but insisted the CHP has changed in recent years, particularly since choosing a new leader in 2010, and has gradually adopted a more inclusive attitude that is bearing its fruits today. By respecting rather than rejecting religious lifestyles, İmamoğlu argued, the CHP has been able to reconnect with voters on more fundamental issues. "If society needs to feel democracy and justice alongside its beliefs, you need to add a religious flavor," he said. "I am a believer, so I have no problem integrating justice, equality, freedom, and the rule of law into my faith. Doing this prevents you from being seen as elitist. On the contrary, it makes you a man of the people."
Arlie Hochschild, a professor of sociology at the University of California at Berkeley, told me that İmamoğlu's strategy could work in the United States as well. In her best-selling study of the American right, based on years of fieldwork with Tea Party supporters in Louisiana, Hochschild demonstrates that many divisions in American society can, in fact, be overcome by crossing what she calls "empathy walls."
"I see many parallels between my work and what the Turkish opposition is trying to do with Radical Love," Hochschild told me. "Both are about mastering a temporary suspension of self—not a suspension of moral commitment, but of self—in order to surrender to the deep act of curiosity about others. It is a form of 'emotion work' that is hugely important in politics."
Read: Turkey's global soft-power push is built on mosques
Yet this emotional dimension, Hochschild argued, often gets overlooked in many discussions on right-wing populism. To beat politicians such as Donald Trump and Erdoğan, she said, opposition parties have to engage in more face-to-face contact with those leaders' supporters and address their feelings of injured pride. Far from giving in to right-wing populism, such outreach effectively communicates alternatives to it. "Radical Love is not naive," Hochschild said of the CHP strategy. "It's a way of dealing with conflict."
Wuthrich said he could see this potential in Pete Buttigieg, the mayor of South Bend, Indiana, and a candidate for the Democratic Party nomination in the 2020 presidential election, who recently received a standing ovation at a Fox News town hall. Overall, however, Wuthrich told me that his return to the United States after years of conducting research in Turkey had felt like a bit of déjà vu. "Many within the Democratic Party are walking straight into the same mistakes as the old CHP," he said. "Instead of really addressing the genuine concerns of voters that brought Trump to power, their focus has been on Trump's misbehavior and removing him from office through impeachment."
The Turkish example, Wuthrich concluded, "shows that you cannot fight polarizing populists with polarizing responses. The only way to get people to switch camps is by breaking through the divide."
If Turkey is the lesson, the man behind Radical Love is ready to be a teacher. In his Istanbul office, Başsoy beamed at the idea of offering advice to the Democratic Party. But when I asked the deposed mayor of Istanbul what he would do to beat the American president in an election, İmamoğlu struck a humbler tone. "It would be a little arrogant of me to give advice on the situation in the United States," he replied. "But all I can say is this: You might want to keep an eye on Turkey."
We want to hear what you think about this article. Submit a letter to the editor or write to letters@theatlantic.com.
Melvyn Ingleby
is a journalist based in Istanbul and is a research associate at the French Institute of Anatolian Studies in Istanbul.