Colombia's Border Czar Stands Against the Anti-Migrant Tide
The official acknowledges the profound challenges from migration, but says they will yield rewards.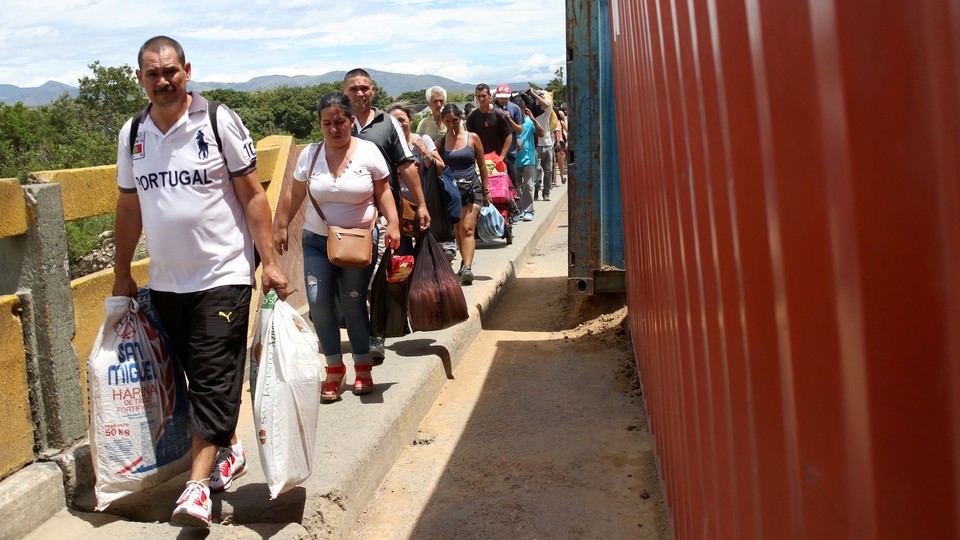 BOGOTÁ, Colombia—Felipe Muñoz's cellphone rang about every five minutes as we talked in his 15th-floor apartment overlooking the Andes mountains. It was the local head of the UN refugee agency. Then the governor of a border state. Then a mayor. Then the leader of an NGO.
Hundreds of Venezuelan military defectors housed along Colombia's border were unhappy because they had been told their hosts would soon stop paying for their accommodations. The callers wanted to know what was happening, why things had changed, and how the government would help them going forward. For Muñoz, the evening was only slightly more exciting than most—another small political crisis that finds its way to Colombia's border manager as Venezuela collapses next door, driving thousands of struggling migrants into Colombia every day for the past few years.
Muñoz has now spent 16 months through two presidential administrations leading his nation's efforts to respond to the migration crisis. He is upbeat, though there are few hints that the flow of Venezuelans will stop anytime soon. While some wealthier nations, confronted with the same issue, have turned to hard-line politicians to stop mass migration, Muñoz has helped to construct Colombia's markedly softer approach. That sort of temperament makes him a lonely figure in a world where politicians elsewhere have cultivated power by pitching migration as an existential threat.
"It's naive to play with fears," he said while sitting on his sofa, wearing a knit sweater with his shirt collar folded out the neck. "If I go out and say that Colombia will drown because of Venezuelans, tomorrow there could be violence in the streets."
Muñoz touts this migration as a once-in-a-lifetime opportunity for the Colombian economy—but he isn't ignorant of the profound challenges his country faces. He insists, though, that while things may seem grim today, these are but growing pains bound to yield a more prosperous tomorrow. He never publicly casts the tide of arrivals as a threat, only as a challenge.
That approach sets a distinct example of a model for migration management, particularly at this time, when the massive movement of people has become a key factor shaping global politics and countries improvise new means to address the phenomenon. There are more displaced people today, according to the United Nations, than at any time since that body's founding in the catastrophic aftermath of World War II.
Conflict and scarcity have driven people en masse from their homes in Iraq, Afghanistan, Syria, Libya, Yemen, Myanmar, Sudan, Central America, and now Venezuela. As of February, the UN estimates, about 4 million people in the past four years have fled the country, once Latin America's richest, in what is already South America's largest-ever migration. While it's still smaller than the Syrian exodus, with 5.5 million people displaced over eight years, economists have projected that Venezuela will reach a comparable level by next year.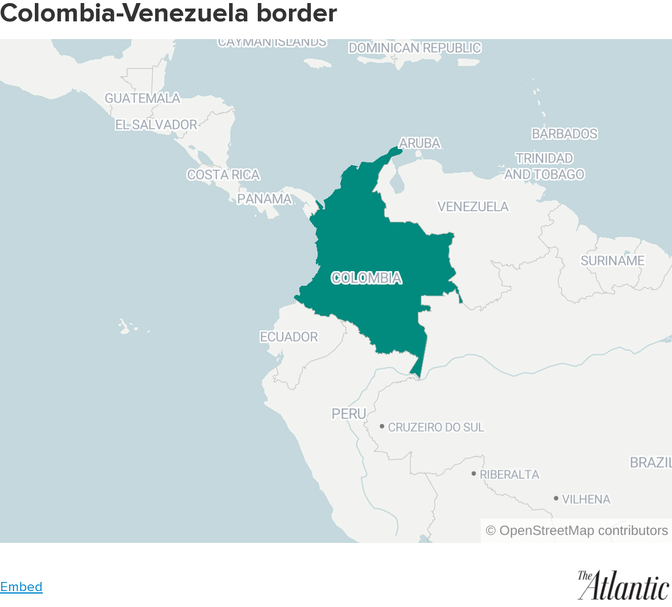 Each week, as part of his job, Muñoz jets around the border zone, meeting with communities that feel suffocated by the fallout of Venezuela's implosion. Out in the field, the often dire conditions stand in stark contrast to his upscale apartment, where, Muñoz said, he likes to cook and to read from his large collection of books. He beamed as he showed off bookcases full of novels, poetry, cookbooks, and history texts. He pulled one book from the shelf, a Turkish novel about Syrian migrants, which he said recently helped him understand his own country's crisis better.
Catastrophe is not new to leaders in Colombia, which weathered decades of civil war. Muñoz got his start in politics about 20 years ago, during a darker time in his country's troubled history. The son and brother of regional governors, he went into government at 27 years old when a former college professor was elected mayor of the capital city and invited Muñoz to lobby city interests in Congress.
Back then, the prospect of any migration crisis lay far beyond the farthest horizon for Colombian policy makers. The state struggled to keep domestic control as rebels seized government buildings, massive insurgencies governed vast territories in the countryside, and drug lords built empires with impunity.
Muñoz bounced around the bureaucracy, from the national housing ministry to the city water agency and a presidential campaign. He also spent three years as head of the shady Administrative Department of Security, the Colombian equivalent of both the FBI and the CIA, which he was assigned to close. He worked under three presidential administrations. In between, he studied urban planning at the London School of Economics.
His successful career ultimately landed him a comfortable job as a counselor with the Inter-American Development Bank in Washington, D.C., where his daughter went to a Montessori school and his wife consulted for international organizations. But his story wasn't going to end there.
After four years in Washington, Muñoz got a call last year from President Juan Manuel Santos, whom he had worked with previously. Santos wanted him to come back to Colombia and figure out what to do about the massive problem spilling over from Venezuela. Santos was near the end of his second term, fully invested in his legacy of making peace with his country's largest insurgent group. Venezuela would be the next president's problem, but Santos had little choice but to act on migration: By the start of last year, thousands of Venezuelans were begging for food and sleeping in the streets in the region spanning Colombia's 1,378-mile border with Venezuela. Border communities were increasingly calling for a response from the national government. Santos sent troops to the border, announced that Muñoz would begin to manage the situation, and then handed off the baton to his successor, President Iván Duque Márquez.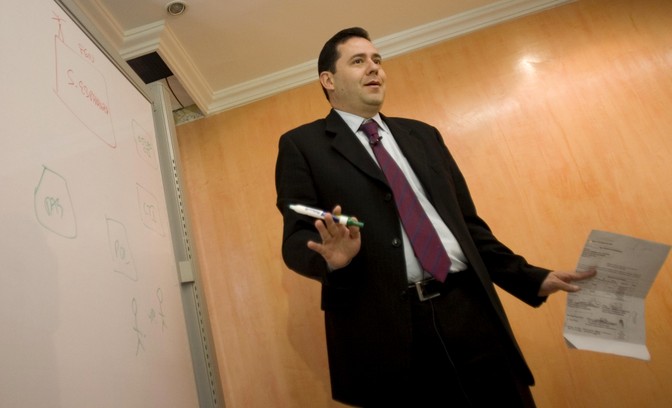 This was Muñoz's biggest challenge yet. He told me he thought his propensity for problem-solving had propelled him through his career. He knew he had to study the problem of migration, and to have it documented for those interested in helping. He commissioned a study by the World Bank and began a painstaking survey of the hundreds of thousands of undocumented Venezuelans in the country, who wouldn't easily discuss their legal status with government surveyors. Colombia extended residency to all Venezuelans and worked hard to get them all signed up.
"He has a realistic and pragmatic vision of integration," Rui Marques, the founder of an international chain of support programs for migrants, Ubuntu Academy, told me about Muñoz. "Colombia aspires to be a good example of national policies toward the reception of migrants."
Quickly Muñoz realized that the problem before him would take a decade or more to resolve. He aimed not to feed or house the thousands of people who arrived at the border every day, but rather to cultivate an economy that would do its best to allow everyone a chance to earn a living. In March, he launched a $240 million stimulus spending plan to energize the border zone, which he designed between efforts to calm the regular political crises that rattle the area. Muñoz recounts them month by month: when an indigenous tribe walked out of Venezuela and set up camp in Colombia; when Colombian authorities struggled to take a census of the undocumented population; when a surge of pregnant Venezuelans overcrowded border hospitals to give birth; when the national government decreed that every Venezuelan child be admitted to a school in the border zone; or when the migrants began hiking the long, cold mountain highway into Colombia.
Through it all, Colombia has largely been able to keep the peace. But the effort still falls short. Venezuelan families still sleep in city streets, crowd public areas, and overwhelm hospitals and schools. Drug-trafficking gangs recruit from the destitute population. In a country already racked by 10 percent unemployment, the new and hungry arrivals will price out Colombians for labor jobs.
Muñoz sighed as he said that Colombia would probably face the brunt of this challenge largely on its own. He pointed to a March report from the Organization of American States that says international funding for the Syrian exodus reached $5,000 per displaced person, while for Venezuela it was only $300. Just 21 percent of the UN's 2019 plea for international funding in response to Venezuelan migration has been met.
Despite the challenge, many globally minded Colombians hope their country's leadership role in the crisis could finally put its notoriety for cocaine and guerrilla warfare in the past. So far, Bogotá has earned praise from foreign leaders and migration specialists for its open-door policy and its efforts to integrate the nearly 1.5 million Venezuelans who live here already. Officials say they expect the size of the Venezuelan exodus to double by next year and keep growing thereafter.
All Muñoz can do is try to remain pragmatically optimistic. In a best-case scenario, he sees a hiring boom, fueled by fresh capital from the donor community or private sector, which would leave the regional economy far stronger in the end. The worst case is that masses of hungry migrants build squalid slums in the zone and fight for what little food there is.
"This isn't a problem we can solve, only one we can manage," he told me. "This is a situation that showed up in Colombia, and we've got to learn to live with that. If other countries could do it, then so can Colombia."