Europe's Far-Right Leaders Are Using Facebook to Transcend Borders
Captioned in English, sponsored by the Hungarian government, promoted to social-media users in Greece: A video about a Belgian politician represents a new trend in the spread of illiberalism.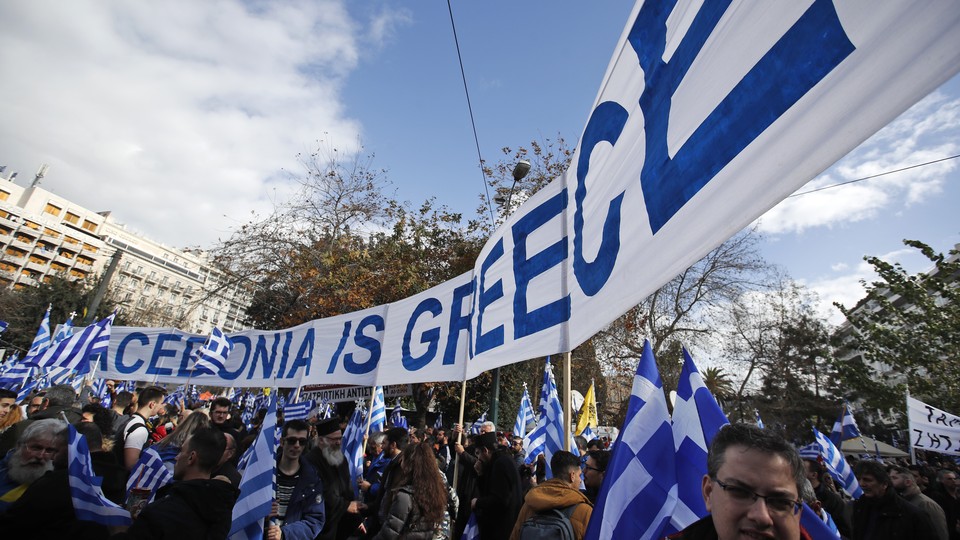 ATHENS—Late last year, a video titled "Time to Shake Up Brussels!" appeared in my Facebook News Feed. It depicted images of violence, painted refugees and Muslims as a threat to the Continent, and laid blame with a Belgian politician who has consistently been seen by both his supporters and his critics as a proponent of migration and liberalism.
In some ways, the video, though objectionable, was unremarkable: Campaigning for European Parliament elections, set to be held this week, was beginning to ramp up, and my native Greece, still grappling with the aftermath of an economic crisis, was trying to deal with the consequences of the refugee crisis, which saw more than 1 million people pass through the country (more than 60,000 refugees still live in horrible conditions in camps and temporary accommodations here). Questions of crime, culture, and history have been front and center in the debate between the two main parties, the leftist Syriza and the center-right New Democracy.
Yet the video was not some organic response to that political situation, nor was it even made in Greece.
No, the video, captioned in English, was sponsored by the Hungarian government and, according to Facebook's ad-targeting data, was directed at people like me—those who were living in Greece or had recently been here. Despite protests by Guy Verhofstadt, the Belgian member of the European Parliament targeted in the video, Facebook refused to take it down, and it has so far garnered more than 9 million views.
The video offers one example, among many, of the push by illiberal politicians—from Hungary's Viktor Orbán to Italy's Matteo Salvini—to project influence beyond their borders by capitalizing on otherwise local grievances elsewhere, and of the vulnerability of countries such as Greece to precisely those efforts. With Greeks and others across Europe casting ballots this week in elections for the European Parliament, the impact could soon be clear.
"If you look at the media, or Parliament, you'd think that attempts to influence public opinion in Greece are not happening," Stratos Safioleas, a communications expert who helped run the country's campaign to win the right to host the 2004 Olympics in Athens, told me. Safioleas, who also saw the same Facebook video in his News Feed, continued: "Here we are, days away from the European elections, and yet there's no public conversation around this."
Greece is particularly susceptible not just to illiberal campaigns, but also to the transnational disinformation campaigns that have become de rigueur across Europe. The country's media—like much of the rest of the country—have been hit hard by job cuts, and newsrooms have been decimated, leaving a parallel ecosystem, made up of Facebook groups and blogs with tens of thousands of members, to pass unnoticed. Years of brutal government-spending rollbacks, political and economic crises, and the migrant influx have also had an impact on public opinion: 74 percent of Greeks think immigrants are a burden; 89 percent believe Greek culture is superior to all others; less than a 10th think people they don't know are to be trusted.
More recent events have divided the country further. As the Facebook video was being circulated, the government in Athens was closing in on a controversial deal with neighboring Macedonia that would have involved the former Yugoslav republic changing its name to ensure that Greece relented on a veto barring Macedonia from joining NATO. The negotiations had been fraught here in Greece, which had long argued that Macedonia's very name infringed on the historical legacy and claims of the Greek region of North Macedonia.
That deal between the two countries has proved fertile ground domestically for the illiberal politics that appear to be gaining traction across Europe. Far-right and populist politicians here began calling the government—especially Prime Minister Alexis Tsipras and former Foreign Minister Nikos Kotzias—traitors, NATO lackeys, and puppets of George Soros, the billionaire targeted by conspiracy theorists the world over. In closed Facebook groups, some of which I joined for the purpose of reporting this story, claims were made of imminent prosecutions for treason against the government, or that Greece had not struck a deal with Macedonia, but had actually given up its entire region of North Macedonia for the creation of a nation funded by, you guessed it, Soros and protected by NATO. Anti-Semitic posts that claimed Tsipras was a "pawn of Soros" who had "sold Macedonia for a few more months in power" and that linked to obscure websites were liked and shared by thousands.
The Macedonia debate has also been an apparent subject of interest beyond Greece's borders, notably for the man whom Orbán recently labeled as the leader of the illiberal tendency within Europe: Salvini.
The Italian deputy prime minister and interior minister visited Athens in December, ostensibly to watch a soccer game between A.C. Milan and Olympiacos, who were facing off in Europe's Champions League. He attended the event as a guest of Evangelos Marinakis, the owner of Olympiacos and a shipping magnate who also controls the British soccer team Nottingham Forest, as well as one of Greece's largest media groups, Alter Ego Media. Marinakis has, through Alter Ego, been a staunch supporter of New Democracy, the Greek opposition party that has opposed the Macedonia deal every step of the way. At the time, Marinakis's spokespeople said that he and Salvini didn't talk politics during their meeting. Besides visiting Marinakis, Salvini had one other public meeting on his trip—with an organizer of protests against the Macedonia deal.
Has the Macedonia issue left Greece susceptible to the rhetoric espoused by Orbán and Salvini, who advocate anti-immigrant and nationalist stances? Alexandre Alaphilippe of the Brussels-based think tank DisinfoLab suggests it's not that simple. In a deeply divided domestic political environment, he told me, "it's very easy to integrate a narrative and to be able to pass it to a wider audience." But, he added, such efforts were more opportunistic than organized.
The economic news coming out of Greece of late has been more positive than in recent years. On the surface, it looks like Greek democracy has survived the worst of the crisis. But the political tone has shifted, on both the left and the right. These developments, unnoticed and subtle, offer signs that under the bandages of economic recovery, wounded pride and fear are festering, leaving this country vulnerable to populist and far-right arguments—that migrants are bad; that Greece's sovereignty is being impinged on in the Macedonia deal; that the country's leaders are traitorous and allied to foreigners.
"It's definitely a far-right strategy," Verhofstadt, the MEP, told me. "They don't propose any solution, just exaggerate the problem."