To China, All's Fair in Love and Trade Wars
China has more leverage in its trade war with the U.S. than you think.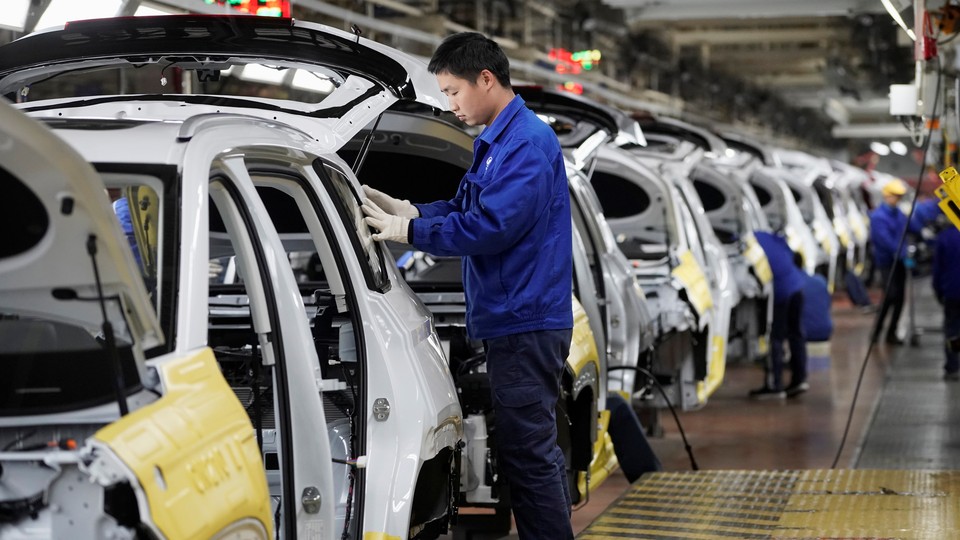 Just how bad are things between the United States and China? Over an evening beer in Beijing this week, a friend and I debated which prominent American company China would whack first. It's a serious question—and the answer could be the next ugly step in the escalating economic dispute between the two powers.
The standard line from President Donald Trump and those who support his get-tough approach toward Beijing is that because China sells more to the U.S. than the other way around, Washington has the upper hand in its game of tariffs. "China buys MUCH less from us than we buy from them," Trump recently tweeted, "so we are in a fantastic position."
Statistically, that's true: The U.S. exported only $120 billion worth of goods to China in 2018, compared with the $540 billion it imported. Beijing has a lot less stuff to tax, so the amount of damage it can inflict on the American economy and business through tariffs is much more limited. That view seemed confirmed when Beijing announced a surprisingly moderate package of new duties in retaliation for Trump's latest broadside. While Washington hiked tariffs from 10 percent to 25 percent on $200 billion of Chinese products, and is threatening to slap on even more, Beijing responded by increasing tariffs on only about $60 billion of American goods.
In practice, though, the fight is not as uneven as the trade—China has many weapons at its disposal beyond tariffs to make life miserable for American chief executives.
The intrusive Chinese state has all sorts of levers to control the economy and society, and in an environment that lacks rule of law, officials can pull them at their pleasure. They also have far more targets to aim at than the trade data suggest. Many American companies have substantial operations within China that are tremendously important to their bottom lines. General Motors and its partners, for instance, sold more than 3.6 million vehicles in China last year, almost all of them manufactured locally. Starbucks operates more coffee shops in China than in any other market aside from the United States. These businesses are vulnerable to government-inspired nefariousness, from product boycotts and state-press smear campaigns to regulatory investigations.
The Chinese have employed such tactics in the past. In 2017, for instance, China's government waged an undeclared war against South Korean business over a dispute regarding an American missile-defense system. When Seoul rebuffed Beijing's demands that it cease deployment of the system—which the Chinese considered a threat to their security—China tried to compel the South Koreans by pressuring their companies and economic interests.
A primary target was Lotte, a Korean conglomerate with interests in candy, hotels, retail, and other businesses. Lotte committed the crime of providing land for the missile system. The Chinese government whipped up nationalist ire against the company through the state-controlled media. One op-ed in the Global Times, a newspaper run by the Communist Party, entitled "Lotte's Development in China Should Come to an End," thundered that "showing Lotte the door will be an effective warning to all the other foreign forces that jeopardize China's national interests." Protests erupted in front of supermarkets owned by the Korean group, while inspectors ordered outlets closed after supposed violations. Sales plummeted, and Lotte eventually exited from the business. That wasn't all. Chinese shoppers also shied away from Korean-branded cars and cosmetics. Korean pop stars were denied entry visas; group tours to Seoul for big-spending Chinese travelers were canceled.
Canada is enduring such treatment right now. Angered that Canadian authorities (at the behest of Washington) arrested the chief financial officer of the Chinese telecom giant Huawei Technologies, Beijing blocked Canada's exports of pork and canola, pinching the country's agricultural sector. China has taken this step even though it isn't in its own economic interest, since its domestic pork industry has been ravaged by swine flu. Similarly, in 2012, Chinese quarantine officers began impounding Philippine bananas amid a flare-up over contested claims in the South China Sea.
Chinese officials can twist laws and regulations to turn up the heat too. For example, they have used anti-monopoly law against foreign companies in ways that inhibited their business. In one famous case in 2013, Mead Johnson, Danone, and other foreign firms were heavily fined for supposed pricing infractions. The U.S. Chamber of Commerce at the time argued that the anti-monopoly probes "often appear designed to advance industrial policy and boost national champions" and "rely insufficiently on sound economic analysis." Chinese regulators have already claimed one victim in the current trade dispute—the microchip company Qualcomm, which had to abandon its acquisition of a Dutch firm when Beijing failed to approve the deal.
Another possible tool—though a less likely option—is the Chinese currency, the yuan. Though it floats more freely these days, the central bank still commands a great degree of control over its movements. Chinese authorities could depress its value to make the country's exports cheaper in global markets, offsetting the extra costs imposed by Trump's tariffs.
So far, Beijing has kept its powder dry. Careful not to appear the aggressor, China's leaders have tried to match their retaliation in its timing and scope to Trump's. But only to a point. Julian Evans-Pritchard, a senior China economist at the research firm Capital Economics, recently noted that government officials have leaned on state-owned enterprises to curtail purchases of U.S. products such as soybeans and natural gas, engineering a sharp decline in those imports. That's one reason why American exports have proportionately been hurt more than China's in the trade war. According to data from the U.S. Census Bureau, American exports to China in the first quarter of 2019 dropped by 19 percent from the same period a year earlier, while China's exports to the U.S. have fallen 14 percent.
One weapon that will likely remain sheathed is Chinese holdings of U.S. government debt. China is the largest foreign holder of U.S. Treasury securities, with $1.1 trillion of them, and that has fed speculation that in a pinch, Beijing would dump this hoard and disrupt American financial markets. That fear was further fueled this week when new data showed that China in March sold the most Treasuries since 2016. Still, selling them en masse is highly improbable, since doing so would also depress the value of China's own wealth.
Still, could Apple or Coca-Cola end up in the crosshairs like Lotte? Don't dismiss it. Trump himself has opened the door to targeting individual firms in the course of this dispute, by signing an executive order this month allowing the U.S. to ban telecommunications firms from using equipment from foreign companies that pose a security risk—read Huawei here. As Beijing knows, all's fair in love and trade wars.