The Fall of a Model Democracy
Benin, in West Africa, was hailed as a success story. But it shared many of the same problems as other democracies.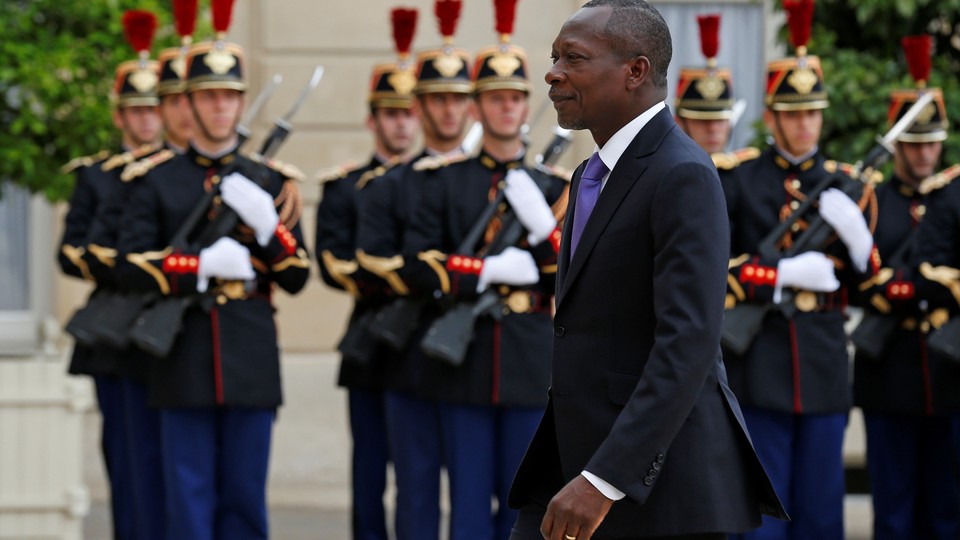 The recipe is not a good one: a brazen businessman, a contentious election, and a hint of criminality.
Those troubling ingredients were brought to a boil in Benin this month as one of the world's strongest democracies saw opposition parties barred from running for office, protesters taking to the streets, and an unknown number of arrests and deaths. As demonstrations grew over April's parliamentary elections, President Patrice Talon also blocked access to the internet and unleashed the police. The story might seem routine in other parts of the developing world, but it's an anomaly in Benin, which sparked a wave of African democratization in the 1990s and has remained resistant to breakdown and backsliding ever since.
After three decades of peace and progress, the West African nation now finds itself facing the "democratic recession," a term the political scientist Larry Diamond coined to describe an apparent trend that has taken its toll on every continent. From populist victories in the United States and Britain to far-right parties entrenching themselves in power in Brazil and Hungary, as well as emboldened authoritarians in Turkey and the Philippines, the erosion of the quantity and quality of democracy has become worrying. Now Benin joins the list.
Distressing though the developments are, the conditions that permitted the present situation are not new. In Benin and beyond, it is important to understand the crisis of democracy in the 21st century, in no small part, as a crisis of expectations from the 20th century.
Benin's story mirrors many around the world, but its ending is—or seemed to be—much better. Colonized by France at the end of the 19th century and devastated by coups in the middle of the 20th century, Benin's independence would ultimately be spoiled by a Marxist-Leninist dictatorship that nearly made it to the 21st century. But when communism finally collapsed, a transition to democracy more fruitful than most was born. Soon, free and fair elections, functional institutions, and guarantees of individual liberty became hallmarks of the country.
Until now, Benin has been held in high esteem by the world's democracy watchers, ranking near the top of several well-regarded indexes on governance, freedom of the press, political participation, and more. On various measures, its democracy has outperformed not only most of Africa, but also most of Asia and Latin America, according to Reporters Without Borders; parts of Europe, according to the Economist Intelligence Unit; and also the United States, according to Freedom House.
All that is now threatened by Talon, the businessman-president, whose alleged ill-gotten gains, apparent bankrolling of favorable politicians, purported plot to poison his predecessor, and rabble-rousing are worrying indications of how much further Benin's democracy might fall.
The transformation began last August when Benin's election commission, stacked with Talon's supporters, made two tweaks to the cost of running and the threshold for winning. Under the new system, parties in the parliamentary elections would have to pay 249 million CFA francs or $402,397 to field candidates—a 1,500 percent increase from the previous amount. In addition, parties would have to secure 10 percent of the total national vote to enter the legislature, forcing local parties to build a national presence. (Previously, parties were elected through proportional representation, leading to dozens of parties in parliament.)
The intention was purportedly noble. "This is the end of strongmen, of political parties constructed around a personality, around a city, or around a region," Gildas Agonkan, a deputy in the National Assembly, told Jeune Afrique, a leading African magazine, at the time. Or as Claire Adida, a scholar of Benin and an expert on West Africa at the University of California San Diego, told me, the government argued that the changes would reduce the proliferation of registered political parties, of which there are currently more than 200, in order to make politicians come together, enter broader coalitions, and work across ethnic and regional lines. But, she added, "it's unclear how those reforms would lead to that."
They didn't. What happened instead was a clearing of the field. Two months before April's election, Benin's election commission announced that no opposition party—not even one bloc that makes up more than one-third of the assembly—would be eligible to contest the legislative elections. Only President Talon, Benin's "Cotton King" who had built a $400 million fortune in agriculture, was able to hop the hurdles he had created, lending his deep pockets, familiarity to voters, and control of the courts to his loyalists seeking election. As the news sunk in and suggested a return to one-party rule, protesters and the police took to the streets.
In the weeks before the election, the unrest grew and the president gave little ground, refusing to delay voting as his predecessor had done amid similar struggles and scrutiny. (There have been troubles in past elections, as well--but the country recovered from those impasses.) When the unopposed election finally arrived on April 28, the situation became more severe as Talon blocked access to Facebook, WhatsApp, Twitter, and ultimately the internet.
The nation's new illiberalism was clear. Voter turnout was reported to reach 23 percent, about one-third of the usual amount. Then the clashes turned fatal as police kidnapped protesters, shot into crowds, and reportedly killed at least seven people.
Now the streets are cleared and life, for some, is back to normal. And as all 83 of the National Assembly's seats have been filled by the president's deputies, order—for whatever it's worth—has been restored too. Democracy, however, has not.
When Larry Diamond, the political scientist at Stanford University, warned the world of the "democratic recession" in his famous 2015 essay, declines such as Benin's were what he had in mind. He spoke of an "erosion in electoral fairness, political pluralism, and civic space for opposition and dissent." This has recently become familiar to Benin, with its fixed election, absence of the opposition, and muzzling of the media. The cause, Diamond said, would be "abusive executives intent upon concentrating their personal power."
Although the impulse to tie Benin to a greater global "democratic recession" is fair, much of the hand-wringing fails to acknowledge that democracy has struggled in the past too. This reaction implies that democracy was essentially unblemished until an unexplained unraveling in the past decade.
This has been far from the case. Benin's democracy was undoubtedly a success like few others, but, as with all democracies, its success was fragile. Its party politics have long been frail and fractured: Three of four presidents since democracy took hold in 1991 were independents, and some 200 parties are in uneasy existence. Corruption and clientelism have long been endemic, as bribes are common and kinship politics is widespread. Moreover, many elections have experienced delays, disruptions, and accusations of irregularities—most notably in 2001, 2011, and 2016—albeit to a lesser degree than in 2019. Bids to entrench presidential authority and extend term limits have existed too.
Around the world, there is an impulse to speak longingly of past triumphs of democracy. This impulse is more emotional than empirical.
In the same issue of the Journal of Democracy that Diamond announced the "democratic recession," two other academics, Steven Levitsky and Lucan Way, pushed back. The problem was perception, they wrote. "The excessive optimism and voluntarism that pervaded analyses of early post–Cold War transitions generated unrealistic expectations that, when not realized, gave rise to exaggerated pessimism and gloom." Now, in Benin and beyond, we continue to do what they cautioned against: remember the past with optimism, bemoan the present with pessimism, and ignore the realities in between.