The West Takes NATO for Granted. One Country Still Wants In.
As the transatlantic alliance turns 70, Georgia—situated on Russia's doorstep—desperately hopes to join.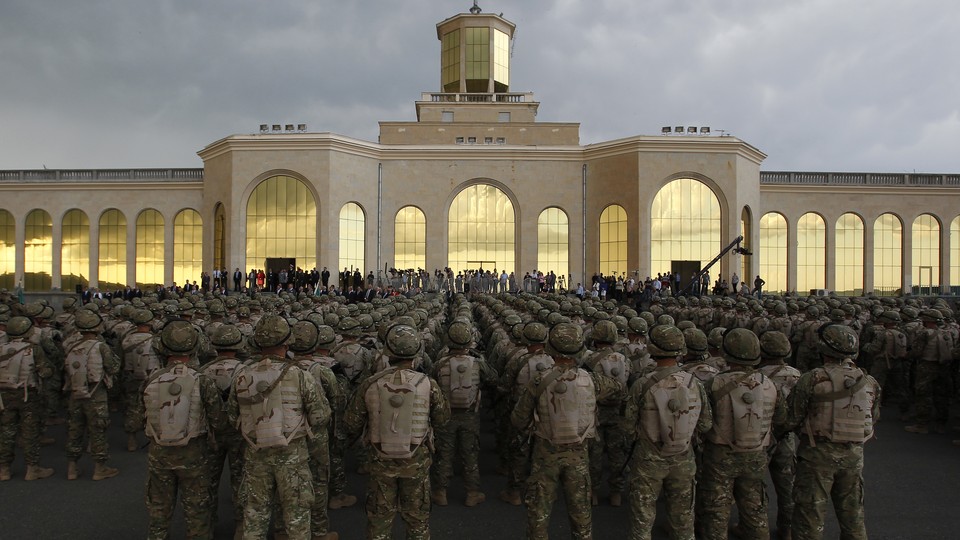 TBILISI—Transnational security cooperation, as an idea, has seen better days.
Real and rhetorical commitments to NATO are flagging: President Donald Trump has called the alliance "obsolete"; Germany sees itself soon spending barely half of NATO's mandated but unenforced target for defense spending; and Britain's defense budget fell by nearly one-fifth from 2010 to 2015.
The trend is largely understandable. Seventy years after NATO's founding, and nearly three decades after the disintegration of the Warsaw Pact, maintaining the alliance is a lesser priority, if not a burden. Even with a resurgent Russia, the threat of tank divisions rolling across Europe seems mostly ludicrous.
Yet farther to the east, this scenario is not a fantasy—it is recent history. Indeed, for this small country, not even a member state, NATO is nearly sacrosanct.
Situated on Russia's doorstep, the Caucasus republic of Georgia has long been an enthusiastic proponent of NATO membership. Since the Rose Revolution in 2003, when peaceful demonstrations forced the ouster of a Moscow-backed leader and propelled the pro-Western politician Mikheil Saakashvili to power, the country has prioritized integration into the transatlantic security alliance. Georgia remains the top non-NATO contributor of troops to the coalition mission in Afghanistan, with 885 soldiers in the country, and previously stationed the third-largest contingent of soldiers in Iraq during that country's occupation, after the United States and Britain. Despite such efforts, the prospects of Georgia joining the alliance remain dim.
Remarkably, however, this has not been reflected in the public mood here. A poll released in January by the National Democratic Institute (NDI), an American think tank, showed that 78 percent of Georgians favored their country joining NATO, a figure that was topped only by the 81 percent who approved when asked the same question in the NDI's November 2013 poll.
This level of support might appear strange. With the Trump administration regularly admonishing its allies and questioning the United States' international commitments, the past two years would seem an unlikely moment for enthusiasm toward NATO to grow, particularly among countries outside the organization. Here in Georgia, however, that is precisely what is happening.
Georgians have long been well disposed toward NATO, and in six and a half years of polling on the issue, the NDI has never found that less than three-fifths of the population want their country to enter the alliance.
The most notable demographic that has historically been lukewarm is the country's minorities, primarily ethnic Armenians and Azerbaijanis, who together make up about a tenth of Georgians. In June 2017, only 29 percent of those in ethnic-minority settlements supported NATO membership, while an equal amount opposed it. Strong familial and cultural links among those communities to Russia contributed to this, and a partial estrangement from Tbilisi also played a role. A mere 20 percent of Georgian Armenians and Azerbaijanis said they have a strong or intermediate command of the Georgian language, according to the NDI's most recent figures.
In the latest NDI poll, though, support for NATO among minorities surged to 48 percent. There is no immediately apparent reason why this occurred. Talking with representatives of those communities, however, the picture becomes clearer. After the 2008 war between Russia and Georgia, Tbilisi began providing more information to minority groups about Europe, about NATO, and "about the alternative," Mariam Araqelova, the chairwoman of the Union of Georgian Armenians, an advocacy organization that provides community services, told me. For example, in Samtskhe-Javakheti, a region in southwest Georgia where most of the country's ethnic Armenians live, a government-funded NATO information center was opened.
Shalala Amirjanova, a Georgian Azerbaijani civic activist from the Azerbaijani-majority town of Marneuli, about 25 miles south of Georgia's capital, notes that locals "still have many misconceptions about the alliance." But in this regard, too, a gradual change is under way, with local NGOs engaging the population on the issue. More training exercises have also increased visibility: In August, NATO held the fourth iteration of its Noble Partner multinational exercises in Georgia, which included more than 1,000 U.S. soldiers and 500 more from countries including Britain, France, and Germany, alongside 1,300 Georgian servicemen.
The largest boon to NATO's image among Georgians, and Georgia's minorities in particular, however, seems to have come indirectly. In March 2017, the European Union began allowing Georgians to travel to EU countries visa-free. The knock-on effects in terms of their views toward Europe, as well as NATO, have been significant.
"We never had a chance to visit Europe before. The message from them was always: You are good people, but you can't come here," Araqelova said. Amirjanova agrees, saying the country's Azerbaijani community had felt similarly.
Russia's creeping land grabs in South Ossetia, a breakaway territory that hosts numerous Russian military bases, have also not gone unnoticed, notably by Georgia's Armenian community. Moscow has been accused of conducting a policy known as borderization, moving its fences forward several hundred meters at a time past the ill-defined border of South Ossetia to de facto annex more Georgian territory. "The situation with South Ossetia in particular has created many skeptical views about Russia's intentions," Araqelova said. "People see that the border is moving closer and closer, and they start to think that Russia does not have their own country's best interests in mind."
Their northern neighbor's worsening economic situation has shifted views, too. "People live in Russia to work," Araqelova said. "Those who have gone more recently have found that it's more difficult to make a living than they thought. "
Nationwide, the reasons for the appeal of major international security guarantees to a country that fought the 21st century's first full-scale state-on-state war are evident. Wider Georgian society today is almost bereft of pro-Russian views, with the few politicians who do represent this viewpoint confined to the margins.
"In Georgia today, there are very few people who oppose NATO," says Iago Kachkachishvili, the director of the Institute of Social Studies and Analysis, a Tbilisi-based think tank. "We simply don't have another choice."
The two main anti-NATO political forces, the loudly pro-Russian former president Nino Burjanadze and the right-wing nationalist Alliance of Patriots of Georgia, both claim support in the single digits. The Alliance of Patriots does not even dare state its anti-NATO views, preferring more tacit messaging, such as emphasizing an "independent path," fearing a loss of support otherwise. Thus, an almost complete consensus exists among political parties in the country. "Support for NATO is a kind of benchmark for being accepted by the population," Kachkachishvili asserts.
This largely unified worldview likely explains why Georgians have remained so willing to contribute troops to U.S.-led military campaigns abroad, despite a steady stream of casualties. (In a single incident in Afghanistan in June 2013, seven Georgian soldiers were killed when a Taliban truck bomb struck their compound.)
The path to NATO membership is long. The organization has been unwilling to advance on Georgia's prospects so long as a fifth of its territory remains outside of government control, with Russian troops present in both Abkhazia and South Ossetia. There is no sign that Georgia is close to being offered a Membership Action Plan, the first concrete initiation of eventual accession.
But there is likewise no indication that anyone in Georgia is prepared to abandon the dream. "It is a requirement for us," Kachkachishvili says. "We will always have a monstrous neighbor, thinking of Georgia's destruction. Without strong partners, we cannot be winners."
Araqvelova is equally certain. "The change has been gradual," she said, "but it is unstoppable."