How Sri Lanka's Christians Became a Target
The island nation's religious minority was rarely threatened. The Easter bombings changed that.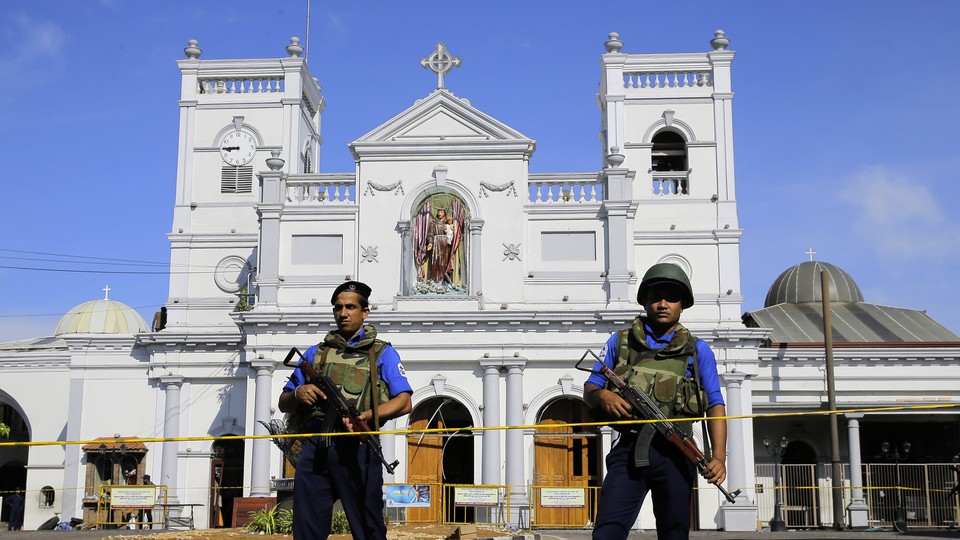 The deadly bombings in Sri Lanka over the weekend follow a pattern of religious terror that has become grimly familiar around the world. The attackers targeted churches on Easter Sunday, when Christians would be gathered in large numbers and vulnerable during worship. They also chose crowded and exposed public spaces, including hotels likely to be hosting foreign tourists.
And they may have been associated with an Islamist militant cause: On Tuesday, the Islamic State claimed responsibility, although this has not been independently verified. Sri Lankan officials have alleged that at least one local Islamist group was involved in the attacks, and suggested that the attacks may have been carried out in retaliation for the white-nationalist shooting spree at mosques in Christchurch, New Zealand, in March; they did not say what led them to make that claim. The bombings killed at least 321 people, according to Sri Lankan police, and injured hundreds more.
This pattern of violence is depressingly familiar worldwide, but it has been distinctly unfamiliar in Sri Lanka—until now. The small island nation was consumed by a vicious civil war from 1983 to 2009, which was largely motivated by ethnic, rather than specifically religious, tensions. Since then, however, leaders of the dominant Sinhalese Buddhist population have frequently targeted religious minorities, including Christians and especially Muslims. In fact, Christians and Muslims in Sri Lanka have developed a degree of solidarity as persecuted minorities, Chad Bauman, a religion professor at Butler University who studies Christian movements in the region, told me.
The exact motivations of the attackers are still not known. But they may have targeted churches in part because these spaces are powerful symbols of the West. Fairly or unfairly, Sri Lankan Christians have long been associated with colonial power; today, connections to global missionary networks and massive institutions like the Roman Catholic Church compound that association. While Muslims and Christians in Sri Lanka do not have a history of mutual hostility, the general atmosphere of religious repression may have contributed to the attackers' desire for violence. The bombings may be the latest permutation of violence in a country that is burdened with a bloody history but that has been largely peaceful in recent years. Sri Lanka has joined an expanding list of countries where churches have been twisted into a dramatic stage for ideological violence.
Sri Lankan politics have long been defined by ethnic and religious tensions that are inextricable from its colonial past. Christianity most likely arrived on the island, which sits off the southeastern tip of India, with the Portuguese in the early 16th century. A century and a half later, the Dutch took control, followed by the British, who governed the country until 1948.
For the people who remained on the island, then known as Ceylon, after its independence was declared, this was a moment of trying to figure out what Sri Lankan identity was, Shobhana Xavier, an assistant professor at Queen's University in Ontario who studies global Islam, told me.
Two predominant ethnic groups, the Sinhalese and the Tamils, whose members are Hindu, Muslim, and Christian, wrestled over questions of "who gets to be in the majority, who has rights, and who gets to be seen as Sri Lankan," she said. This, in broad terms, was the basis for the civil war that began in earnest several decades later. Because the conflict was primarily driven by ethnic divisions, added Bauman, Christians were not necessarily implicated on one side or the other.
This history matters, because it makes Christians unlikely targets. Instead, the attackers may have bombed churches, along with public sites like hotels, because these sites are associated with the West. "In general, I would say that Christianity in Sri Lanka suffers under the stigma of a historical connection with colonialism," Bauman said. "It's always easy for opponents of Christianity to tar them in that way, and also, recently, with their association with the power and wealth of Western Christians."
The attackers may have also associated Christians with the ruling forces in Sri Lanka. Despite violence that is sometimes directed against Christians, especially in new churches planted by missionaries, leaders of the Sri Lankan Catholic Church have attempted to avoid conflicts with the Buddhist majority, often by trying to support their political agenda, Timothy Shah, the director of the South and Southeast Asia action team at the Religious Freedom Institute, told me. "The Catholic Church is a very powerful element of the cultural, religious, and political establishment of Sri Lanka, going back to the time of Portuguese colonial rule," he said. And yet, Christians, along with the country's Muslim minority, have long been marginalized by the Sinhalese Buddhist majority. "They're both portrayed … as foreign religions that don't have deep indigenous roots in Sri Lanka," Bauman said. "They're both considered a threat because of their alleged growth," ostensibly driven by birthrates and proselytism. In the eyes of Buddhist leaders, this could upset the country's demographics and displace the Sinhalese majority.
Although Christians have not been blamed for attacks against other religious minorities, the country's general atmosphere of religious repression may have created a ripe environment for this kind of attack. In 2018, a mob—allegedly incited by extremist Sinhalese Buddhist monks—destroyed Muslim businesses and homes, as well as a mosque, in the central district of Kandy. "Probably the most important driver of religious terrorism in the world today is religious persecution. Almost all religious terrorism in the world springs from countries where there are high levels of religious repression," Shah said. "The choice of the churches and the hotels suggests that part of what this group was thinking is, We're going to target a West that is indifferent or hostile to Muslim interests."
The group that is currently being blamed for the attack, the National Thowheeth Jama'ath, was previously only known for desecrating Buddhist statues. Sri Lankan investigators have not shared much tangible evidence about the motivations behind the attack, and it will be complicated to interpret any allegations they make given the government's historical involvement in religious repression. ISIS' claim of responsibility, if verified, may have changed the context of the attacks. The bombings are part of two narratives of violence. One is a local story of ethno-religious conflict, rooted in Sri Lanka's complicated history of colonialism and civil war. The other is a transnational pattern of Islamist violence carried out against Christians and the West, in which past attacks in places thousands of miles away, like Christchurch, are imagined as part of the same narrative.
It's only been two years since the Easter Sunday bombings at two Egyptian Coptic Christian churches that killed and injured dozens. Just a few years before that, Christians in Nigeria were killed on Easter by a suicide bomb. Easter is supposed to be a time of celebration, when Christians around the world gather to proclaim that Christ rose from the grave. Instead, it has become an anniversary of death.