What's Different About the Attacks in Sri Lanka
Investigators have to determine how the militants went from defacing places of worship to launching a devastating attack.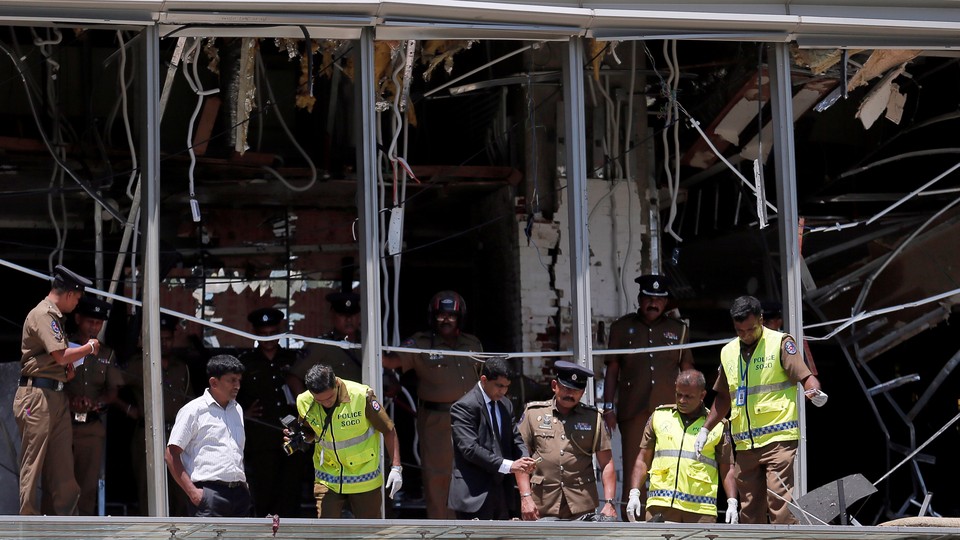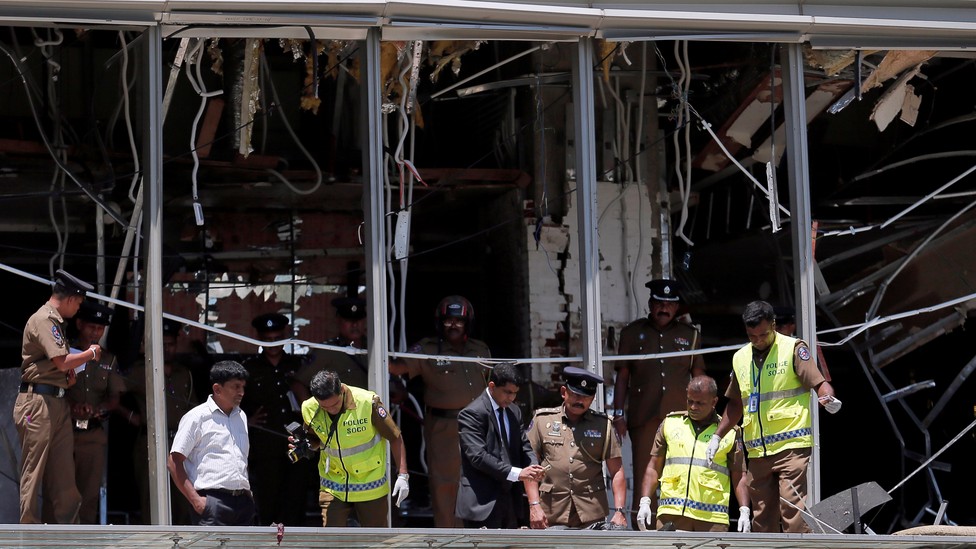 Sri Lanka has a bloody history marked by a brutal, nearly 30-year civil war. In recent years, it's been mostly spared from violence, until Easter Sunday, when large-scale, apparently coordinated terrorist attacks on churches and hotels killed nearly 300 people.
The government blamed the attack on a little-known Islamist militant group, National Thowheed Jamath, which had gained notoriety in Sri Lanka for defacing four statues of the Buddha outside temples in Mawanella, a town in the country's center, in December 2018. What investigators will now have to piece together is how the group's capability skyrocketed from vandalism to a sophisticated, multipronged attack and, perhaps more important, why now.
Places of worship are soft targets, but the attacks Sunday suggested a level of complexity not seen since the civil war between the government and the separatist Tamil rebels that ended in 2009. The Tamil rebels pioneered modern suicide bombings, assassinated political leaders, and targeted civilians. But that conflict was also ethnic in nature: the majority Sinhala community versus the Tamil rebels. Since then, religious violence has been rare—and when it does erupt, it is typically restricted to Buddhist-Muslim tensions. That's partly why the Easter assault by an obscure group on Christian places of worship is so surprising.
"It doesn't make sense," C. Christine Fair, an expert on terrorism in South Asia and an associate professor at Georgetown University, told me. She said that National Thowheed Jamath had never attacked churches previously. Moreover, Sri Lanka has generally not seen tensions between Muslims, who make up 10 percent of the population, and Christians, who are about 7 percent. It's far more likely, Fair said, that an outside group, such as the Islamic State or al-Qaeda, based in the Indian subcontinent is involved in some way.
No group has so far claimed responsibility for the attack. The Sri Lankan government, which imposed a social media blackout after the attack, has blamed National Thowheed Jamath and arrested several people. Rajitha Senaratne, a spokesman for Sri Lanka's cabinet, told reporters Monday that there "was an international network without which these attacks could not have succeeded." He did not elaborate, nor did he provide evidence.
Rita Katz, the director of the SITE Intelligence Group, which monitors jihadist networks, noted on Twitter that coordinated attacks on chuches is, in fact, a hallmark of ISIS, which has carried out similar operations in Egypt and the Philippines. Although Islamist militancy has not been a big problem for Sri Lanka, ISIS has issued some of its statements in Tamil, a language spoken in the south of India and by Sri Lanka's ethnic Tamils. (Most of Sri Lanka's Muslims are Tamil—though the country's Tamil population is mostly Hindu.)
It is not yet clear what, if any, links National Thowheed Jamath has with ISIS or other terrorist organizations. But jihadist groups have made successful inroads in parts of the world where they previously have had little influence, such as in the Philippines and Indonesia. They have used online propaganda to radicalize disaffected youth in Europe; have recruited from existing organizations, such as the Taliban in Afghanistan and Boko Haram in Nigeria; and have stepped into the security vacuum in places like Libya. Indeed, Sri Lanka acknowledged in 2016 that 32 Sri Lankan Muslims had joined ISIS, a tiny fraction of the country's overall Muslim population, but significant enough for the country's government to have taken notice. It is not known whether any of them has returned home.
Additionally, operations like the one in Sri Lanka require expertise and planning. Militants have to be radicalized, recruited, and trained to carry out an attack of that magnitude. This suggests the existence of safe houses, planning cells, and bomb-making equipment and materials—all hallmarks of a well-organized group. "You don't roll out of bed and decide to martyr yourself in a suicide-bombing attack," Bruce Hoffman, an expert on terrorism and a professor at Georgetown University, told me.
In hindsight, an attack at this particular moment in Sri Lanka should not be a complete surprise. Tensions between the majority community and Muslims have risen since the civil war ended; political rivalries have hobbled governance; and in the aftermath of the bombings, it has emerged that there were warnings—several of them—about an impending attack.
"Postwar, the one community that was being scapegoated was the Muslim community," Shobhana Xavier, an expert on global Islam in South Asia who is an assistant professor at Queen's University in Kingston, Ontario, told me, referring to the idea that Muslims had replaced Tamils as the distrusted minority. "There was a heightened sense of Islamophobia."
That sentiment grew more acute, fanned mostly by misinformation spread via social media, and spilled over into violence in March 2018, when Buddhists attacked Muslim-owned businesses and places of worship. At least two Muslims were killed. Even during that period, Prime Minister Ranil Wickremesinghe and President Maithripala Sirisena reportedly did not communicate. The two men are bitter enemies whose rivalry pushed Sri Lanka into a constitutional crisis last year that was resolved only through the Supreme Court's intervention.
The multiple warnings about churches being targeted were ignored and didn't make their way to Wickremesinghe. It's unclear whether they weren't delivered because of incompetence; because of his rivalry with Sirisena, who controls the police and the military; or because information was kept in bureaucratic silos. (Sri Lanka's Muslim community also reportedly had warned authorities multiple times over the years about the group's activities.)
While the search for answers continues, there have already been repercussions: Muslim fishermen in Batticaloa, in the east of the country, were attacked following the blasts. As Xavier told me, "If it does end up that this particular group" carried out the attack, "it could mean devastating days ahead for the country."