The Rare Businesses That Can't Wait for Brexit
They think that Brexit will reap winners and losers, and they're confident that they'll be among the winners.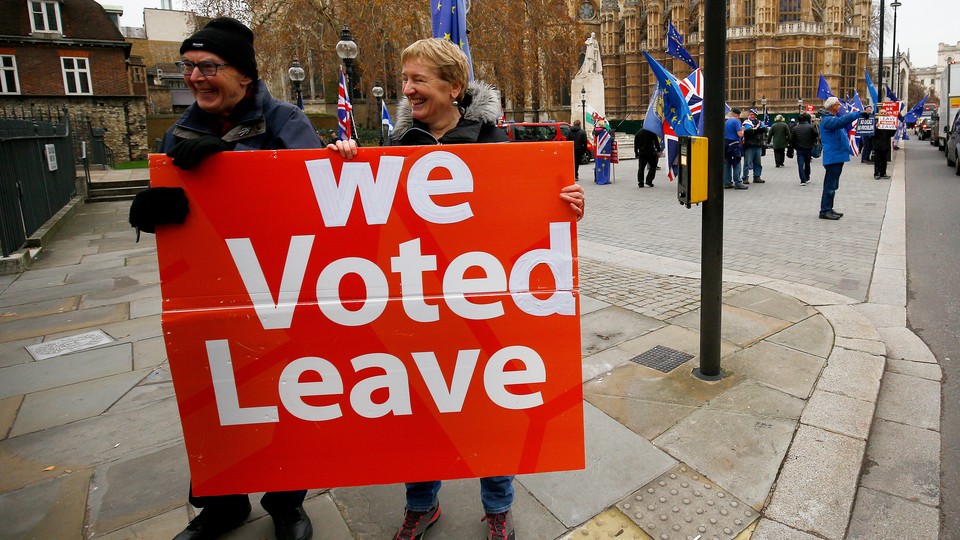 With days to go before Britain is due to leave the European Union, the terms of its exit are still unclear. Uncertainty and distrust abound. Without a negotiated withdrawal deal or an alternative plan, the country will suffer an abrupt and chaotic departure.
Unlike the vast majority of British business leaders, though, Lance Forman isn't worried. In fact, he isn't really worried about Brexit at all. The fourth-generation owner of Britain's oldest salmon curer told me that his family's company has survived fires, floods, and displacement. "What we learned from each of those catastrophes is that change provides great opportunity for renewal," Forman said.
Brexit, he predicts, will do the same.
Not many people agree with him. Across the country, businesses have sounded the alarm over the fallout that a no-deal Brexit could cause, with Britain suddenly separate from the EU and subject to different rules, tariffs, and regulations. The Bank of England and the Confederation of British Industry, Britain's biggest business lobby group, have voiced concerns about everything from supply-chain disruptions to job losses to weaker economic growth, worries that have been echoed by British lawmakers, who voted last month to reject a no-deal outcome in principle. And though Britain is no longer leaving the EU on March 29 as anticipated, the chance of the country crashing out of the bloc without a deal on April 12 remains, in the words of the European Commission, "a likely scenario."
Still, some, such as Forman, support Britain's withdrawal, regardless of how it happens. Their reasons for doing so tend to depend on their business: While some want to achieve regulatory autonomy from the bloc, others are hoping that a more "global Britain" could expand their trading prospects to markets beyond Europe. Yet this future is by no means decided. Not everyone who voted in favor of leaving the EU did so because they oppose regulation—in fact, some Leave voters want Britain to seek tougher regulations than those that already exist. Many simply want Britain to be able to decide its own rules for itself.
The company heads I spoke with who fall into the category of those excited for Brexit don't deny that their views aren't representative of most other business leaders. Still, they remain undeterred: The way they see it, Brexit will reap both winners and losers.
As far as Forman is concerned, his company stands to be one of the winners. The H. Forman & Son smokehouse sits on Fish Island, an East London neighborhood on the banks of the River Lea. The company's salmon-pink-colored building stands out against the graffitied industrial landscape, itself a relic of the British capital's manufacturing past. The area is a marked contrast to where the company's products are sold—they can be found in, among other places, luxury U.K. department stores such as Selfridges and Harrods. Sitting in Forman's office, which overlooks the factory floor where salmon is salted and smoked, he explained his optimism about Britain ending its 45-year membership in the EU. "Brexit is really, in terms of business, a one-off change in the rules," he said. "The rules have been changing anyway all the time."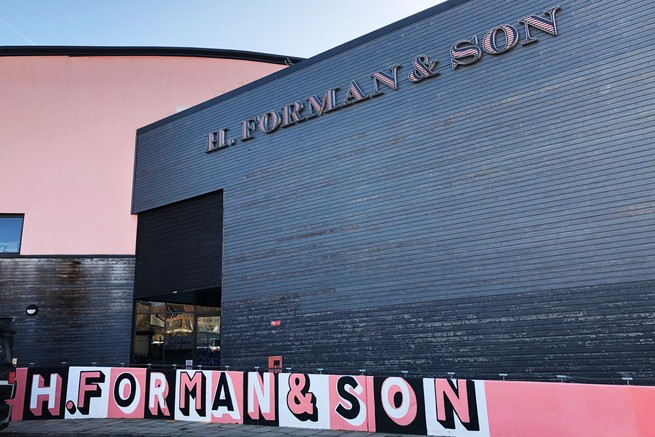 Since taking over the family business from his father, Marcel, 25 years ago, Forman said that some of his company's greatest challenges have come from keeping up with the bloc's regulations, from the straightforward (such as insulating the factory to adhere with the bloc's refrigeration standards) to the seemingly redundant (ordering new labels to specify that each packet of smoked salmon "contains fish").
For big manufacturers, keeping up with these regulations might not be a major financial burden. But for small-scale producers such as H. Forman & Son, which employs approximately 80 people, the costs can add up. "Over the years, there have been so many changes in EU regulations on food, and it has cost us an absolute fortune," Forman said.
These regulations aren't limited to the smoked-salmon industry. Significant aspects of British law—from food safety and medicine to environmental protections and workers' rights—are influenced by EU-wide standards. And though EU member states, including the United Kingdom, play an active role in setting these rules, the financial implications for businesses have underpinned frustrations with the bloc as a whole. In the run-up to the 2016 Brexit referendum, proponents of withdrawal argued that leaving the EU could save Britain upwards of £33 billion, or $43 billion, annually in EU regulatory spending. (As the think tank Open Europe points out, however, these regulations are estimated to provide the country a total benefit of £58.6 billion annually.)
These rules don't apply solely to EU members—any company that wants to sell its products within the bloc's common market must abide by them, too. A U.S.-based smoked-salmon company, for example, would need to follow the same product and safety standards as Forman's to sell its goods in EU markets.
For some of the business leaders opposed to EU regulatory standards, though, the issue isn't just whom these rules apply to, but how they're applied. Simon Boyd, the managing director of the Dorset-based steel manufacturer REIDsteel, argues that such rules disproportionately affect small-to-medium-size enterprises such as his.
"The same regulatory burden has to be suffered by a small business as it does by a company with 10,000 employees," he told me by phone from his company's headquarters in southwest England. REIDsteel, by comparison, employs just 130 people. Boyd noted that its size isn't reflective of its reach: The company exports to 140 countries, including some in the EU. "We have to compete in a world market against America, China, Australia," Boyd said. "These companies do not have to comply with the EU regulatory burden that we have … So Brexit, for us, is a hurrah moment. It's where we can free ourselves from these chains and this burden that's held our business back."
The reality isn't so simple. Britain is unlikely to roll back existing regulations once it leaves the EU, and it won't necessarily deviate from the bloc's future regulatory changes. "We're almost certainly going to stay aligned with the EU so that we can continue exporting to them, because they are our largest export market," Jonathan Portes, a professor of economics and public policy at King's College London and a senior fellow at U.K. in a Changing Europe, told me.
For many sectors, including food, the British government has already confirmed as much. In a statement in February, Prime Minister Theresa May said that leaving the EU would not result in Britain lowering its standards for things such as workers' rights, environmental protections, or health and safety. "Taking back control," May told the House of Commons in February, "cannot mean giving up control of these standards."
Julian Morgan, the managing director of KPM Marine, a marine-products manufacturer in Birmingham, told me that his reasons for supporting Brexit have nothing to do with regulation. "We work to a global standard, which is set by the International Maritime Organization," he said. "European standards make no difference to us."
And neither does access to European markets. Though KPM Marine is a local manufacturer, its products are exported to 38 countries globally—the majority of which Morgan said aren't in the EU. For him, Brexit presents an opportunity for Britain to trade more with the rest of the world, just as his company already does. When I asked him about concerns surrounding a no-deal Brexit such as a fall in the value of the pound or congestion at British ports, he dismissed them. "If I send a consignment to Holland and the same consignment to Singapore, the only thing that changes on the paperwork is the address," he said.
Here, too, the reality is more complicated. If Britain leaves the EU without an agreement or a trade deal, it will automatically revert to trading on World Trade Organization terms, meaning that British goods bound for the EU would be subject to tariffs and customs checks. (Smoked salmon, for example, would face a 13 percent tariff.) Though Brexit advocates argue that a no-deal departure wouldn't necessarily be the end of the world for Britain—and could even be "managed" with the right preparation—most analysts dispute this claim, noting that simply reverting to WTO rules (a situation rife with its own issues) wouldn't mitigate other problems that a no-deal departure would pose, such as the grounding of planes.
"In theory, if we crashed out without anything at all, there simply wouldn't be any flights between the U.K. and the EU," Portes said. "Now both sides have said there will be temporary measures in place to ensure that it doesn't happen, but that doesn't mean the WTO provides the long-term solution for our relationship with the EU on aviation. It just doesn't."
When I asked Portes about the winners and losers of a no-deal Brexit, he conceded that some businesses would in fact be better off than others. But that doesn't necessarily mean the country would be better off as a whole.
"The businesses that are best able to adapt will do the best—that's true," Portes said. "But if Brexit leads to greater restrictions on trade, immigration, and investment—and all the evidence suggests it will—then that will make us somewhat less prosperous overall. That doesn't mean that every business will go bust and some business will do just fine, of course. But that doesn't change the basic economics."