A Motto for a World-Weary Paris
The Notre-Dame fire brought Parisians together, for just a moment, in a way that even the November 13 terrorist attacks could not.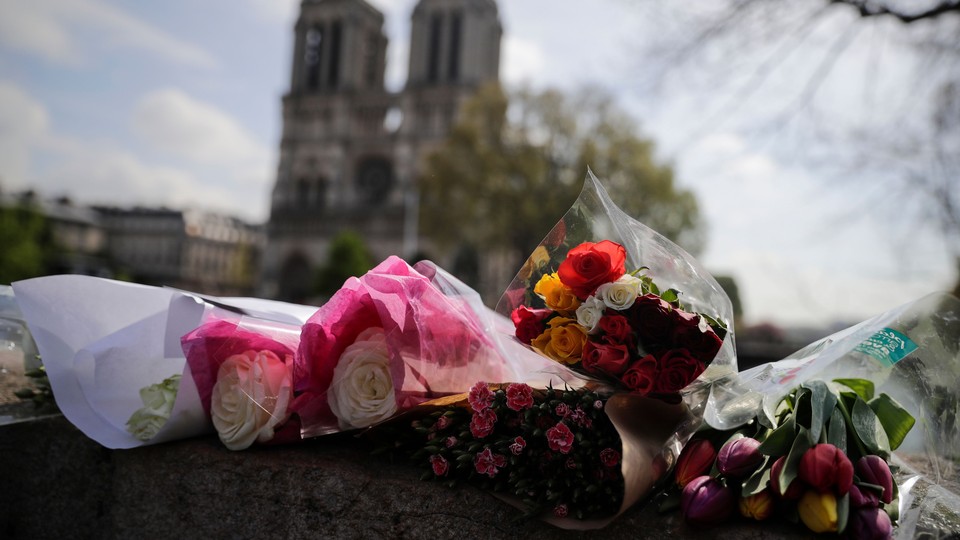 PARIS—The weather suddenly turned warm here this week. In the sidewalk cafés, they're now sipping rosé, and on the Île Saint Louis, facing the back of Notre-Dame, the café-sitters burst into applause whenever firefighters pass by in their bulky red uniform. It's touching, even a bit sentimental, but this is now the mood in Paris, a city that has, once again, been struck by tragedy and, once again, forged on.
Fluctuat nec mergitur: She is tempest-tossed, but does not sink. That, it turns out, is the Latin motto of Paris. The city's mayor, Anne Hidalgo, cited it at an impromptu ceremony, during which she and other officials thanked the firefighters who had rushed to the cathedral, making snap decisions that helped save its belfry towers, facade, and rose windows once it was clear that the roof, made of timber from the 12th century, would be lost.
No one talked much about that motto, Fluctuat nec mergitur, until after November 13, 2015, when terrorists killed 130 people and wounded hundreds more in a series of coordinated attacks at the Bataclan concert hall and nearby cafés, and outside the Stade de France, Paris's main sports stadium. The attacks were the capstone of an annus horribilis that had begun in January, when terrorists killed 12 people and injured 11 others at the offices of the satirical weekly Charlie Hebdo. Days later, terrorists opened fire on a kosher supermarket and took hostages there.
Those were painful times, at once galvanizing and divisive. After the attack on Charlie Hebdo, there was a sense that one had to take sides. It was either "Je suis Charlie"—solidarity with the murdered and injured, a defense of free speech at all costs—or not. There was little room for nuance. Later, conversations began about problems in France's banlieues, the ones that produced generations of a largely Muslim underclass from which some of these terrorists had hailed. The mood shifted again after November 13. By then, it was clear that these terrorists wanted to strike at the heart of everything that made Paris, Paris—its joie de vivre, its cafés, its nightlife, its intermingling of people from all races and religions.
The fire at Notre-Dame feels different. It has prompted a collective outpouring of sadness. Investigators believe that the blaze started by accident, on a part of the structure being restored.
Notre-Dame isn't just a Catholic monument or even a French monument, although it is a national symbol of France. It's a pillar of world heritage, something to be treasured unambiguously by anyone with even a modicum of heart.
This week, French newspapers ran stories about how French Muslims and Jews—the country has Europe's largest population of both—were also expressing sadness about the fire. The fact that this is even considered news tells you a lot about how complicated religious identity can be in France, a country of universalism that officially does not recognize religion—or race—but in practice has 67 million citizens of many different backgrounds.
Fluctuat nec mergitur. The motto dates to the 16th century, but was adopted by Paris in the 19th. In this, it echoes the now-destroyed spire of Notre-Dame itself, which was designed in the 19th century by Viollet-le-Duc in a style that invoked the medieval. Notre-Dame, like Paris itself, is a palimpsest.
Already, debates are raging about Church and state and who will pay for the restoration. And about whether to rebuild Notre-Dame as it was, or to reinvent it, as has been done time and again over the centuries. President Emmanuel Macron's call for architects to design a new spire has started an intense conversation about conservatism and conservation. At least one right-wing politician has said that France's patrimony should be kept as is. Others have called for more reinvention. This pull between past and future, between an impulse to preserve and an impulse to innovate, is the central fulcrum of Macron's presidency. It, too, is in the balance here.
After the terrorist attacks of 2015, when many human lives were taken and the city was frightened and on edge, I was inclined to stay home and avoid crowds. After the fire at Notre-Dame, I've found myself pulled toward the monument, wanting to be closer to it and in the company of other strangers who also want to be closer. How was it doing today? How was it holding up? I looked toward the cathedral from the Île Saint Louis or the Right Bank. It was like visiting an old friend who was in distress and needed support.
The television crews from around the world have come and gone. Only a few TV trucks are parked on the Pont de la Tournelle now, one bridge over from the back of the cathedral. But people still flock to the quais along the Seine to look up at the damaged monument and take pictures.
Has the fire at Notre-Dame changed Paris? Yes. For a moment at least, it has. There's been a coming together. A Here we go again feeling. On the street the other day, I ran into Ariel Weil, the mayor of the Fourth Arrondissement, where the cathedral is located. He told me scores of people had shown up for a meeting in his district this week to find out about an initiative that would teach them how to help in emergencies—medical emergencies, but also floods and fires. (In 2016, the Seine flooded its banks.) There was a tremendous spirit of solidarity, Weil said.
This camaraderie may soon dissipate, and France will likely go back to its current crises—representative democracy, taxes, social services in the provinces, elitism, economic inequality, social mobility. The night that Notre-Dame caught fire, Macron had been scheduled to deliver a major address announcing measures in response to the "yellow vest" protest movement, which has shaken his presidency to its core. For now, that has been put on hold. The timing isn't right. The wound is still too raw.
Paris can be indifferent, even cold. Human interaction here is not of the gushy, oversharing American kind. People keep their counsel. They vousvoie, or use the formal form of address, even for people they've known for years. Friendship isn't offered lightly. Sometimes it isn't offered at all. But when touched by tragedy—and there have been so many these past few years—this city turns out to have a beating human heart.
On the stairs this week, I happened to see the retired couple who live in the apartment next door. We spoke about Notre-Dame: how crushing it was that it had burned, how terrible we felt that we hadn't been inside in a while. How easy it is to take things for granted. They had been away when the fire started, they said. I had been here, I said.
I was holding a bunch of red tulips upside down, and one had fallen out. One neighbor, who is quite shy, picked it up and offered it to me as his wife looked on. "I'm delighted to give you this tulip," he said. And I thanked him. I've lived next door to this couple for years. This was the first time they had ever said more to me than "Bonjour, Madame." Because that's Paris. Because that's Notre-Dame. Fluctuat nec mergitur. She is tempest-tossed, but does not sink.