Narendra Modi's Election Challenge: Create Jobs. Lots of Them.
The Indian government's failure to create millions of new jobs for its young population may be its undoing in elections.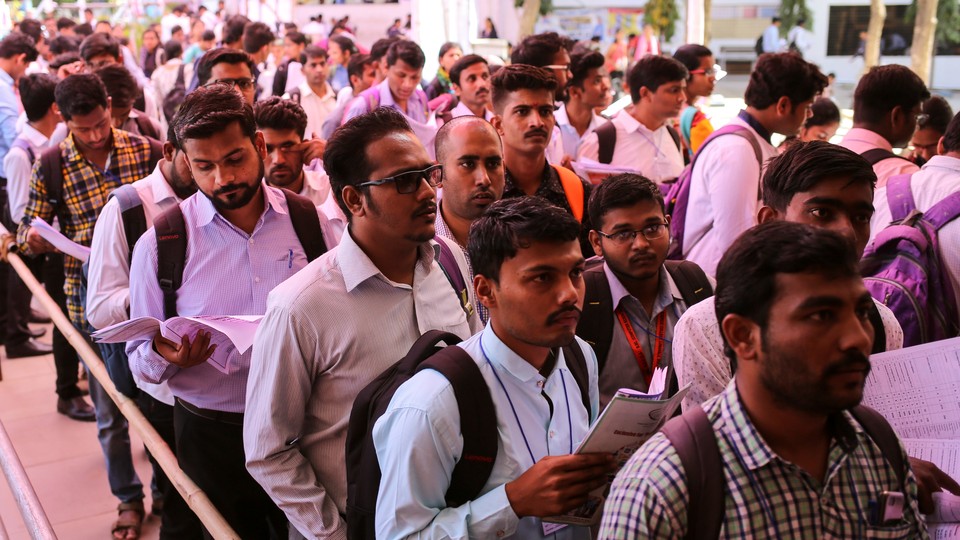 Aashique Ahmed Iqbal had no reason to think he wouldn't find a job. Although from a modest background, he'd studied at one of India's top schools, attended one of its best universities, and completed a doctorate in history at Oxford University after being awarded a highly competitive scholarship.
When he returned to India, in 2017, he was optimistic that he could find work as an academic. Over the past decade, India's education sector has opened up. Well-regarded private universities have joined some of the country's elite, state-run institutions to offer a quality education for not only India's top students, but also its wealthiest. These schools actively sought out people like Iqbal—those educated abroad—and paid them relatively well.
But Iqbal's return was anything but easy. He struggled to find consistent, full-time work, telling me that when he initially came home, "it didn't seem necessarily unreasonable that I would get a job—maybe not necessarily the first one I applied for, but I certainly didn't expect to be unemployed for as long as I was unemployed."
His travails embody the experiences of tens of millions of young Indians—and that could have consequences for Prime Minister Narendra Modi as he prepares his Bharatiya Janata Party (BJP) for parliamentary elections, which begin this month. Stories like Iqbal's are found all over the country. Last year, for instance, 19 million people applied for 63,000 vacancies in India's national railway authority. This year, there were more than 20,000 applicants, at least one of whom held an M.B.A., for five jobs with the literal title of "peons"; duties included making tea and photocopying. Similarly, 200,000 people, including those with advanced degrees, vied for 1,137 open slots for police constables in Mumbai, a job that officially only requires a high-school diploma.
These startling stories, coupled with hard economic data, pose perhaps the most serious threat to Modi's narrative of reform. They raise questions about his pledge to create 10 million jobs annually and belie India's robust economic-growth rate, which has hovered at about 7 percent over the past decade. In isolation, these accounts might seem like cherry-picked anecdotes designed to poke holes in India's economic success story. Taken together, however, they call attention to the systemic unemployment that Modi—and indeed any future Indian leader—will struggle to fix in a country of 1.3 billion people, where half the population is under the age of 27.
"If you take the long-term view, this is the single-largest challenge that India faces," Sadanand Dhume, who studies South Asia at the American Enterprise Institute, a center-right think tank in Washington, D.C., told me. "How do you get vast numbers of young people, many of them the first people in their families who have any kind of higher education, wage-paying jobs?"
Between 2005 and 2012, before the BJP was elected, India's economic growth generated about 3 million jobs a year, according to World Bank data. But the country's demographics ensured that 13 million people entered the working-age population each year during that time.
In 2014, a wave of support, especially from young Indians, propelled Modi to power. Their demand: Fix everything. The newly elected prime minister promised to overhaul India's economy, remake its creaking infrastructure, and clean up its pervasive corruption. But though the current government has made some changes, significant ones, its solutions to India's deep-rooted economic problems are the same as the last one's. Modi not only has continued the previous Congress Party–led government's populist economic policies, but also has presided over two spectacular self-inflicted crises: a surprise demonetization program that the government said was designed to root out corruption, and a bungled rollout of a nationwide goods-and-services tax.
India's troubles are hardly Modi's fault alone. They have been cemented by decades of mismanagement. Few governments, even well-intentioned ones, can tackle the challenge of providing for more than 1 billion people. Quality education and health care remain chronic issues, as does a lack of basic development. India, despite its impressive growth, is still a shockingly poor country. Its per-capita gross domestic product is about the same as that of Laos and Uzbekistan. If some of its most populous states were countries, they'd be poorer than all but a handful of nations. Indeed, decades after independence from British rule, nearly 40 percent of Indian children suffer from stunted growth due to malnutrition. These children will be part of the future workforce after being wrung through a sclerotic education system that doesn't produce enough employable graduates. And even when it does, some of them, like Iqbal, have trouble finding jobs.
Armed with his doctoral degree, Iqbal began his job hunt in earnest in India—he felt what he described as "an ethical obligation to come back home" because of the government-subsidized scholarships that had helped him fund his education. "It was important that I contribute to the society which I came from," he told me.
He applied to dozens of positions, often paying a mandatory fee meant to elicit only serious applicants, yet seldom heard back. Jobs, it seemed, weren't available. He told me that at one point he "seriously considered quitting academia and was looking at journalism and publishing" as potential career paths. The problem is especially bad in India, with its relatively young population.
India has more people younger than 25, 600 million, than the European Union's total population (512.6 million). Modi's policies will be felt acutely by these youths, a large section of them Modi supporters, over the course of their lifetime. The prime minister has succeeded in creating about 1 million jobs a year, according to one estimate, not an insignificant number (other estimates put the number at closer to 5 million a year), but one that pales before the challenges ahead. Critics of Modi acknowledge that the prime minister was handed a difficult job, but they say his approach has hurt the country.
"Yes, we know there was a problem before you [Modi's BJP] came in, but what has happened under your rule is it has actually become worse," Salman Anees Soz, a former World Bank economist who is now a development consultant and a Congress Party spokesman, told me.
The centerpiece of Modi's economic program has been Make in India, an effort to persuade foreign companies to manufacture domestically so that the country, like China and South Korea before it, can lift the majority of its population out of poverty. But what worked for those countries decades ago may no longer be applicable. For one, Make in India hasn't been the success Modi had hoped it would be, because of, among other things, a lack of labor and land reforms. It's simply too difficult to hire and fire workers in India, and far too challenging to acquire land to set up factories. Second, even if the initiative were successful, automation is getting rid of manufacturing jobs, imperiling the Indians who would have benefited from such employment in a previous era.
Perhaps realizing the scale of the matter, Modi and the BJP have shifted their prescription from job creation to self-employment and entrepreneurship, a path that on its own is unlikely to meet the needs of the huge numbers of people who are looking for work. A World Bank report on India said that only a "growth strategy that focuses on productivity-led economic growth and good jobs" will ensure inclusive and sustainable expansion. In other words, the private sector needs to create millions of jobs.
The government's policies have failed, however, to drive hiring. Despite some changes, onerous regulations and bureaucracy stifle businesses' operations. Simply put, a small company has little incentive to hire on a scale that could dent India's unemployment figures.
"India has a jobs problem," Soz said. "And then, when you look at the future, as technological changes are taking place, what experts are worried about is there might be a hollowing out of jobs, perhaps at the low- and medium-skilled levels."
A government jobs report that was withheld from public release but leaked to the media in March showed that the unemployment rate is at a four-decade high, and that the total workforce actually shrank for the first time since the 1990s. An independent economic-research institute said that 11 million jobs were lost last year. These are hardly figures that a sitting government will want to campaign with. Yet Modi remains popular and is expected to be easily reelected, partly because of a fractured political opposition and partly because progress, while glacial in pace, is palpable. Prosperity in areas of the country is evident. College graduates may be underemployed, but they have jobs—just not the ones they want.
Iqbal was luckier than most. After being unemployed for more than a year, he now teaches history at a newly established private university in the south of the country. Whether his path reflects that of other young Indians is unclear. Their fate hinges on the implementation of good government policies. If Modi wins, little indicates that he will shift gears in his next term. Even if he does, India's employment sector will take years to fix.
"You have to create a million jobs a month," Dhume, of the American Enterprise Institute, told me, before you can refer to India's youth as a potential demographic dividend—when the share of a country's working-age population outstrips those who are not of working age. "There's a very real prospect that this will be a demographic disaster. We just have to own up to that."