Indonesia's Democracy Is Becoming More Conservative
Incumbent President Joko Widodo won reelection with a Muslim-cleric running mate and five years of economic growth on his side.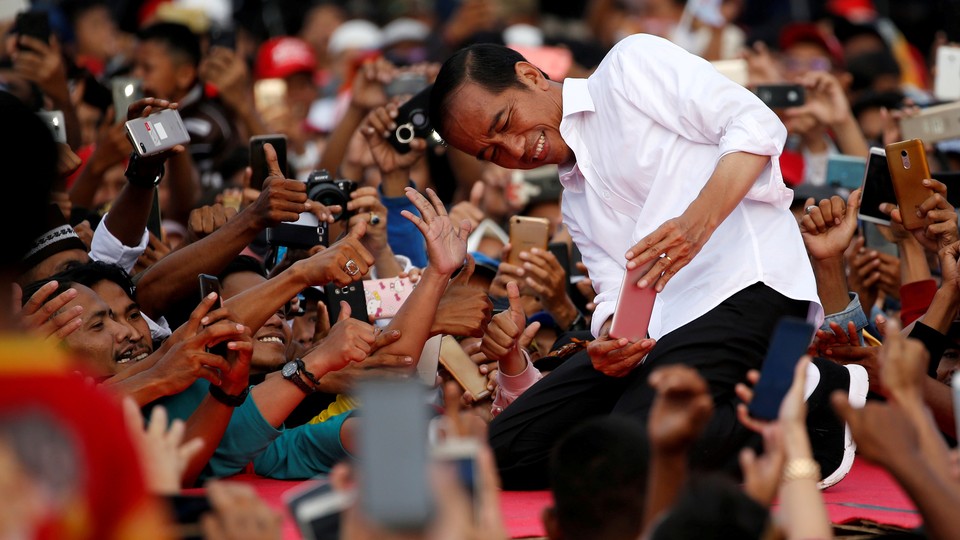 JAKARTA—The results are still coming in after Indonesia's mammoth general election, and it appears that President Joko "Jokowi" Widodo has won another term in office. His challenger, the former general Prabowo Subianto, might yet challenge the results, and Jokowi has held off on declaring victory.
Regardless of the winner, though, Indonesian politics as a whole has taken a more conservative direction.
The world's fourth most populous country is a pluralist, multiparty democracy that officially extends civic and religious freedoms to everyone living across a staggeringly diverse archipelago. But by the time anyone even showed up at the polls, both the structure of this young political system and Jokowi's turns toward the religious right meant that many issues were already decided.
Jokowi, a former furniture salesman from outside Indonesia's traditional elite who became president in 2014, was widely seen as the more tolerant candidate. But when he chose the 76-year-old Muslim cleric Ma'ruf Amin as his running mate, he alienated some of his most committed liberal supporters—and on crucial topics such as the environment, the unresolved trauma of Indonesia's dictatorship, and foreign policy, there is little difference between the two men.
Here are some takeaways from elections in the world's largest Muslim-majority country:
The new normal
As president, Jokowi has demonstrated a tendency to co-opt criticism rather than to confront it, to move to wherever he perceives the center to be rather than put forward his own vision. The most important example of this is the affair that led to the imprisonment of his former ally, the popular Jakarta Governor Basuki Tjahaja Purnama, a Christian of Chinese descent known simply as "Ahok."
After a deceptively edited video of Ahok referring to the Koran spread on social media, the governor was charged with violating Indonesia's controversial blasphemy laws, and Muslim groups took to the streets to demand his imprisonment. Ahok lost his reelection bid, then his court case, and spent nearly two years behind bars. Rather than rush to defend an ally—a member of an ethnic and a religious minority group—against a religious insurgency with extremist elements, Jokowi met the insurgents halfway. His vice-presidential pick is more moderate than Indonesia's militant Islamist groups, but was influential in getting Ahok imprisoned. Islamic identity politics seem to be here to stay.
Reburying the past
When Jokowi was elected in 2014, many human-rights activists hoped that he would finally address the most heinous crimes committed under the command of General Suharto, Indonesia's dictator until 1998. Chief among them was the massacre of up to 1 million leftists and accused leftists from 1965 to 1966. The CIA called that event "one of the worst mass murders of the 20th century"—though U.S. government officials were deeply implicated in the slaughter themselves. Tens of millions of survivors or family members have long awaited some kind of justice.
But when he came under fire from the right, and from the military, Jokowi backed off here, too. After groups such as the Muslim Cyber Army spread memes accusing the president of being a secret communist, and violent mobs attacked a conference on the memory of the 1965–66 murders, Jokowi went silent.
"When it comes to confronting the past, of course [Jokowi] has been disappointing," Ratna Saptari, an Indonesian anthropologist who helped put together an international panel of judges who concluded that the 1960s violence constituted crimes against humanity, told me. Their final report was rejected by Jokowi's government. "It's been rather difficult for him, because the past is still with us, and is still used as a weapon, even against him."
Prabowo has faced sweeping allegations of personally committing a wide range of crimes against humanity during the later years of the U.S.-backed 1967–1998 Suharto dictatorship, but Jokowi was careful not to bring that up in the campaign. He himself brought top brass from the Suharto era into his administration, and relies on the support of Indonesia's powerful military.
A stable regional leader
Almost every country in Southeast Asia has taken some kind of illiberal turn in the past few years, and Indonesia is no exception. In addition to the religious turn, the country's electoral rules have made it difficult to found new political parties or movements, and the range of policy debate is severely constrained by a tiny elite. These regulations "have led to a situation in which only oligarchs or politicians supported by them can found new parties," says Marcus Mietzner, an expert in Indonesian politics at the Australian National University in Canberra. "While this has contributed to the polity's stability, it is becoming increasingly obvious that large segments of the electorate are no longer accommodated by this system."
Still, under Jokowi, the economy has grown at about 5 percent a year, and Indonesia has avoided the kind of democratic rollback seen under Rodrigo Duterte in the Philippines or the violence that has rocked Myanmar (also known as Burma).
Given trends elsewhere in the region, and judging by the carnival atmosphere at voting booths around the country on election day, a lot of Indonesians don't seem to think that's so bad. Turnout might have been more than 75 percent, and at one polling station I visited in Jakarta, an official ended the voting period by putting on music, pulling out a karaoke microphone, and counting down from 10 to zero. When he finished, everybody cheered.