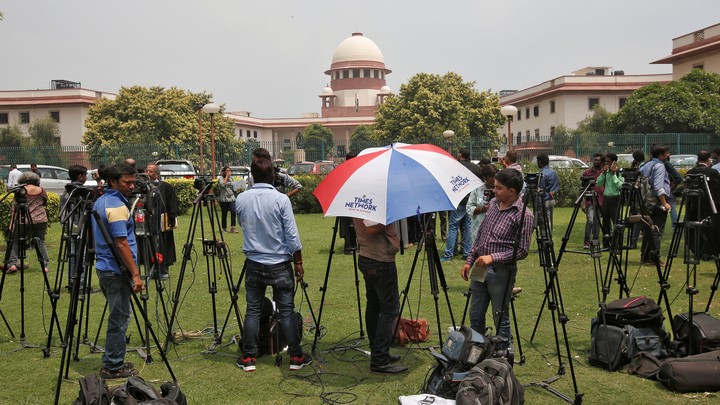 NEW DELHI—India has seen an autocratic ruler once before.
In 1973, Prime Minister Indira Gandhi passed over three senior judges to appoint a pliant contender as the chief justice of India's Supreme Court. Two years later, after a high court barred her from holding office because of election irregularities, she declared a national emergency. Civil liberties were suspended, and her political opposition jailed. When her decrees came before the Supreme Court, a bench of five justices, led by her appointee, sided with her. The emergency lasted for 21 months.
That period has a newfound resonance in India these days. Prime Minister Narendra Modi, who is running for reelection in ongoing polls, has spent his first term centralizing power while debasing the institutions that were supposed to curb such impulses. The autonomy of educational, legislative, economic, and investigative bodies—not very lofty to begin with—has gone into a downward spiral. Like great clouds, questions have gathered over the autonomy of the Supreme Court, and the office of the chief justice is going through its darkest hour since India's independence.
For international readers, this may seem incongruous with how the country's Supreme Court is often characterized. India's top judges have won accolades for progressive judgments—declaring privacy a fundamental right, for instance, or striking down a colonial-era law that criminalized homosexuality. Yet here in India, concerns have been growing over the Supreme Court's independence, with a long-running saga over judicial corruption only being amplified by worries over Modi's authoritarian tendencies. There are worries the court is verging on the point of no return.
Read: Narendra Modi's election challenge: Create jobs. Lots of them.
Modi had sought to refashion the judiciary almost from the outset of his premiership. A remodeling of the structure of the courts was included in his Bharatiya Janata Party's manifesto in the run-up to the 2014 general election. Yet even with the sweeping mandate with which Modi came to power—his party was the first in 30 years to secure a parliamentary majority on its own—this was not going to be easy.
The principal barrier was the Supreme Court itself. Having been a willing party to Gandhi's subversion of democratic institutions, the court had an image to rebuild. It did so gradually, expanding the purview of the judiciary in the legislative sphere and minimizing the role of the executive in the process of judicial appointments. Then, in 1993, it ruled that only sitting judges would be able to appoint new members of the judiciary. It was a coup of sorts. India's founding fathers were cautious not to entrust senior judicial appointments with just one branch of the government. The constitution required the judiciary and the executive to work in consultation while appointing judges. But by the 1990s, the stain of corruption and other criminality had attached itself to politicians of all hues, and the idea of removing their influence from the judicial domain didn't seem half bad.
The first significant legislation Modi's government passed was a constitutional amendment to set up a body, including the federal law minister, that would oversee all appointments to the top ranks of the judiciary. In less than a year, the amendment was passed in both houses of Parliament, ratified by the requisite 17 state legislatures, and signed by the president to become law.
The backlash was swift: A clutch of petitions were filed in the Supreme Court challenging the amendment, and in October 2015, the court declared that the new rules were unconstitutional and void. The judgment seemed to show that the court had learned its lesson from its interactions with Gandhi, and was prepared to tame the tendencies of a majoritarian government.
But then those efforts began to unravel. In early 2017, a suicide note allegedly written by a former chief minister of the northeastern state of Arunachal Pradesh was circulated on WhatsApp. It claimed that the sons of two sitting Supreme Court judges, Chief Justice Jagdish Singh Khehar and Justice Dipak Misra, were seeking bribes to predetermine cases their fathers presided over. Though there was no corroborating evidence, the damage was done. When the matter came to the Supreme Court, a lawyer pressing for a full investigation alleged that a retired judge claiming to speak on Khehar's behalf had approached him outside the court.
More claims followed against Misra, who would succeed Khehar as chief justice. The Central Bureau of Investigation, India's top policing authority, arrested a retired judge from the high court where Misra had worked, alleging the retiree had tried to fix cases Misra was hearing in the Supreme Court. A colleague of Misra's from his days as a lawyer detailed his long history of financial misdemeanors in an article I reported for The Caravan. Opposition parties proposed an impeachment motion against Misra, but the government refused to entertain it, and neither Khehar nor Misra recused himself from cases the Supreme Court was hearing in which the two were implicated. Soon after, ties between the government and the court would be brought into question.
One morning in January 2018, four Supreme Court justices called a press conference. It is hard to overstate what an astonishing sight this was: Over the course of seven decades since independence, the highest level of India's judiciary had cordoned itself off from the public eye, battling any oversight into its affairs, including from the media. Now, sitting before a beehive of cameras, the justices looked distressed.
"All four of us are convinced," Justice Jasti Chelameswar said, "that unless this institution is preserved and it maintains its equanimity, democracy will not survive in this country."
"For some time, the administration of the Supreme Court is not in order," he continued, adding that there were "many things which are less than desirable which have happened in the last few months."
Read: Misinformation is endangering India's election
It was ominous and alarming, but the judges did not spell out what exactly was endangering the Supreme Court. They seemed to be blaming Misra, but their only specific argument was that he had been allocating cases to specific benches arbitrarily. Soon after, Prashant Bhushan, a senior lawyer and judicial activist, alleged that the government was blackmailing Misra. "Politically sensitive cases are being assigned to handpicked benches, with no senior judge on them, so that the desired outcomes are achieved," Bhushan said. "The chief justice is clearly working under the government's pressure."
The claims garnered little media coverage, and the government refused to respond to them. Few were shocked—sitting and retired judges, as well as members of the bar, had been saying the same thing in hushed voices for a while.
Before we assign guilt or apportion blame, a critical question must be considered: How did the Indian judiciary, after locking politicians out of its domain for 25 years, find itself in such a position at all?
While the court was scrambling to consolidate its hold over judicial appointments in the 1990s, there were other, more insidious problems: of corruption within its ranks, and the unwillingness of the legal community to grapple with it.
In 1990, K. K. Venugopal, then a senior lawyer who is now India's attorney general, told a journalist, "The subject of judicial corruption is taboo, and like the proverbial Chinese monkeys, one shall not see, hear, or speak of this evil." At the time, the first-ever impeachment proceedings against a Supreme Court justice, on financial-misdemeanor charges, were already under way.
The 1993 ruling that safeguarded the court from outsiders, however, ensured opacity for the Supreme Court. The politics of the time did not allow for a constitutional amendment to neutralize that judgment. Successive coalition governments were consumed with keeping themselves together, and while charges of judicial corruption kept surfacing, they never gathered momentum. The media, cowed by contempt laws, did not press for more information. Journalists offer judges in India even more deference than they do politicians and business leaders, and few newspapers have printed even cursory reports about judicial corruption over the past two decades. Senior lawyers, continuing the tradition so succinctly described by Venugopal, are still not willing to see, hear, or speak of the evil.
Over the years, the scale of the problem has become staggering. In 2010, Bhushan's father, Shanti—who, as the law minister in the government that dethroned Indira Gandhi in 1977, had been a key force in repealing many of her draconian decrees—submitted to the Supreme Court, in a sealed document, the names of eight chief justices who he claimed were "definitely corrupt." His efforts went no further, though he now faces a contempt case of his own.
Misra was succeeded as chief justice in October by Ranjan Gogoi, who was among the four judges to have appeared at last year's press conference. But Gogoi, too, has thus far failed to bring the transparency that was expected of him in deciding cases of political import, and last month, a former Supreme Court justice made allegations of corruption against Gogoi's relatives. (Last week, a former court employee wrote, in a sworn affidavit, that she had been sexually harassed by Gogoi and that her family was facing persecution for her having refused his advances.) Major media outlets did not even print, let alone pursue, the corruption charges. No inquiry has been opened into judicial corruption or independence, and the government has not been pressed on any links it has had to the courts.
In the five years of Modi's rule, almost every single Indian institution has been shaken to its core. The fissures are showing, most worryingly, in the judicial edifice. Even if Modi is voted out in these elections, the vulnerabilities he has exposed will remain for his successors to exploit.
We want to hear what you think about this article. Submit a letter to the editor or write to letters@theatlantic.com.
Atul Dev
is a staff writer based in New Delhi for
The Caravan
.