The European Press Corps Cannot Cover the EU
Brussels-based journalists struggle to reconcile the reality of complex pan-European decision making with national-news agendas. It's an uphill battle.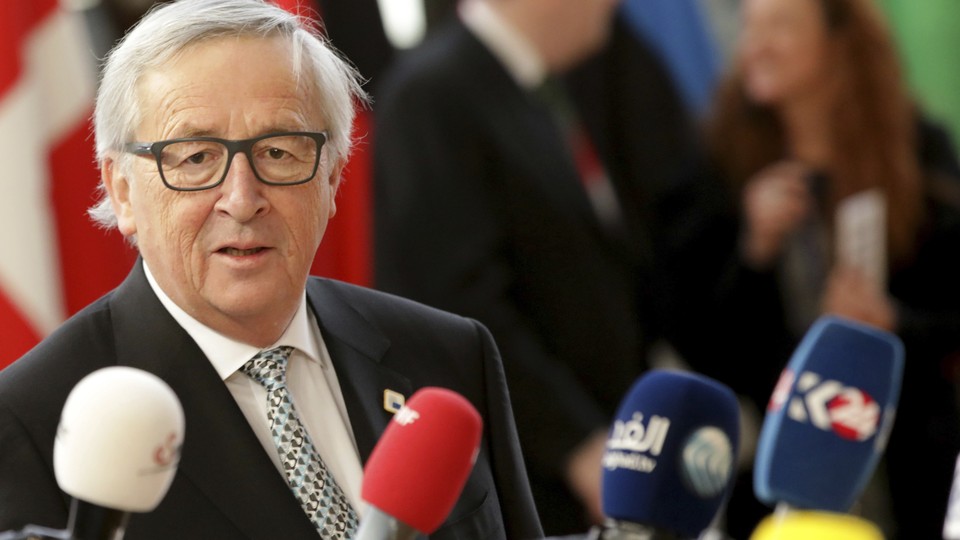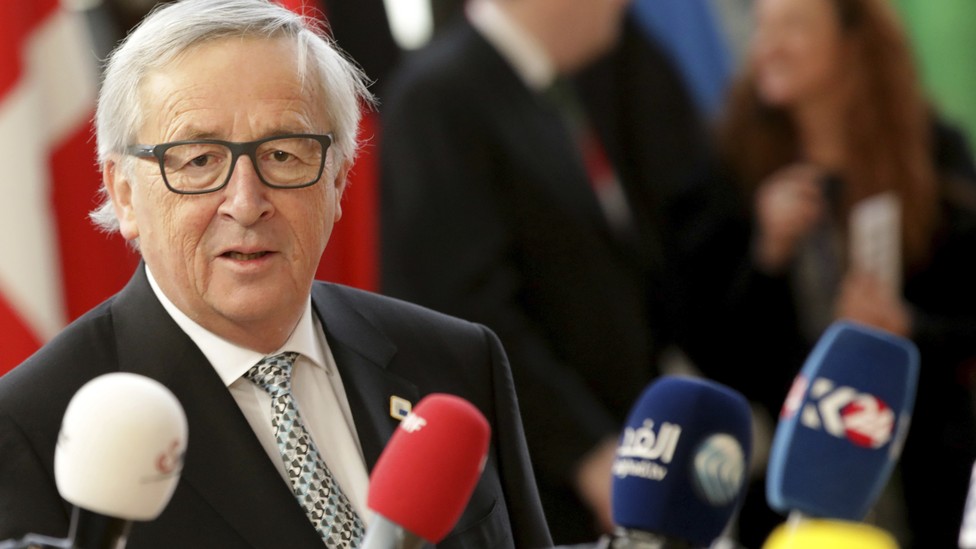 BRUSSELS—The European Union is a vast entity, stretching across 28 nations, with regulations, directives, and debates that affect each one. Every year, the EU holds several major summits, dozens of high-level ministerial gatherings, and hundreds of committee meetings at the European Parliament.
Seeking to project influence and unity, the European Commission, the bloc's executive arm, holds a daily news conference open to journalists from across the continent, and, in fact, the world. Yet most media coverage is stubbornly parochial. Reports from European news outlets have a national flavor, catering to local sensibilities. Whether a national leader won, lost, or tied, whether a representative was able to extract a concession to bring back home or capitulated to counterparts, is often more important than how members' decisions affect the EU as a whole.
This national focus has outsize consequences, helping to make the European project a soft target for its opponents, such as those who campaigned for Britain to leave the bloc. Fractured reporting on the EU also reinforces the idea that differences between Europeans are impossible to smooth over. It is not unrelated that the vast majority of European citizens are poorly informed about the procedures and compromises needed to craft policies for an entire continent. Filling that knowledge gap is far from straightforward.
I should know: As an accredited member of the Brussels press corps who was a correspondent for the International Herald Tribune and later The New York Times over more than a decade, I see colleagues locked in a daily struggle to reconcile the reality of complex pan-European decision making with national-news agendas and domestic politics.
European integration is a relatively recent phenomenon. Bulgaria and Romania joined the EU just 12 years ago; Hungary and Poland have been members for 15 years; Austria and Sweden for less than a quarter century. Britain, the first to vote to leave the EU, joined 46 years ago. Yet even after joining, most news has remained, to borrow a phrase from politics, local.
Even in a country such as France, which is among the bloc's six founding members, many editors have little appetite for interviews with some of the most senior figures running the EU, unless they are French, Jean Quatremer, a polemical blogger and longtime Europe correspondent for Libération, a French daily, told me. To investigate wrongdoing and mismanagement at the European Commission, Quatremer often had to reach out for assistance from colleagues from countries like Germany and Italy.
"The more Europe develops … and the more the European Union looks like a federal state, there's still no federalized press," Quatremer said. At its origins, "there was no great popular movement demanding the European Union," he said, and so "Europe is seen through the prism of states."
One way to gin up interest in the EU is to lace reporting with satire. There are rich pickings, such as when the European Commission regulated toilet flushes, attempted to ban olive-oil jugs, or bought deluxe coffee machines that produced foul-tasting brews. (Mea culpa: I broke the coffee-machines story.)
Boris Johnson played his own role in this. Earlier in his career, the former British foreign secretary was the Brussels correspondent for The Daily Telegraph, and he frequently skewered European officials for focusing on minutiae such as the curvature of bananas. Although Johnson's articles were amusing, many of them were wildly exaggerated, and they served to reinforce the idea that the British were superior to hapless and meddlesome Eurocrats.
On a quotidian level, Brussels-based journalists exchange details over Twitter and in person about the shifting positions and compromises. Yet correspondents struggle to reflect that texture in their reports, and the national focus can sometimes make European integration seem like a mirage. Take, for example, media coverage of the quarterly economic outlook for the European Union and the member countries that use the euro, the tool meant to unite disparate economies and peoples with varied levels of prosperity. That shared endeavor was all but forgotten as correspondents asked questions about their own countries, in their own languages, to garner sound bites for their national media.
More recently, the chauvinism has taken a more divisive turn. Last month, a trio of Hungarian reporters started asking questions at daily briefings about migration that matched the agenda of their country's anti-immigration prime minister, Viktor Orbán, who has himself been highly critical of Brussels. The questions focused on a single case involving a migrant allegedly associated with the Islamic State who had been given a prepaid card, funded by the European Union but managed by the United Nations, that entitled him to buy food and clothes. After each member of the trio asked questions, blaming Greece for its management of refugees and the EU for the card system, Georgi Gotev, a Bulgarian and a senior editor at Euractiv, a Brussels-based news service, took the microphone.
"You know, I have lived in a totalitarian country, and I am really disturbed when the press room is used for governmental purposes," Gotev told colleagues in a thinly veiled reference to Orbán. "I'm sure you understand what I mean," he said.
The situation is amplified by the worsening finances of many news organizations, making them reluctant to assign full-time Brussels correspondents—there were 770 journalists accredited with the various European Union institutions at mid-April, down from 893 four years ago, according to a European Commission spokesperson.
To be sure, some specialist and pan-European media are free from national agendas. Gotev's employer, Euractiv, is a pioneer. Its stories are produced by about 50 journalists, and are freely available in 12 languages. (About a fifth of Euractiv's income comes from public sources, including the EU.) Another pan-European outlet, EUobserver, has high journalistic standards that attract a readership beyond Brussels, and its stories are differentiated and well-written enough for it to use a paywall. But EUobserver lacks a large staff to take on more ambitious projects. Then there is Politico. The outlet's European operation, which was founded in 2015, appears to have achieved the impossible: It has grown to scale and expects to break even this year, Politico Europe said in an emailed statement. But some of its highest-value content—wonky daily briefings—are consumed by elite decision makers rather than a mass-market readership.
Those services compete against global newswires such as Reuters and Bloomberg, and against the Financial Times, a London-based newspaper that had full-time Brussels correspondents before Britain even joined the EU, according to Peter Spiegel, who spent six years as the Financial Times's Brussels bureau chief and who takes over this month as the paper's United States managing editor. "We've always known you can't cover Brussels properly from London," he told me.
Spiegel sharply criticized some of the mass-circulation British tabloids that promoted Brexit but only deployed Brussels correspondents after the complicated reality of leaving the EU was laid bare. But he cautioned against blaming the media for helping ignite the populist fires ravaging Britain and putting long-settled political orders to the test in France, Germany, and Italy. More relevant, he said, was how European leaders mishandled the overlapping financial and migration crises during the first half of the decade.
"Europe's national leaders get the European press they deserve," Spiegel told me.
A decade ago, in the wake of the 2005 rejection in France and the Netherlands of a Constitution for Europe, stacks of studies were produced on the need for pan-European media coverage and discourse. Since the turmoil of the economic and migration crises, and of Brexit, the appeal to an "ever closer union" in Europe's founding treaties has lost momentum among member states' citizens and politicians. But the EU's goal of getting journalists to report on Europe as a coherent whole persists, and the European Commission spends tens of millions of euros each year, a spokesperson told me, to subsidize programming and reporting on European affairs in newspapers, on radio, and on television.
The commission also plans to spend 61 million euros, or about $68 million, to promote quality journalism and media freedom, and even more ambitious initiatives are afoot. Guillaume Klossa, who served as a special adviser to the European commissioner for digital affairs, ended his term with a call for a 1-billion-euro digital-innovation fund, partly to lessen Europeans' dependence on Facebook and Google to serve them their news. Klossa also wants automated online translation to be widely available, so that citizens will read more news in their native language and form "a real transnational public and media space by the end of the next decade."
That might be a naive hope. As Quatremer told me, the EU is still seen by the people who live in the bloc as a mere sum of its member states and their leaders, and that might be an insurmountable hurdle. "There is the language problem," he acknowledged, before adding, "There also is a cultural problem."