The British Lawmakers Stuck in Limbo—And Brussels
The political turmoil in London has meant that British members of the European Parliament don't know whether they will be participating in an election due to happen next month.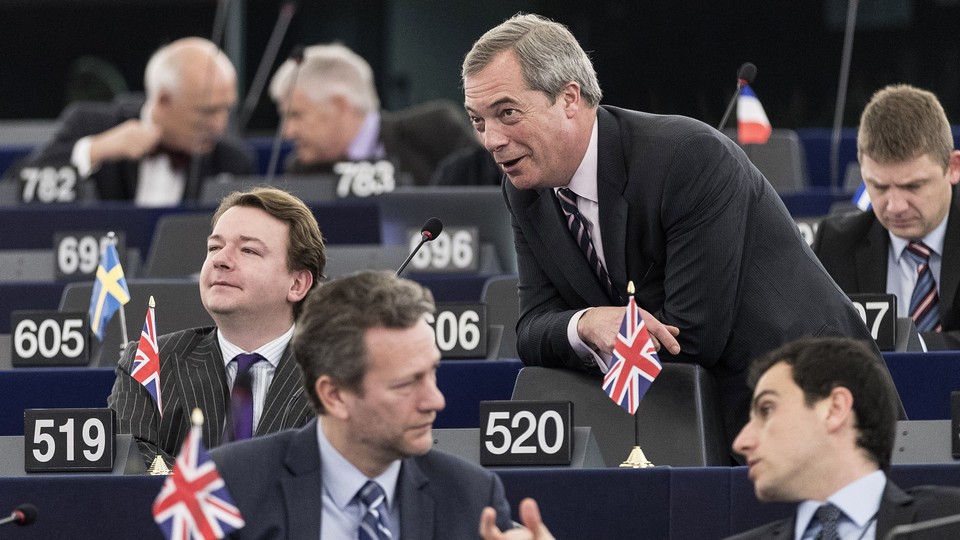 With her time representing the United Kingdom in the European Parliament coming to a close, Jean Lambert was packing up her Brussels office.
Piles of books, folders, and boxes stacked around the room served as a testament to the nearly two decades she spent serving Londoners as one of their three Green Party representatives in Brussels and Strasbourg, France, where the European Parliament sits. With Britain leaving the European Union, British representation in EU institutions would no longer be required, and Lambert, along with 72 of her British colleagues, would soon be out of a job.
But Britain hasn't left the EU yet. And with the job of Brexit not yet done, neither, consequently, is theirs. It is, in a word, awkward.
The future of British members of the European Parliament represents just one of the many unknowns that surround Brexit. With days to go before Britain faces another cliff-edge exit date—originally set for March 29, but now delayed until April 12—there is still no indication of how, when, or even if the country will leave the bloc. And as British lawmakers in Westminster continue to spar over what kind of departure the government should seek, British MEPs, like the rest of the country, are left to watch on the sidelines, unsure whether the next EU summit will be their last, or—should Britain seek a longer extension to its departure—they will end up fighting to keep their seats in European elections due in May.
When I spoke with Lambert at the end of March, Britain was already clearly heading for a short extension to its original exit date from the EU, with the potential for an even longer one. Still, as far as Lambert and her colleagues were concerned, their last day was imminent. Boxes were packed. Offices and apartments were cleared. Some parliamentary staff had already been made redundant.
"We're assuming that we're leaving," Lambert told me by phone from Brussels. "But we're also having to think about … if we don't." She described this state of limbo as "difficult" and "high stress."
"We've got ongoing work, because of course the Parliament doesn't stop just because the British are in total chaos."
There is still the very real possibility that Britain, nearly three years after voting to leave the EU, would be compelled to take part in next month's European Parliament elections. Whether the country ultimately does will depend on whether the British government asks the EU for a longer delay to its withdrawal date—until the end of June or later—so that it can find a new consensus for Prime Minister Theresa May's Brexit deal, hold a general election, or even organize another referendum. On Tuesday, May announced that she would seek a further extension beyond April 12 to give Parliament more time to reach a consensus, and even offered to hold cross-party talks with opposition Labour Party leader Jeremy Corbyn to overcome the impasse. Though the prime minister said she wants the extension to be "as short as possible" so that the U.K. can avoid the EU elections, the length of the delay will ultimately be decided by EU leaders.
Such an extension isn't even guaranteed (all 27 remaining EU member states would have to agree to it). But one thing is certain: For legal and political reasons, Brussels will not allow the U.K. to stay in the bloc beyond April 12 without ensuring that Britain takes part in the elections, both so that Britons are represented at the parliamentary level, and to allow European Union nationals to participate.
Regardless of whether that happens, Lambert said she won't try for reelection. But that doesn't mean her party isn't preparing a list of candidates to replace her if the time comes. "We're still running through the process," she said of the Greens, which campaigned to remain in the EU during the 2016 referendum. "If the election is there, we are very happy to stand."
They aren't alone. Margot Parker, a U.K. Independence Party member of the European Parliament, told me that her Euroskeptic party is also making preparations for a last-minute contest, albeit begrudgingly. "I went [to the European Parliament] to be a voice of those people who are Euroskeptic," said Parker, whose East Midlands region voted overwhelmingly to leave the EU during the 2016 referendum. "I would put my name down because if we have to go back [then] the job isn't done, and I have to represent the people who actually really want somebody who will represent them."
While some lawmakers are reluctantly accepting the possibility of EU elections, others have been actively gearing up for them. The Independent Group, composed of breakaway Conservative and Labour members of British Parliament who quit their former parties in part over their handling of Brexit, has applied to register as an official political party to field candidates in the European Parliament elections, should Britain take part. Chuka Umunna, the group's spokesperson, said that if the bid is accepted, their candidates would stand under the new name Change UK—The Independent Group.
MEPs are nevertheless in a state of uncertainty, with one foot already out the door, and the other firmly stuck in the doorway. "A lot of us are fed up—like much of the country—that we still don't have some clarity about what is actually happening and what is going to happen," Emma McClarkin, a Conservative MEP representing the East Midlands, told me by phone from Strasbourg. "I'd hoped that in the days and weeks, if not months, before Brexit we would have been planning for the future, saying proper goodbyes, building those relationships, so that when we leave, it doesn't all have to feel rushed and hurried at the end," she said.
"It just feels a little bit like a hurried departure," she added, "instead of it being an elegant exit."