The Fall and Troubled Rise of a Ukrainian Populist
The country's former prime minister Yulia Tymoshenko is running to be president, but Ukraine's allies worry she may endanger the country's only plan for peace.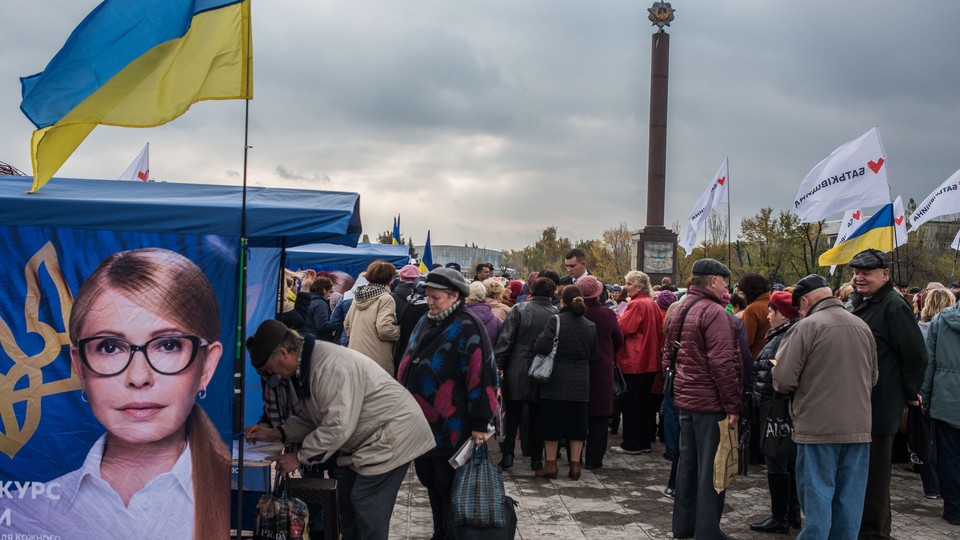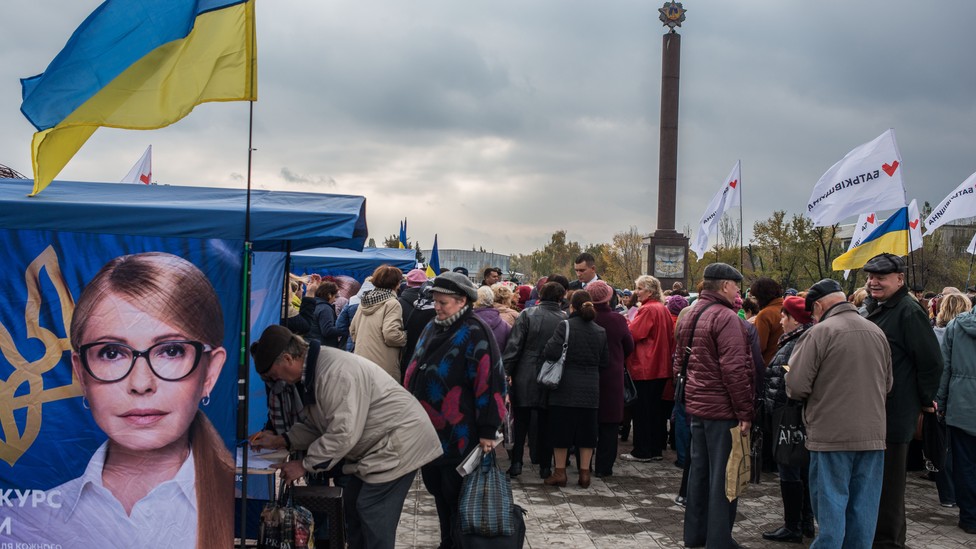 SLOVIANSK, Ukraine—Yulia Tymoshenko is nothing if not a crowd-pleaser. Running to be Ukraine's next president, she has promised to triple pension payouts and halve heating-fuel charges; pushed to impeach the incumbent president, Petro Poroshenko, weeks before the presidential election; and said that immediately after being elected, she will close the country's airports to stop corrupt officials from fleeing.
In many ways, these policies signify the anti-establishment mood here ahead of the first round of presidential elections this weekend, which will narrow the field to two candidates before a final vote next month. Just 9 percent of Ukrainians have confidence in their government. A full 39 candidates will appear on the first-round ballot. Tymoshenko, a former prime minister, was once the front-runner, but her populist credentials have been eclipsed by those of Volodymyr Zelensky, an actor with no political experience who plays Ukraine's president in a hit television program.
But while this frustration with the powers that be has driven many of Tymoshenko's populist policies, and meant that the election has largely focused on domestic issues such as rooting out corruption or reforming the economy, it also has implications internationally. Tymoshenko has voiced doubt about the Minsk agreements, a 2015 cease-fire of sorts that remains the only existing road map for peace in a years-long conflict with Russia.
With a strong possibility that the pair will face off in the final round—Zelensky is in the lead, with Tymoshenko and Poroshenko neck and neck for second place—the biggest issue for world leaders is how Ukraine's next president will defend a country situated on a global geopolitical fault line. Russia and the West are clashing like at no time since the Cold War, with officials in Washington, London, and elsewhere pointing fingers at Moscow over a litany of issues, from meddling in their elections to carrying out poisonings on their soil.
None of those conflicts or disputes is more important to Russian President Vladimir Putin, however, than the one in Ukraine. And if Ukraine's next leader tries to revise the current peace deal—one that no side is completely happy with, but which is the only one on the table—that raises the prospect of escalating the violence now relatively contained to certain areas of the country.
When Russian-backed separatists began their offensive in eastern Ukraine, it was here in Sloviansk that they scored an early success. In 2014, it became the first city they took over. Led by a former Russian intelligence officer, they seized control of Sloviansk's city hall, a Soviet-era cement block that at the time still had a statue of Lenin out front. They then kidnapped the mayor, and reinstated a Stalinist decree that ordered death by firing squad for looters, as food deliveries ceased.
After a three-month standoff, the Russian-backed separatists retreated to the nearby city of Donetsk, allowing the Ukrainian military to retake Sloviansk. Today, the Ukrainian flag flies over city hall once again. Life, however, remains bleak. Industrial buildings lie empty, few jobs are available, and banks charge crippling interest rates for loans, blaming Sloviansk's proximity to fighting that the United Nations estimates has killed some 13,000 people since the start of the conflict.
It was in that same central square, in front of city hall, that Tymoshenko addressed a crowd of voters this month. Gone were the iconic braids from the days of the Orange Revolution, when Tymoshenko was among those who led Ukrainians into the streets to invalidate a falsified presidential election in 2004. About half the crowd, bused in from nearby towns, cheered Tymoshenko, holding signs that read Tymoshenko = Peace and Donbass for Tymoshenko, a reference to the region where Sloviansk is located. The other half stayed farther back, curious to see a celebrity of her caliber in their city, but seemingly still unconvinced.
"I know you didn't believe that a single presidential candidate would come visit you," she told the crowd in an effort to establish herself as a voice for their plight. Then, in a nod to Sloviansk's struggles since 2014, she added, "We will return to normal life." (Tymoshenko declined multiple requests for an interview.)
It is Tymoshenko's third, and possibly last, time running for president. In 2010, she lost to Viktor Yanukovych, the man who was stopped from taking the presidency in the 2004 sham election. Tymoshenko later served two terms as prime minister, but spent two and a half years in jail on charges of abusing her office, a sentence considered "unlawful and unjustified" by the European Court of Human Rights. When popular protests led Yanukovych to flee to Russia in 2014, Tymoshenko was released from prison and rushed to Kiev's central square to deliver a speech from a wheelchair. But things did not go according to her plan. She was greeted with placards that read Freedom for Yulia but not Power and audible boos. She lost the 2014 presidential election, receiving fewer than 13 percent of the vote.
The rest of her recent speech in Sloviansk, furthermore, spotlighted why her candidacy has troubled Western governments. For an hour and a half, Tymoshenko took jabs at Poroshenko over continued unrest in eastern Ukraine—"Someone at the highest level doesn't need peace or doesn't benefit from it," she said—while also blaming Germany, France, and the United States for failing to negotiate peace.
As election day draws closer and Tymoshenko's onetime lead has evaporated, her rhetoric has grown more and more populist. But beyond budget-busting economic policies and promises of clamping down on graft, it is her remarks about the Minsk deal that have raised worries. The agreement is unpopular with many Ukrainians, who see the accords with Russia and its proxies in eastern Ukraine as unable to bring peace while also granting legitimacy to Moscow's control over part of Ukrainian territory. Western countries, however, fear Russia might never sign on to another agreement.
Tymoshenko has said that she "didn't accept the Minsk agreements from day one," and that the negotiations had been carried out "behind Ukraine's back." Trading on the fact that she is well known abroad and previously negotiated a gas deal with Putin as Ukraine's prime minister, she has sought to convince voters that she can bring conflict with Russia to an end.
According to Hryhoriy Nemyria, the deputy head of Tymoshenko's Fatherland Party, the presidential hopeful wants new negotiations on the basis of a 1994 agreement, signed by the U.S., Britain, and Russia, under which Ukraine gave up its Soviet nuclear arsenal. (Zelensky, the election front-runner, has followed Tymoshenko's lead and committed to pursuing new negotiation formats, though he has provided few specifics.)
So far, Tymoshenko has stopped short of saying that the Minsk agreements should be scrapped—publicly, at least. Kurt Volker, the U.S. Special Representative for Ukraine Negotiations, told me that when he met with all the major candidates, Tymoshenko included, they committed to maintaining the Minsk accords. Yet at the same time, two Western diplomats and the former representative of an international NGO, all of whom requested anonymity in order to discuss internal conversations, complained that Tymoshenko in private is more equivocal, leaving them guessing about what she would actually do were she elected.
She might not know the answer to that question. "She doesn't get international politics," Taras Berezovets, who was an adviser to her 2010 presidential campaign and the deputy manager for her 2014 campaign, told me. Berezovets, now a host of a news program on a pro-Poroshenko television channel, continued: "She's always had a vague international agenda."
The costs of any change to the status quo, however, could be significant. For one, as Volker noted, American and European Union sanctions against Russia over its adventurism in Ukraine are based on the Minsk deal. And near the conflict zone in recent months, the precarious nature of Ukraine's security situation has become more and more clear. In November, Russia fired on and captured 24 Ukrainian sailors attempting to enter the Sea of Azov, which is jointly controlled by Ukraine and Russia. According to Volker, Russia has refused to discuss the prisoners' release until after the Ukrainian presidential election, when it hopes it will be dealing with different leadership in Kiev.
In eastern Ukraine, worries about those sailors, and about conflict more broadly, weigh heavily on voters. Vira, a 60-year-old retired factory technician, came to Tymoshenko's rally and even had her sign an election flyer. She said she wasn't sure she would cast her ballot for Tymoshenko, but was certain she would not vote for Poroshenko.
"I don't like Putin, but he says he will talk to a new leader," she said. "That matters, because it will stop boys from being killed."