What Happens to London's Food Scene After Brexit?
The Israeli-British chef Yotam Ottolenghi discusses Britain's food scene, staff shortages, and whether he's stockpiling.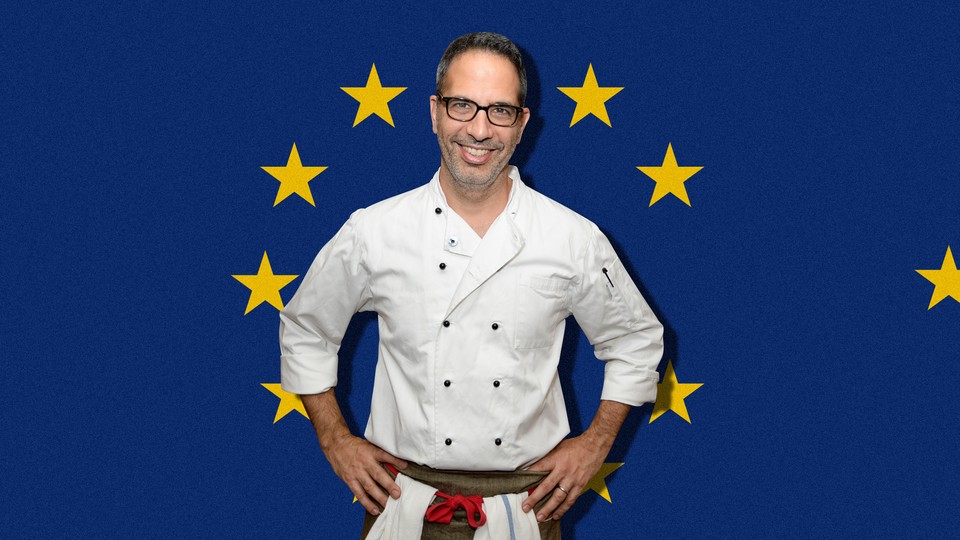 LONDON—Britain's impending (and ever more uncertain) departure from the European Union has prompted some people to start preparing for the worst. Many of the country's top retailers warn that in a worst-case scenario, lettuce and fresh fruit could disappear from supermarket shelves. A growing number of Britons have begun stockpiling goods at home. One website even creates a crisis shopping list for you.
Yotam Ottolenghi isn't one of those people. The renowned Israeli-British chef does have his own reasons to be concerned about Brexit, though: His London restaurants and eponymous deli chain are known for incorporating fresh, seasonal ingredients into their recipes and, like the rest of the country, a significant chunk of the fruits and vegetables he serves comes from continental Europe. For him, sourcing these things from across the Channel is only natural.
"A truck that brings flour or butter from northern France takes a journey that is as close as northern England," he told me. "Europe is local, as far as we're concerned."
But it might not be for much longer. As Britain prepares to leave the EU—with no agreement ensuring an unimpeded flow of goods between the two yet in place—both sides are ramping up their no-deal preparations: a scenario rife with fears of supply-chain disruptions, increased food prices, and economic uncertainty. Ottolenghi fears the situation could upset the country's esteemed food scene, as well its internationalist culture that has allowed his restaurants and others to thrive.
Britain's welcoming food culture wasn't always so. Before chicken tikka masala was declared a "true British national dish" and upscale gastropubs specificalizing in classic British pub fare began to emerge, traditional English cuisine was stereotypically grim—defined by the likes of mutton pies, sausage rolls, and black pudding. And though such tropes have long outlived their relevance—with almost every kind of cuisine available not just in London, but across the country—they highlight the contrasting visions that Brexit has helped create: an outward-looking Britain that embraces international influences versus an inward-looking Britain that seeks to keep them out.
Ottolenghi opened his first deli with his business partners Sami Tamimi and Noam Bar nearly two decades ago in Notting Hill, a fashionable and cosmopolitan neighborhood in West London. At the time, London's restaurant scene had yet to gain the global prominence that it holds today. Though the city had fine French and Italian dining, it hadn't attracted many flavors beyond Europe. But that didn't mean people didn't have an appetite for them. "In Notting Hill, we had this international, extremely well-traveled, affluent crowd," Ottolenghi said. "We were beneficiaries of that sense of hunger for outside influences."
With Bar handling the business side of things, Ottolenghi and Tamimi focused their efforts on the food, which was influenced in large part by their shared hometown, Jerusalem. Their Israeli and Palestinian backgrounds, respectively, brought to their cooking a wide variety of Middle Eastern flavors, from za'atar and yogurt to pomegranate seeds and date syrup. Despite these influences, however, Ottolenghi said they didn't set out to make one particular type of cuisine. "It's not Palestinian or Lebanese or anything of that sort," he said. "Of course, it has some of those ingredients, some of those sensibilities. But it's not traditional in any sense of the word."
Seventeen years, three more delis, and two restaurants later, that intent still shows. Though Ottolenghi's menus make no secret of preferencing Mediterranean flavors, they don't feign to represent one distinct type of fare either. And neither do the restaurants' aesthetics. The bright and airy atmosphere of Ottolenghi Spitalfields, the largest of the delis, doesn't give guests any of the sort of cultural clues you might find at other restaurants. There is no music, leaving diners instead with the sounds of their own conversations—many of which, fittingly, aren't in English. (From my own table, I heard Portuguese and French.)
Ottolenghi credits Britain's openness to different cultures as one of the reasons his restaurants and others have thrived. For one thing, "there isn't a national chauvinism when it comes to [British] food," he said. "The Brits, in kind of a self-deprecating fashion, which applies to other aspects of national identity, have always been absorbing from the rest of the world."
But he also chalks it up to London's position as one of the world's most diverse and exciting food capitals. "London is a trailblazer because it attracts a lot of talented people," Ottolenghi said, noting the influx of South American and Asian cuisines into the city's food space. "It's become even more global and more dynamic than it used to be." And what started in London hasn't ended there. Major cities across the country, from Bristol in the southwest of England to Manchester in the north, have emerged with their own flourishing restaurant scenes. "The standards generally have gone up phenomenally everywhere," Ottolenghi said. (He has no intention of taking his restaurants beyond London, however.)
When I asked about the impact Brexit would have on his restaurants, Ottolenghi said it's still too soon to tell. With no indication of what kind of deal Britain will leave the EU with (if it leaves with one at all), anticipating exactly how they will need to prepare is difficult for restaurants. In one way, Ottolenghi said, Brexit has already made its mark: on the availability of staff. "We've had a much slower influx of Europeans coming to work with us since Brexit," he said, noting that job listings for junior chefs and kitchen porters that would have once received dozens of applications now only garner three or four.
These staff shortages aren't unique to Ottolenghi—they're being felt industry-wide. With the number of EU nationals coming to Britain dropping to record lows, industries that have come to rely on them (including Britain's hospitality sector) have begun to suffer. A June survey conducted by YouGov found that 53 percent of hospitality workers consider the United Kingdom a less welcoming place to live and work after Brexit.
Putting an end to the free flow of millions of EU workers to Britain was one of the central planks of the Brexit debate. And though more internationally minded Brexit proponents have framed withdrawal from the EU as an opportunity for Britain to be more global in its outlook, that hasn't stopped European Union nationals from feeling ostracized because of it. To Ottolenghi, however, workers aren't the only thing Britain stands to lose because of Brexit. "There is definitely an isolationist streak, and it's to the city and the country's detriment," he said, adding, "I'm worried about the insularity, the looking inward and backwards that is going to affect this country."
Worried enough to start stockpiling?
"No, no stockpiling," he said, laughing. "But maybe I'll live to regret that."