Destroying Istanbul to 'Restore' It
Many Istanbulites are concerned that the city's plans for the future leave its storied past behind.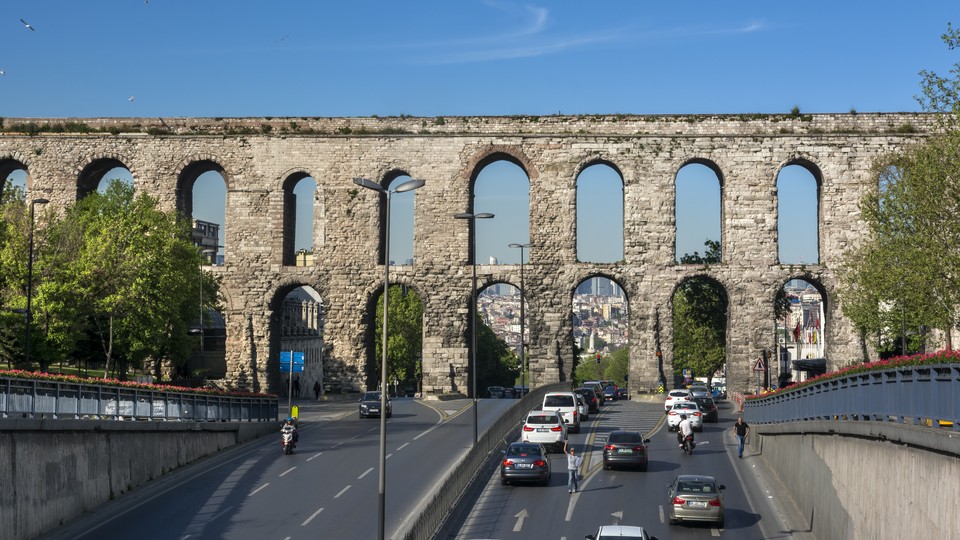 ISTANBUL—The Valens Aqueduct is one of this city's most recognizable monuments, a Roman-built fixture that stretches proudly above the busy Atatürk Boulevard. Most visitors have the pleasure of seeing it, and the fourth-century structure reaches well into an array of residential neighborhoods. It is a source of pride among Istanbulites.
When news broke, however, that the aqueduct was slated for restoration, many residents were alarmed, concerned that efforts at preservation would instead compromise its integrity. That fear is not unfounded: Historic buildings and structures dating from the Byzantine era to the 20th century have been subjected to disastrous restorations in recent years here, prompting public outcry and fostering a cynical attitude toward planned projects.
"We have seen examples of so many botched restorations that we have lost faith," Ebru Erdem-Akçay, a Turkish American political scientist, told me. When tweeting the news of the restoration, Erdem-Akçay wrote that she hoped to see the aqueduct again "before they restroy it," coining a portmanteau of restore and destroy that many say is apt.
Istanbul is a dynamic, fascinating city of 15 million, and much beauty can be found, thanks to a rich architectural heritage and an ideal location on the shores of the Black and Marmara Seas, between which runs the Bosporus strait. Traces of history await around every corner of the city's older parts—living, open-air museums with innumerable artifacts from Byzantine and Ottoman times. Istanbul nevertheless moves at a rapid pace, and its streets are overflowing with life and sounds, ranging from the pleasant call of vendors selling fresh pastries to the ever-present din of construction.
In recent years, those construction noises have become more prevalent. President Recep Tayyip Erdoğan and his ruling Justice and Development Party (AKP) have presided over a wave of economic growth due in no small part to a construction boom that has nearly gone bust. In Istanbul and throughout the country, hundreds of shopping malls were built, in addition to a staggering number of housing projects. New airports, public and private universities, hospitals, and transit systems sprouted up in cities. And ambitious restoration and development projects were launched one after the next. But many have not turned out well, speaking to concerns here that Istanbul's long history is not sufficiently respected, worries that extend beyond urban planning and have real political implications.
With Turkey heading to the polls for municipal elections this month, Erdoğan is keen to maintain power in the city that he grew up in and where he rose to prominence as mayor in the 1990s. His former prime minister Binali Yıldırım is the AKP candidate to be Istanbul's next mayor, and a loss would be a strong statement from voters, one rooted in concerns for their city and its governance.
Some of the most controversial examples of restoration here have occurred in the heart of the Beyoğlu district, home to Istanbul's busiest and liveliest street, the pedestrian-only Istiklal Avenue.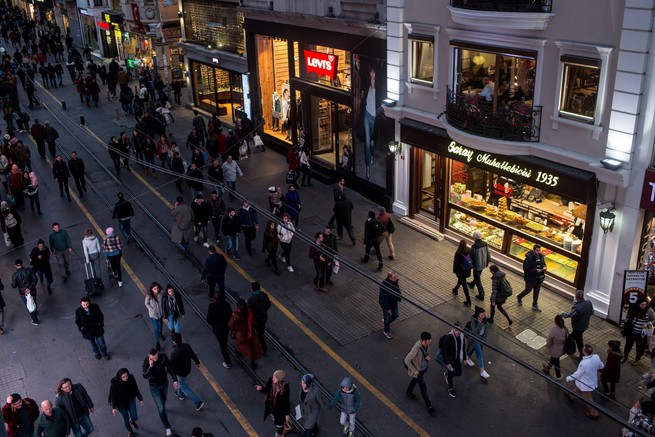 Istiklal is lined with dozens of grand European-style buildings, a number of which house foreign consulates, and was once a street packed with cinemas and cafés that people wouldn't enter unless they were dressed to the nines. It was closed to traffic in the early 1990s, which was instrumental in breathing new life into the area after it had picked up a rather seedy reputation in the previous two decades. Beyoğlu soon became the epicenter of Istanbul nightlife as its narrow, buzzing backstreets filled with restaurants, dive bars, and clubs. Its popularity peaked during the AKP years, though it has been gradually transformed into a sterilized shopping mecca, with new malls and an extended stretch of chain stores and fast-food restaurants along Istiklal.
Anger over unbridled development reached a tipping point in May 2013, when protests broke out against Erdoğan's controversial plan to construct a shopping center over Gezi Park, the largest green space in the area, just a short stroll away from the beginning of Istiklal, on the other side of Taksim Square. Tens of thousands of people took to the streets of Istanbul, and the demonstrations spread to nearly every province in Turkey. Erdoğan fiercely denounced the rallies and the police response was swift and severe, but the project was abandoned and Gezi Park remains relatively untouched.
Ill-advised restorations, however, continued full speed ahead. In 2015, the Beyoğlu municipality restored its district headquarters, a neoclassical gem built in the late 19th century, but added a floor on top, a jarring contrast to the historic edifice. In another instance, a pair of businessmen purchased the splendid 1830s-era Narmanlı Han, an aging gray building near the end of Istiklal that once housed the Russian embassy and was later home to the celebrated novelist Ahmet Hamdi Tanpınar, for $57 million. But the restoration involved painting it a regrettable shade of peach and paving over the leafy courtyard, which was once home to a groundskeeper, street cats, and lush layers of wisteria. Many Istanbulites were horrified when they saw the building in its restored state in 2017. The owners plan to outfit Narmanlı Han with shops and restaurants.
Elsewhere, a century-old building near Taksim Square once held Majik, Istanbul's first cinema, and the iconic nightclub Maksim. A furniture company bought it in 2004, and announced plans to turn it into a hotel. The historic facade was renovated and finally unveiled last year, revealing an enormous metal-and-glass structure equaling the size of the original building built on top, in what amounts to a truly head-scratching sight. A popular Twitter account called Ugly Istanbul, which documents restoration disasters and other instances of aesthetically questionable urban planning and development, dubbed the Majik/Maksim restoration one of the most hideous efforts of 2018.
"Unfortunately there is an understanding that prioritizes the reuse value or real-estate value of these buildings—particularly if they are in centrally located, high-rent neighborhoods—rather than protecting them as cultural assets to be inherited by future generations," Mücella Yapıcı, an architect with the Istanbul branch of the Union of Chambers of Turkish Engineers and Architects (TMMOB), told me.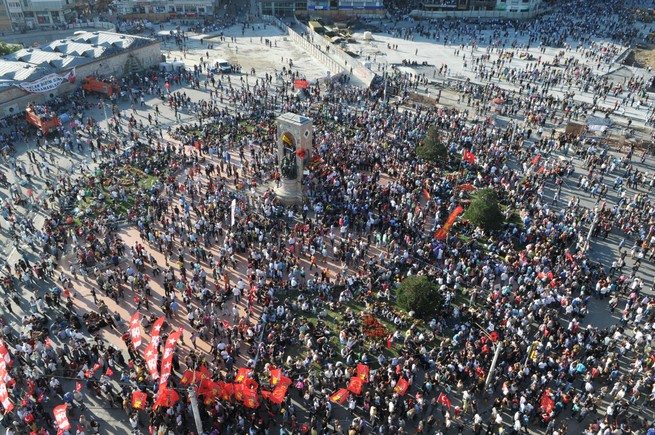 Yapıcı is a visible opposition figure and an outspoken critic of the untamed development that has dominated Istanbul during the AKP years. A representative of the Taksim Solidarity group that played an active role in the Gezi Park protests, Yapıcı was taken into custody for her involvement in the rallies. Though she was later acquitted, she was nevertheless summoned to give a statement in November as part of an ongoing investigation into the protests, more than half a decade after they began. (In February, prosecutors said they were calling for life sentences for 16 suspects, who are being charged with attempting to overthrow the government in relation to the protests. Among them are the journalist Can Dündar and the actor Memet Ali Alabora, who are both in exile; the jailed philanthropist Osman Kavala; and Yapıcı, who once again faces charges.)
Those requested sentences reflect Erdoğan's hatred of the protests, and his insistence that they were a deliberate attempt to unseat him from power. Yapıcı's inclusion among the suspects also sends a clear message to those who publicly and actively oppose the government's controversial projects.
The relentless rattle of drills and jackhammers punctuated my conversation with Yapıcı—the TMMOB Istanbul office is located immediately behind a construction site where a billion-dollar effort aims to boost tourism by revamping a coastal section of the Karaköy neighborhood, enabling increased access for cruise ships. A historic post office and passenger terminal were demolished as part of the project.
The various construction plans break no laws, Yapıcı acknowledged. "They have projects, there are architects carrying them out, there are advisers, councils granting approval, and municipalities providing licenses." She and others worry that after years of intense growth and transformation, which has included the demolition of historic buildings and the destructive restoration of others, Istanbul has paid no small price. And though there is no shortage of urban activists and architects like Yapıcı who risk their own freedom and well-being to stand up for the city's history, the cards are stacked against them.
"When it comes to cultural assets, a balance can be struck," she said. "That balance is established between the necessity for science and engineering, and capital's drive for generating profit. But since the system does not want this at all, organizations like ours are excluded entirely."