Grocery Stores Are at the Front Line of Turkey's Latest Political Battle
The country's leader is trying to strong-arm policy prescriptions for a teetering economy. But his critics say he could be making Turkey more fragile in the long run.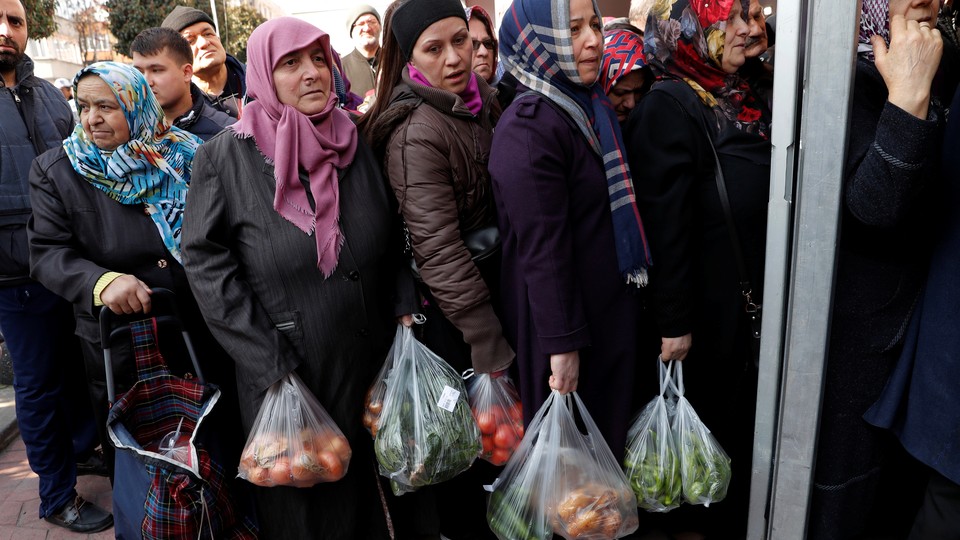 ISTANBUL—Every morning, men and women queue up outside a cavernous white tent on Taksim Square, here in central Istanbul, well before the first government trucks arrive carrying tomatoes, peppers, and other supplies. When they are let in, they calmly stock up on the few kilograms of fruit and vegetables they are allowed.
The scene is becoming a familiar one as Turkey sinks into recession. Dozens of these municipality-run stands, which sell produce at less than half what privately owned stores charge, have popped up across the country. Supermarket chains—accused by Turkish President Recep Tayyip Erdoğan of "treasonous" profiteering—are meanwhile selling some products below cost, or even pulling expensive vegetables from their shelves to avoid risking public ire.
With Erdoğan's dominant Justice and Development Party (AKP) facing nationwide municipal elections this weekend, this is a crucial front line: grocery shopping.
For much of the past year, Turkey's economy has been teetering. A decade-long, credit-fueled economic expansion screeched to a halt in the wake of turmoil in Turkish financial markets last year, sparked by worries about Erdoğan's economic and foreign policies. The country's currency, the lira, has lost 40 percent of its value against the dollar in a year, feeding inflation that has shot up 20 percent, its fastest rate in 15 years. Hundreds of companies, possibly far more, have sought bankruptcy protection, and millions of people are out of work.
For ordinary Turks, the impact has been felt in myriad ways, but perhaps none more so than when it comes to groceries. The Turkish leader has in part blamed "food terrorism," by which he means exploitative pricing, for the flailing economy, and has taken a series of unconventional measures, including directives to retailers to drop prices and to state banks to issue discount loans, to push the economy to growth, whatever the cost.
Yet his remedies appear to treat only the symptoms of the economic crisis, not the underlying causes. Indeed, in seeking to shore up support, he might instead be making Turkey more fragile in the long run. His efforts are, however, part of a broader pattern: Already firmly in control of many aspects of Turkish life, from the judiciary to the press, Erdoğan is, critics say, now trying to strong-arm policy prescriptions for the economy.
"This isn't just an economic crisis, but a political crisis at the same time," says Uğur Gürses, an economist who used to work for Turkey's central bank and who now manages his own blog about the country's economy. "The belief that you can control prices with an iron fist … is unsustainable in an open economy."
Erdoğan says that shadowy foreign forces are behind the country's woes, and in his stump speeches at rallies, he has pledged to fight back. "It's out in the open that games are being played with Turkey as the price of eggplants, tomatoes, potatoes, and cucumbers climbs," he said at one campaign stop. "We will destroy the games of those who are terrorizing with fruit and vegetables."
Raids have been carried out at wholesale food markets to hunt down price-gougers. Police officers walk the beat in grocery stores to monitor prices. Inspectors have seized tons of onions from warehouses, fining the owners for hoarding, even though storing the bulbs is common practice to prevent rot.
Experts say that profiteering alone cannot be blamed for rising food prices. The lira's slump against the dollar has driven up the cost of imported fuel, feed, and fertilizer used by farmers, forcing them to pass on costs to consumers. And heavy storms in a key agricultural region in January hit output. Still, the tents are succor for Erdoğan's base, the city-dwelling poor who have been hardest hit by food prices that have risen by almost a third in a year.
"We were being crushed by the cost of food. But now our president is standing up for his people," Bahariye Bulut told me, weighed down by kilos of fresh vegetables after waiting in a long line outside the Taksim tent, which was emblazoned with the government logo "Total Fight Against Inflation." The 63-year-old, who relies on her husband's pension to run their household, said her prayers were answered when the stands opened.
Just two blocks away, however, business has been nearly halved at Faruk's greengrocer since the government introduced the food stalls. Faruk, who declined to give his last name for fear of retribution for speaking out, has slashed his profit margin on the fruits and vegetables he buys from wholesalers, but still can't compete with the cut-rate government-subsidized food sold up the street.
"The president attacks shopkeepers and farmers, but if I go out of business," he said, "that's another family that will go hungry."
Large supermarket chains, facing regulatory investigations, have dropped prices on staples such as onions and potatoes, posting signs that claim they are selling them at a loss, and have set limits on how much customers can buy at one time. Some stores have even stopped stocking expensive eggplants and peppers to avoid angering Erdoğan.
While food sellers have taken the brunt of the pressure, Erdoğan has sought to mobilize other businesses in his economic crusade. State-run banks are offering Turks cheap mortgages and loans to pay off credit-card bills, and regulators have opened probes of private banks, including JPMorgan, for allegedly encouraging clients to buy foreign currency ahead of the election. Employers in January were required to raise the minimum wage by 26 percent, and now the government is even paying three months of wages and a year of social security for new workers, a bid to coax businesses to hire more people and rein in unemployment, which is at almost 14 percent. Among youth, one out of every four people is out of work.
"None of these address the structural reforms the Turkish economy requires, but instead treat the condition with bandages and aspirin," says Faik Öztrak, a former head of the Turkish treasury who is now a lawmaker with the opposition Republican People's Party.
During Erdoğan's 16 years in power, his electoral success was largely built on his stewardship of the economy, as Turks saw their income triple. But a sweeping crackdown in 2016 after a failed military coup expelled tens of thousands of his opponents from civic life and has allowed Erdoğan to rule largely without check. He was then elected in June last year to a vastly empowered presidency and named his son-in-law as finance minister to manage the economy. The concentration of power unnerved investors, especially after a diplomatic row in August between Erdoğan and Donald Trump over Turkey's arrest of an American pastor.
The economy is the top worry in opinion polls ahead of the March 31 election, when nearly 58 million voters will choose more than 80 mayors. The dissatisfaction has put control of the country's two biggest cities, Ankara and Istanbul—both longtime AKP strongholds—in play for the first time in two decades.
Even though his name is not on the ballot, Erdoğan has been leading near-daily rallies ahead of the polls. Municipalities are a key source of political patronage, and losing a city such as Istanbul, where Erdoğan was mayor in the 1990s, means ceding control of huge budgets and government contracts that create jobs.
For Lütfü Güler, a 75-year-old retired civil servant, the lines that form outside the food tents before the first trucks arrive each morning are an attempt to "buy votes."
"Look around; everyone is unhappy. These lines are shameful," he says. "We have destroyed everything, but no one takes responsibility. Who has ever heard of a food terrorist before?"