Britain's Distrust of Europe Helped Cause Brexit. Now It Could Stop It.
"I will not belly dance in front of them to gain their trust," one European lawmaker said.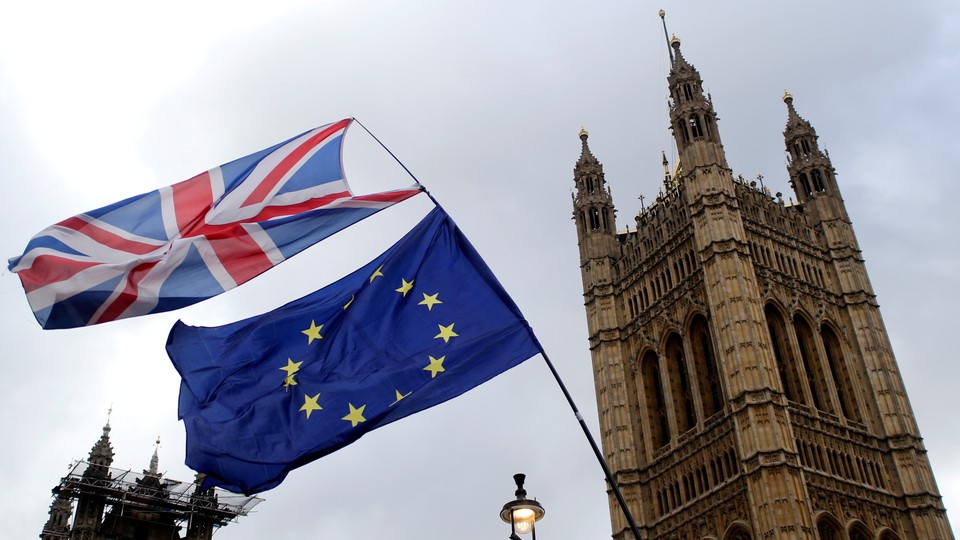 LONDON—When Brexit-backing lawmakers voted twice to reject Theresa May's negotiated deal on the terms of the United Kingdom's withdrawal from the European Union, they did so largely out of distrust. Principally, they worried that the prime minister's plan would risk binding the country to EU rules and regulations indefinitely, and that the EU, contrary to its many assurances, would act in bad faith to see that happen.
Distrust of Europe and its institutions here in Britain is hardly a new phenomenon. In fact, it was one of the central themes underlying the Brexit campaign. But this distrust, paradoxically, might pose a threat to that very project, raising the possibility that it will not happen at all.
The main source of some Brexit proponents' opposition to the prime minister's deal is the so-called Irish backstop, a stopgap measure agreed on by British and EU negotiators to avoid a hard border on the island of Ireland by keeping the U.K. aligned with EU trading rules, at least until both sides can negotiate a trade deal to replace it. Brexiteers worry that it might leave Britain permanently tied to the bloc's rules. May had hoped (ultimately in vain) that by securing additional assurances from the EU that it doesn't want the backstop to go into effect—and that the British government would be able to seek recourse from independent arbiters if it did—she might be able to persuade some of the deal's opponents to change their mind.
For others, though, distrust in the EU extends well beyond the backstop. "A lot of it stems from a belief that the EU has been bullying and mistreating the U.K.," Oliver Norgrove, a former staffer with the official campaign behind the "Leave" vote in the 2016 referendum, told me. Other disputes—over the U.K.'s £39 billion divorce bill to settle its preexisting commitments to the EU and the bloc's exclusion of Britain from its Galileo satellite project, for example—have only reinforced that perception. "We feel we are being picked on as a result of no longer being a member," Norgrove, who has since become disaffected by the Brexit process, said.
"There is a group of critics for whom the EU is essentially a hostile actor, and they are almost pathologically determined to see bad motivation behind everything it does," Henry Newman, the director of the London-based independent think tank Open Europe who supports the prime minister's deal, told me. "Of course it cuts the other way as well. That's why the EU wants the backstop in the first place." Without one, the bloc fears that the U.K. could prioritize its own trading ambitions over maintaining an open border between the Republic of Ireland, an EU member, and Northern Ireland, which is part of the U.K.
This distrust isn't limited to politicians, either. The latest Eurobarometer survey, which measures public opinion across EU member states, found that only 31 percent of Britons "tend to trust" the bloc, compared with 53 percent who don't. This puts Britain among the least trusting of current EU member states, second only to Greece, which has endured years of bitter austerity and nearly crashed out of the bloc during an economic crisis.
"Some feel that the EU decision-making process lacks transparency and legitimacy," Georgina Wright, a senior researcher at the London-based Institute for Government think tank, told me in an email. Wright, who has written extensively on how the U.K. needs to change its approach to negotiating with Brussels, said that having a better idea of how the EU functions is only part of that challenge.
Understanding the bloc's position is another issue, something noticeably lacking among some British members of Parliament in recent weeks. The effort by a group of Conservative Party lawmakers to pursue a Brexit compromise that the EU had already rejected was one example. Parliament's vote to reject leaving the EU without a deal—without taking any of the steps necessary to rule it out—was another. (The nonbinding vote doesn't change Britain's legal default position of leaving the EU without a deal on March 29; only agreeing to a deal or extending Britain's exit date can do that.)
"At a certain point in time, the adults in the room will need to wake up," Philippe Lamberts, a Green Party member of the European Parliament, told me by phone from Strasbourg, France. "If they don't, then what happens by default is a no-deal Brexit. You can say that you don't like it, but that's exactly what happens by default."
When I asked Lamberts, who sits on the European Parliament's Brexit steering group, about concerns among some British MPs that the EU could act in bad faith regarding the backstop, he didn't hide his frustration. "No amount of words will appease the hard Brexiteers," he said, adding: "I will not belly dance in front of them to gain their trust. Do they believe we are happy with the backstop? No, we aren't."
Though Parliament overwhelmingly backed a motion last week to seek an extension to Britain's exit date to allow more time to reach a consensus, a delay isn't certain. May will need to formally ask for one when she meets with EU leaders this week at a summit in Brussels—and the EU's 27 member states will need to unanimously approve it. Should the U.K. and the EU fail to agree to one, distrust on both sides could only get worse.
"If the U.K. were to leave without a deal, it would sour relations even further," Wright said, in a nod to future trade negotiations between the two parties. "It risks making both sides' views even more inflexible."