The Trump Administration Wants North Korea to Be the Next Vietnam
When Donald Trump and Kim Jong Un meet in Vietnam later this month, the U.S. hopes the North Korean leader will see what might await his country if he decides to denuclearize.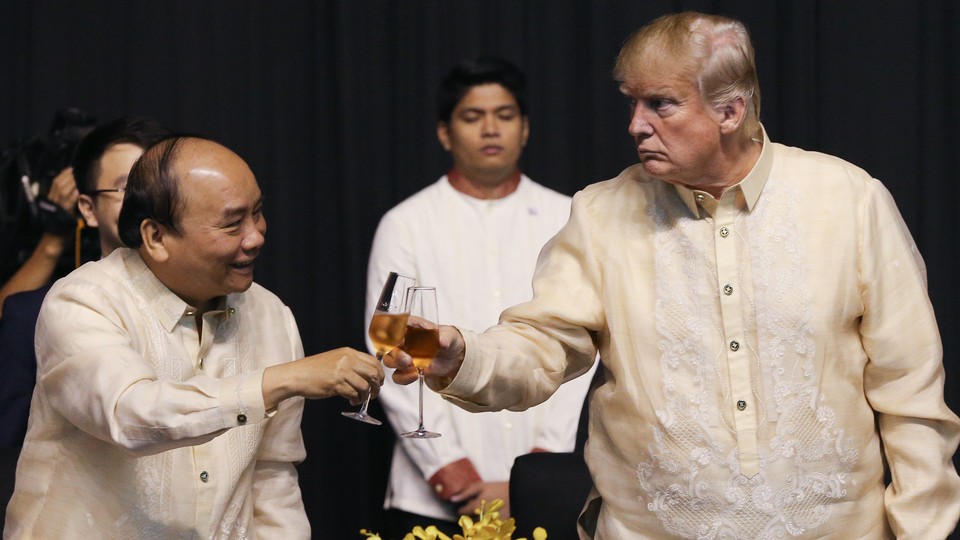 Updated at 7:20 a.m.
HO CHI MINH CITY, Vietnam—When Kim Jong Un arrives in Vietnam this month for his second face-to-face meeting with President Donald Trump, the North Korean dictator will have a hard time ignoring the myriad signs of American culture and development.
For Trump and his team, that is exactly the point.
Crowds of young Vietnamese have flocked to cinemas to see Aquaman, the latest Hollywood superhero blockbuster. Apple's iPhones are a status symbol for the growing middle class, and Facebook is widely used. American pop music such as Ariana Grande's new single, "7 Rings," fills coffee shops nationwide.
Beyond American culture, the draw of the United States is on display in other ways, too. When then-President Barack Obama visited Hanoi—Vietnam's capital and the site for the next round of Trump-Kim talks, on February 27 and 28—and Ho Chi Minh City in 2016, thousands lined the streets of both cities to get a glimpse of his motorcade. The table at the Hanoi restaurant where he dined with the late chef and TV host Anthony Bourdain is encased in plastic, the mise en place set as if they'd just left. Photos of the two men sitting at the table line the walls.
The last time Trump and Kim met, in Singapore this past year, the American president showed the North Korean leader a fictional movie trailer to demonstrate, in truly Trumpian fashion, what could be gained by working with the United States. That argument has underpinned the Trump administration's push in negotiations with Pyongyang: In essence, if the Kim regime were to denuclearize, it could gain access to untold riches and development—without having to loosen its hold on the country's politics. (The president repeated this argument on Twitter last week.)
In locating the next meeting in Vietnam, a country that fought a devastating war against the United States but is now a fast-growing economy and a regional ally, the White House appears to once again be trying to illustrate what is on offer if Kim cooperates.
Both Vietnam and North Korea suffered through ruinous Cold War conflicts involving America, and both are among the world's few remaining Communist-led nations. That, however, is where the similarities between the two countries end.
"From the U.S. side, we want to show North Korea what it could look like should it denuclearize and stop acting as a rogue nation," says Zachary Abuza, a professor at the National War College in Washington, D.C., who specializes in Southeast Asian political and security issues. "We would like to showcase Vietnam as this model of a reformed socialist state that is part of the community of nations and a thriving part of the global economy."
In Vietnam's case, the country emerged in the 1970s from a two-decade war that left millions dead, urban areas impoverished, and huge swaths of the countryside doused with chemical defoliants. A decade of food shortages, economic stagnation, and international isolation followed.
But since initiating economic reforms in 1986, it has become one of the fastest-growing economies in the world, lifting millions of people out of poverty along the way. It is a major cog in the global trading network, and an important diplomatic and security partner for the United States in Southeast Asia. Though Vietnam has a pluralistic leadership model that eschews the cult of personality that Kim Jong Un, his father, and his grandfather built around them, it remains a closed political society. The country has a terrible record on human rights, and lacks a free press or any semblance of an opposition, issues that Trump has largely remained silent on and which may well appeal to Kim.
North Korea, by contrast, remains a closed economy under brutal dynastic rule, isolated from the global community.
Among the best examples of the transformed relationship between Washington and Hanoi is Thinh Pham, who works for a marketing company in Ho Chi Minh City. Born in the 1990s—like the majority of Vietnam's 95 million people, he was born after the end of the war—he has no memory of the country's difficult past. He watches YouTube clips of American late-night hosts such as Stephen Colbert and Seth Meyers, and is a fan of the comedian Dave Chappelle and TV shows such as Game of Thrones.
"Probably 80 percent of the content I consume comes from the U.S.," Thinh told me. "Plus, it's in English, and I need to improve mine."
Remarkably, given that the two countries' soldiers were trying to kill one another less than half a century ago, Vietnam's leaders are also eager to portray themselves as proactive contributors to regional and global security and, crucially, as partners to the United States. Perhaps the most eye-catching sign of this effort came in March 2018, when the USS Carl Vinson, a nuclear-powered aircraft carrier, paid a four-day visit to Da Nang, the first time such an American ship had anchored in Vietnam since 1975, as the war was ending.
"Vietnam is keen to play this role," says Le Hong Hiep, a research fellow at the ISEAS-Yusof Ishak Institute in Singapore. "I think Vietnam has a lot of lessons to share with North Korea."

This is the ideal future relationship that some in the Trump administration envisage with North Korea. It is, however, a lofty ambition. The United States technically is still at war with Pyongyang, few are convinced that Kim's regime will be willing to give up its nuclear ambitions, and the opacity of the country's politics combined with its extreme lack of development mean a Vietnam-like opening up remains a long way off.

At a minimum, according to Sangsoo Lee, the head of the Stockholm Korea Center at the Institute for Security and Development Policy, in Sweden, Kim will get a firsthand look at a country that recovered from war and developed its economy, all while the ruling Communist Party held on to power. "I think Kim is only interested," he told me, "in how Vietnam, as a Communist country, maintained their regime."