'I Had No Options': The Rohingya Man Who Smuggled Himself
Myanmar has pushed out Rohingya Muslims for decades. One of them chose to flee within his own country.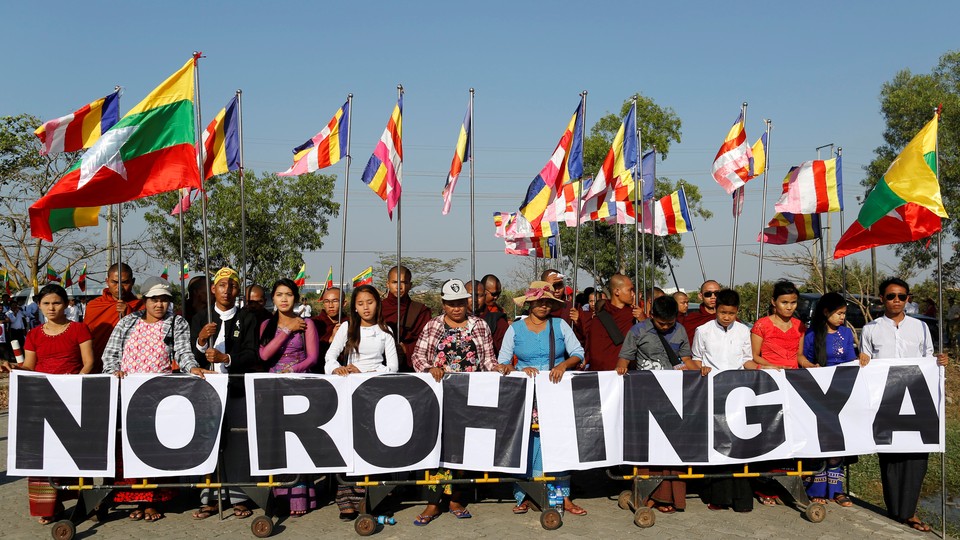 The reporting for this article was supported by The Masthead, The Atlantic's membership program. Learn more.
YANGON, Myanmar—By Kamal's own admission, his family used to be "very rich." His father owned a successful trading business, which sent fish and thanaka—a fragrant cosmetic paste made from tree bark—to be sold in neighboring Bangladesh. Their home in Sittwe, the capital of Rakhine State in western Myanmar (also known as Burma), was a two-story structure in a busy quarter, and Kamal, a Muslim, taught English at a local church.
But when I met him, he was sitting idly near his new house in a village filled with rickety homes, where the roads and footpaths had been turned to slippery mud by the heavy monsoon. His family were forced to flee Sittwe as roving mobs of Buddhists destroyed the homes of their Muslim neighbors. Violence had convulsed Rakhine State, where the Buddhist majority clashed with the Rohingya community, a minority Muslim group that has been the object of discrimination for decades here in Myanmar. The relative wealth of Kamal's family was no factor—the violence had, in a way, served as a great equalizer, turning the Rohingya into a monolithic community, detested more than ever before.
Kamal and his family were among about 140,000 mainly Rohingya Muslims who were displaced in the bloodshed of 2012, three years before he and I first talked. Most were rounded up into chaotic displacement camps in Rakhine, where most still reside, while others were held in government-controlled ghettos, barred from leaving. Then in 2017, more than 700,000 others headed to neighboring Bangladesh, searching for safety from a country where they had lived their entire lives but which refused to recognize them. United Nations investigators have called the most recent exodus the result of genocidal military actions.
Kamal made plans for a different path, though—he smuggled himself within his own country. "Do you remember me," he asked in a recent message. "Now, I am in Yangon."
Even among the myriad tales of Rohingya Muslims fleeing violence, Kamal's stands out. The 24-year-old, who did not want his full name published for fear of being targeted, is one of the very few Rohingya who have been able to escape a life confined to government slums or squalid camps. His is a route that many are now trying to replicate, whether by land, sea, or air.
The Rohingya have long been subjected to discrimination and communal violence. The minority could qualify for equal rights to other groups when Myanmar—then officially called Burma—won independence from Britain, but in 1982, the country passed a citizenship law that effectively rendered them stateless. Today, government officials here refer to Rohingya as "Bengalis," asserting that they are not compatriots, but foreigners.
Things have not always been quite as hopeless for the Rohingya. When Nobel laureate Aung San Suu Kyi's National League for Democracy Party took power in 2016, she formed a commission headed by the late former U.N. Secretary-General Kofi Annan to look at the issues in Rakhine and recommend possible solutions. Observers had a cautious hope that Suu Kyi, who until then had shown negligible regard for the plight of the Rohingya, recognized the situation as untenable and was pushing for a solution. The commission, Suu Kyi said, would help heal a "wound that hurts all of us."
Then, in August 2017, members of a Rohingya militant group known as ARSA launched attacks on a number of police outposts in Rakhine. The Annan-led commission delivered its final report laying out 88 recommendations just hours before the ARSA attacks, dramatically dimming the prospect of implementation, and the Myanmar military quickly began what it described as "clearance operations," a disproportionate response to the violence that then spiraled into a frenzy, with widespread reports of rape, arbitrary killings, and arson. (The Myanmar government and military have dismissed such allegations—whether from foreign media, rights groups, or international bodies—as biased and unfounded.)
The authorities insist that they are working tirelessly to improve conditions for the Rohingya, upgrading Rakhine's infrastructure and touting a new variation on an identity card that would grant the group limited rights, as well as hosting an investment fair in Rakhine in February. Suu Kyi has also declared on multiple occasions that her government has implemented 81 of the Annan-led commission's 88 recommendations.
But diplomats and aid workers have become  blunter in their criticism of what they argue is the government's persistent unwillingness to address the underlying problems plaguing the community. A report compiled in September by six international aid groups was scathing. "Despite the clear lack of will to address human rights issues, the government has nevertheless persisted in proclaiming significant progress on the recommendations," according to the report, which has not been published but was reviewed by me. There are also concerns that any effort toward repatriation from Bangladesh—Dhaka is keen to quickly send the Rohingya back, worried that it lacks the resources to support a long-term refugee population and about the potential for domestic backlash—will merely mimic past flawed and hurried attempts. "There is very little willingness to do that so far," a Western diplomat in Yangon, speaking on the condition of anonymity because of the issue's sensitivity, said of efforts to solve the problems around citizenship and freedom of movement. "It is not zero, but it is pretty minimal."
Sitting in a hotel restaurant overlooking Kandawgyi Lake, in central Yangon, Kamal told me about his expensive escape between hurried bites of rice and beef. Using money he had stashed away from his job working for an NGO in the village he had fled to, he paid almost $2,600—a vast sum in a country with an average annual income of just over $1,400—to an immigration official in Sittwe. The cash was then doled out to others, the so-called tea money that serves as the lubrication necessary to move Myanmar's gears of bureaucracy. Kamal did not, for example, have a national registration card, so documents were forged to show that he was traveling to study. Finally, in the summer of 2016, before the renewed bouts of violence, he took a short flight to Yangon, where he was met by his aunt and uncle who, he said, had left Rakhine more than 20 years earlier.
I asked him how he felt about having to pay such a significant sum in bribes, to which Kamal responded with laughter and indifference. What else could he do, he asked, then telling me simply, "I had no options."
Even among those who have made it out of Rakhine, Kamal was exceptionally fortunate: His journey didn't involve exploitative traffickers or days bobbing in the ocean. I have met Rohingya who were rescued from overcrowded boats abandoned by smugglers; others made it all the way to Chicago after slipping into Malaysia and spending years there waiting in limbo for resettlement.
The Myanmar government's reticence to comprehend the magnitude of the problems facing the Rohingya has led it to make statements that appear grounded in an alternative reality. In a speech in mid-December, President Win Myint declared 2018 an "auspicious year" for Rakhine, pointing to a lack of natural disasters and a list of development accomplishments. The authorities are also pushing ahead with plans to accommodate repatriated refugees, building structures to house them upon their return, but the government's track record bodes poorly on this front.
In 1978 and 1979, about 200,000 Rohingya refugees entered Bangladesh when Myanmar military forces began a sweeping citizenship-verification project. Then, from 1991 to 1994, another 250,000 Rohingya arrived in Bangladesh, an exodus spurred by military abuses. Both times, the two countries organized repatriations, in coordination with the United Nations. An unpublished 2010 report commissioned by the UNHCR, the UN's refugee agency, examining these exercises came to the troubling conclusion, however, that those repatriations were not voluntary. The confidential document, a copy of which I obtained, found that "at a minimum, UNHCR showed reckless disregard for its protection mandate and principles" during the repatriation carried out in the 1970s. Similarly, the fact that large-scale repatriations undertaken in 1994 "were not entirely voluntary and safe is beyond contestation."
Complicating matters further is the intense fighting that broke out in January between government forces and another group demanding greater autonomy for Rakhine, a conflict that has displaced thousands and heavily restricted international aid to the state. Small-scale development projects announced by the UN in late December to improve conditions for possible Rohingya returnees were abruptly put on hold just weeks after they were announced because of the new clashes.
In Yangon, Myanmar's biggest city and its former capital, Kamal has taken to obsessively documenting his life with an exuberance that at times verges on comical. He was particularly happy with his new friends, which by his count stood at "over 30." Kamal made a point of noting that many were Buddhists, but that he got along with them "like brother and sister." He had found work tutoring high-school students after school in English, and he sent me pictures of them dressed in clothing from Myanmar's different ethnic groups. It was his idea, he said, to teach them "respect for diversity."
Still, his life is not without worry: He lacks legitimate identity documents; lives in a cramped apartment with his aunt, uncle, and cousins; and finds his day job at a company importing electronics unmotivating. And while he has told his students and friends that he is a Muslim, he has not revealed his ethnicity. "I prefer not to say I'm Rohingya," he said, "because it is very dangerous here."