What to Watch for During the Catholic Church's Sex-Abuse Meeting
Pope Francis convened 190 bishops and other prelates to discuss the protection of minors in the Church. Are they serious about it?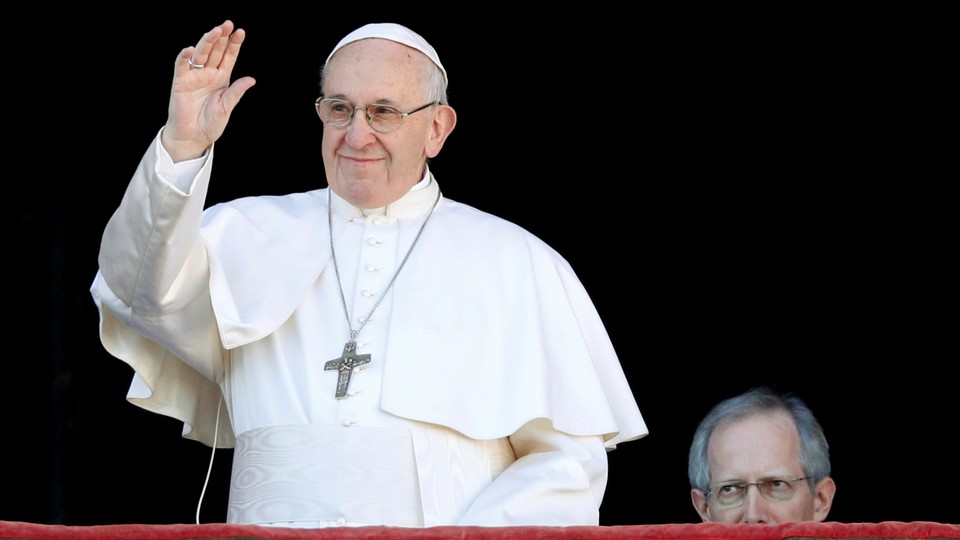 VATICAN CITY—This week, 190 bishops and other prelates from around the world are gathering for a meeting on the protection of minors in the Catholic Church. Called by Pope Francis, the meeting is the first of its kind at the Vatican, and a sign that the pope and the Church hierarchy are finally acknowledging that the sexual-abuse crisis has become a global issue—in recent years, scandals have erupted in Australia, Chile, France, Germany, Ireland, and the United States, and they show no signs of abating.
Vatican officials say the meeting's themes will be responsibility, accountability, and transparency, and they hope that it will be a turning point. But they've also tried to manage expectations, saying that while the gathering is an opportunity for discussion and reflection, it might not yet yield concrete measures.
"This is not going to be a three-day wonder, and we're not going to solve all the problems. Follow-up will be of the essence," Monsignor Charles J. Scicluna, the archbishop of Malta and one of the Vatican's longtime top investigators of sexual-abuse cases, said on Monday. Before the meeting begins, and before the crisis can be solved, here are some questions that still need answering.
What's Gone Wrong in Clerical Culture?
Francis has blamed the sexual-abuse crisis on what he calls "clericalism," or an abuse of power by priests.
Structurally, the distribution of responsibility between local dioceses and the Vatican has meant that blame and accountability for abusive clerics have been constantly deferred, creating a system for plausible deniability and fertile ground for cover-ups.
Culturally, an all-male celibate culture is an unusual world—and sometimes it's not so celibate. (This week, the Vatican acknowledged that it has guidelines for priests who've fathered children.) Studies have shown that 80 percent of victims of sexual abuse by prelates are boys over the age of 14, but no definitive statistics exist since many victims, including women, never come forward and the Church doesn't make its records public. Traditionalist figures in the Catholic world, including a grudge-bearing archbishop demoted by Francis, have linked the abuse crisis to homosexuality. At the Vatican this week, Cardinal Blase Cupich of Chicago said the issue isn't homosexuality; it's protecting children. "It is not as a result of being homosexual that you abuse," he said.
Church officials have talked of the need for better screening procedures for priests, but some people involved in tackling the abuse crisis believe that it's time for an even deeper reckoning. "For me, the major issue that needs to be addressed is: What is it in the clerical culture that attracts these men who abuse youngsters? And what is it in the clerical culture that leads these men to protect the abuser?" Nicholas Cafardi, a dean emeritus and professor of law at Duquesne University and a former chair of the U.S. Conference of Catholic Bishops' National Review Board for the Protection of Children and Young People, told me. "We need to do a kind of … really deep introspection here, because the problem is worldwide."
Who Holds Bishops Accountable?
For some, the answer to this question is straightforward. "Civil authorities," said Anne Barrett Doyle, a co-founder of the research and advocacy website BishopAccountability.org, which has compiled background information on some bishops invited by the pope to attend this week's Vatican meeting, with a scorecard of how they've handled cases of abuse in their own diocese. The group found, for instance, that the head of the bishops' conference of Brazil, the largest Catholic country in the world, has not weighed in publicly on the crisis or published a policy for handling abuse cases.
In France, Cardinal Philippe Barbarin of Lyon is standing trial with several others on charges that he helped cover up for a priest who had been accused of abusing minors. Barbarin is the highest-ranking prelate in France to ever face civil justice. He has denied wrongdoing, and a verdict is expected in March. In Australia, Cardinal George Pell, whom Francis dismissed from a top Vatican position last year, is standing trial for "historic child sexual offenses."
Francis has also begun taking bishops to task. After an investigation by Monsignor Scicluna found "a culture of abuse" in Chile, the entire bishops' conference of that country came to the Vatican to tender their resignations. Francis accepted those of at least seven bishops.
In 2002, after the abuse scandal erupted in Boston, U.S. bishops adopted the Charter for the Protection of Children and Young People, which requires a diocese to report allegations of a crime to civil authorities and includes a one-strike-you're-out policy, in which priests are removed from the ministry if they are found to have harmed minors. Vatican officials have argued that this policy can't be applied universally, since clerics would be put at risk in authoritarian regimes or places where the clergy are targets of killings.
For now, the rhetoric has focused more on calling attention to the crisis. With the meeting this week, "the Holy Father wants to make very clear to the bishops around the world … that each one of them has to claim responsibility and ownership for this problem," Cardinal Cupich said. He added that there would be an effort "to close whatever loopholes" exist so that bishops understand their duties, and that genuine progress would be required of them.
But some abuse victims say the structure of the Church isn't so much the problem; the mentality is. "These are crimes, not sins," said Barbara Dorris, a victim of clerical sexual abuse who is now an activist with Voices of Faith, a group that seeks to have a greater role for women inside the Catholic Church. "They already have a structure. Church officials need to be held accountable to the same standards everyone else is."
Does the Vatican Hierarchy Understand What's at Stake?
Yes and no. The Vatican is a hermetic world, the ultimate realm of power politics, dominated by Italians who have been reluctant to see this problem as a global crisis rather than as a scandal to be kept quiet and handled internally, if at all.
Ahead of this week's meeting, it created a website that brings together Church documents on the issue of abuse, including statements and papal teachings, as well as relevant passages in canon law. It's the first time the Vatican has ever endeavored to compile all the material in one place.
But there are words, and there are actions. In 2017, Marie Collins, an Irish survivor of sexual abuse, resigned in frustration from the Pontifical Commission for the Protection of Minors, which the pope established in 2015, to protest that Francis had rejected the commission's recommendation to create a tribunal for bishops inside the Vatican. "As long as an obsession with secrecy and protection of reputation remains at the core of the Church in those who have the means to make the necessary changes, it will not happen," Collins wrote me in an email.
She said bringing lay people "who have a grasp of the reality that is the world today into the bubble that is the Vatican and ensuring they are not simply tokens but hold real positions of influence would help." Cardinal Séan O'Malley of Boston also supported creating a tribunal for bishops inside the Vatican. "We're still waiting for the procedures to be clearly articulated," he recently told my colleague Emma Green.
No one feels this tension between the Vatican and the world more acutely than the United States. "Caught in the crosshairs are the U.S. bishops, between the expectations of the American public and what they'll be allowed to do by Rome," said Barrett Doyle of BishopAccountability.org.
What Is Francis's Record on the Abuse Crisis?
In short, his record has been mixed. Like his predecessors, he has said that the Church must protect its flock. In 2016, he issued a motu proprio, or papal letter, called Like a Loving Mother that specified how a bishop could be removed from the ministry "for grave reasons." But in 2018, Francis stood by a Chilean bishop accused of covering up a sexual-abuse scandal, calling the accusations against the bishop "slander." The pope came of age in Argentina during the Dirty War, when the regime killed people with no due process, and has often called "gossip" the devil's weapon for causing division within the Church. After an outcry by victims in Chile after his slander remarks, however, the pope called for an investigation and later accepted the resignation of Chilean bishops.
Last week, Francis expelled Cardinal Theodore E. McCarrick, the former archbishop of Washington, D.C., from the priesthood—making him the highest-ranking Church official to be defrocked in decades—after the Church found him guilty of soliciting sex during confession and "sins" with minors and adults, "with the aggravating factor of the abuse of power."
Asked this week about the evolution of the pope's thinking on the sexual-abuse crisis, Archbishop Scicluna said, "I would concentrate on where he is now." He said he had been "impressed" by the pope's ability "to say 'I got that wrong,' 'We're not going to do it again,' or 'We got that right.' And that gives us great hope." Francis might have brought a new spirit of dialogue to the Vatican, but Dorris, the survivor of clerical sexual abuse and activist for victims, was not so hopeful. "The pope is an absolute monarch. He can immediately remove complicit officials," she said. "The pope has chosen not to act."