A Global Geopolitical Crisis Comes to Moldova
In the tiny nation's parliamentary elections, voters will choose representatives. They will also choose a future aligned with Europe or one aligned with Russia.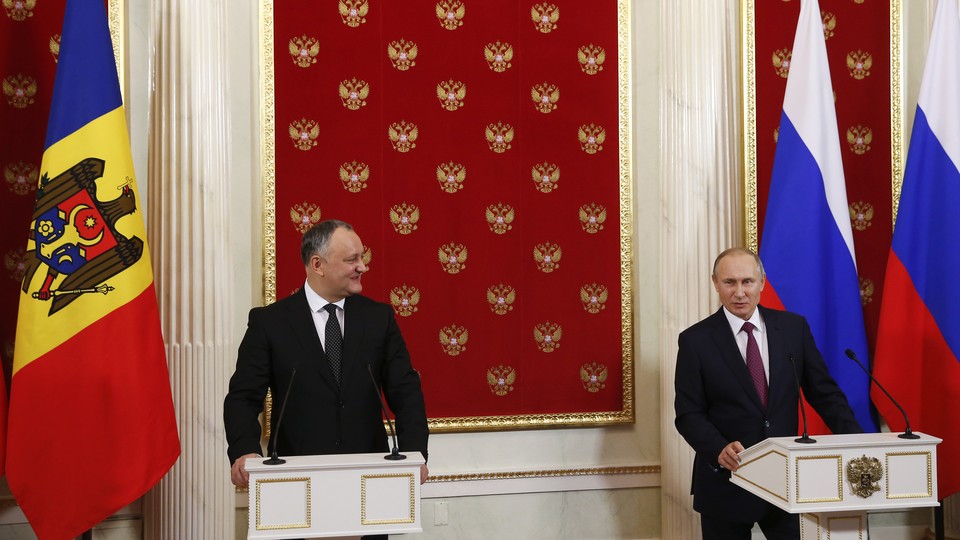 CHISINAU—Change comes slowly here in the Moldovan capital. Beyond the neon signs for fast-food restaurants such as McDonald's or cellphone providers such as Orange, the drab, gray streets could easily form the backdrop of a gritty Cold War spy movie.
This former Soviet republic is within Europe's eastern borderlands, where the competition to set the country's future path, much like in neighboring Ukraine, plays out in the relative open. Almost three decades since its independence, Moldova—Europe's poorest country, with a population of just 3.5 million—is a geopolitical battleground. An upcoming election here not only highlights the tension between the country's Western-oriented leaders and its historic Russian ties, but presages what might be major campaign issues as the European Union holds its own parliamentary polls this year.
Moldova has been pursuing a pro-EU path for a decade and, in 2014, signed an association agreement with the EU, which allowed for greater economic relations and visa-free travel across the bloc, and which was supposed to signal a new chapter in Moldova's troubled history. But that same year, a banking scandal hit: $1 billion, equivalent to an eighth of Moldova's gross domestic product, went missing, and three of its largest banks ceased to exist. Leading political figures were suspected of being involved, though few have been brought to justice and little of the money has been recovered.
Since then, as frustration with the current pro-European government has grown, support for the country's Western-focused path has plummeted. Now, with a struggling economy and little progress on fighting endemic corruption, Moldova's voters cast ballots this weekend in a parliamentary election that some here worry will reorient the country back toward its traditional partner, Russia.
Perhaps no two politicians embody that choice more than Maia Sandu and Igor Dodon. The pair faced off once before over Moldova's future, and again find themselves on opposite sides of the debate.
A former World Bank adviser with a master's degree from Harvard University's John F. Kennedy School of Government, Sandu lost to Dodon for the presidency in 2016. She is now trying to position herself and her Party of Action and Solidarity (PAS), formed in 2016, as the voice of a new, uncorrupt, and pro-European Moldova.
"Politicians always say that the upcoming elections are the most important," the 46-year-old told me, as we sat in her party's small and unobtrusive headquarters down a pockmarked side street of the capital. Still, she said, "I do believe that this is a critical point."
Voicing worry over a growing number of Moldovans leaving their country—almost a quarter of the population now live abroad, economic migrants in search of opportunities elsewhere—she said time was running out. "If we miss this opportunity to turn things around, and to show what it means to have good governance and a pro-European government which works for people," she told me, "four years from now, eight years, we might not have this critical mass of people."
Sandu's strong, public criticism of existing political parties, coupled with the fact that she's an unmarried woman with no children in a traditional Eastern Orthodox country, has led to plenty of pushback. She blames a smear campaign for her loss in 2016, and in recent months has traveled widely across Europe to meet with members of the Moldovan diaspora, the constituency she will represent in Parliament if elected.
A pro-EU grouping, headed by the powerful oligarch Vlad Plahotniuc's Democratic Party, currently holds power in Parliament, but is deeply unpopular. Polls suggest that the pro-Russia Socialist Party will win a large share of seats in the upcoming election, and might have a chance to form a governing coalition. A bloc formed between Sandu's PAS and another new pro-EU party, the Dignity and Truth Platform, is also expected to do well. Domestic considerations, from the rampant corruption that plagues everyday life to low wages and poor infrastructure, will undoubtedly play a role, but international observers are also keenly watching for how Moldova's next Parliament breaks down.
For many here, the EU represents a vision of how they wish their country would function: The bloc is seen as a largely transparent, rules-based society where leaders work for the people's interests and where opportunities are available for those who put in the effort. The EU has steadily expanded eastward, and the possibility of joining can encourage significant reforms and better behavior from prospective member states.
But the failures of pro-European parties in power since 2009—not to mention the EU's own struggles, from the aftermath of the eurozone debt crisis to the near exit of Greece from the bloc—have dulled that enthusiasm. Moldova currently ranks 117th in Transparency International's Corruption Perceptions Index, down from 89th in 2009, while support for continuing on the path toward the European Union dropped from 65 percent in 2010 to 40 percent in 2016, according to public-opinion polls conducted by the Institute for Public Policy, an independent research group based in Chisinau.
Despite Sandu's conviction that Moldova should remain focused on attaining EU membership—admittedly an unlikely prospect anytime soon—surveys of Moldovan voters now put support for closer ties with the EU neck and neck with backing for Russia, if they had to choose just one (a significant number also say they don't know which they prefer).
"I haven't decided who I will vote for," says Ilian, a detergent seller in Chisinau's sprawling open-air market, where much of the population still comes to buy their groceries. The 33-year-old, who declined to give his last name, continued: "If there's a space where you can say that you don't support any candidate, I will tick that box."
On the opposite end of the spectrum from Sandu sits Dodon, the former leader of the Socialist Party, who has been president since December 2016. Moldova's presidency is meant to stand apart from party politics, and so Dodon is not officially campaigning in these elections, but his views are clear. While running for president, Dodon said that he would be ready to call a referendum on whether to extricate Moldova from its EU agreement, in favor of membership in the Russian-led Eurasian Economic Union. (His rhetoric since taking office has been more nuanced, but he was nevertheless temporarily suspended by Parliament in January 2018 for vetoing a bill aimed at stopping Russian news broadcasts in Moldova, one of several occasions that legislators have taken such action against him.)
Critics say Dodon has been pursuing a pro-Russian path, but he maintains that he is simply rebalancing the country's alignment after a decade of what he described as anti-Russian rhetoric. "I think the greatest mistake is to make a choice," he told me in an interview in his oversized office in the heart of Chisinau. "Moldovan society is split into two parts; one half wants to be friends with Russia, and the other half wants to be friends with Europe … We need good relations with Europe and all those agreements, and we need Russian sales markets for our goods. This is the only way out—any other option is internal destabilization and problems."
Whatever Dodon's views are now, Moscow's influence is unquestionably strong in Moldova. A fifth  of the population speaks Russian as a first language, a legacy of decades as part of the Soviet Union, and Russian television channels are broadcast throughout the country. Russia has also shown a willingness to wield that influence: It recently lifted, initially for a temporary period, embargoes on Moldovan wine and agricultural goods put in place shortly before the EU association agreement was signed. It also announced a so-called amnesty for Moldovan citizens working or living illegally in Russia, who will be able to go home for the election without incident. Both moves are expected to favor Dodon's former party, the Socialists, when it comes to the polls.
At the same time, Moldova's Western allies have been freezing or cutting financial aid in recent years, disappointed by illiberal actions here, with the European Parliament declaring Moldova "a state captured by oligarchic interests."
Still, there is some succor for pro-Europeans: Even if the Socialists win this election, they will struggle to realign the country economically toward Moscow. The last decade has seen Moldova's trade heavily shift toward the EU, with roughly two-thirds of the country's exports heading westward.
"Dodon is massively constrained by Moldova's geography, economic, and foreign dependencies," says Nicu Popescu, director of the Wider Europe program at the European Council on Foreign Relations. "I'm not sure he wants to become closer [to Russia] and join the Eurasian Union, but even if he wants to, he can't do it, given Moldova's trade structure. The moment he tries to join the Eurasian Union, he has to denounce the free trade agreement with the EU, and you get an economic collapse and a revolution the next day."
What's more likely, instead, is Moldova staying in limbo, trapped between East and West and, many fear, lurching from crisis to crisis. A hung Parliament, meanwhile, could lead to another election in a matter of months, something Dodon has already said might be necessary.
"Every time it seems like the country is going down the right path, it doesn't turn out to be very easy," Popescu told me.
For Sandu, the choice is clear: While maintaining positive ties with Russia is important, balancing the two relationships is not an option. "Hopefully, at some point Russia will become democratic, and then our life will become easier," she told me. "But I don't believe in the third way of being here and there."
That third way, a gray area in which Moldova is not explicitly oriented toward either Moscow or the West, she added, "is exactly the objective of the Kremlin."  ​​