Germany Preps a Plan B for Trump's Foreign-Policy 'Zigzag'
One of Washington's closest allies in a fractured Europe struggles to adapt to the Trump administration's unpredictable policy moves.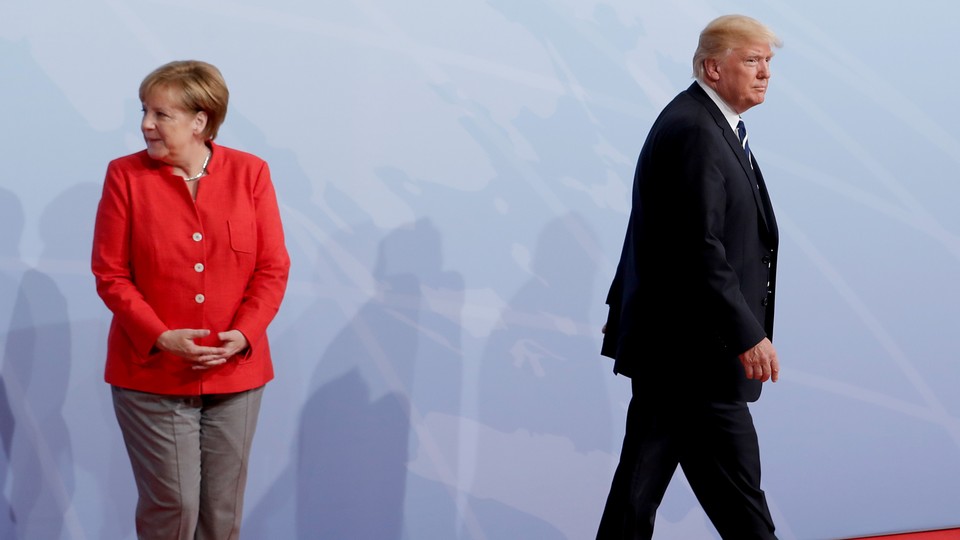 BERLIN—Last month, foreign-policy-focused members of Germany's Bundestag met for their regular committee meeting here. On the agenda were two major issues: the consequences of President Donald Trump's decision to pull troops out of Syria, and rumors that a similar move was planned for American forces in Afghanistan.
What, they wondered, did the conflicting signals out of Washington actually mean, and how was Germany, as a major ally of the U.S., supposed to react?
"The worst thing wasn't just the decision itself, but that it happened in a way that one couldn't prepare for," Stefan Liebich, a lawmaker on the committee and the foreign-policy spokesman for the Left Party, told The Atlantic. Calling those issues the latest example of the "American zigzag," Liebich added, "German politics is still learning to adapt to this new situation."
It was hardly the first time that Berlin had been blindsided, disappointed, or just plain confused by the messages coming out of Washington since Trump took office two years ago. Across Europe, this administration has forced leaders and governments to rethink the way they deal with their old ally. From the president's criticism of NATO and his tirades on trade to his decision to pull the U.S. out of international agreements like the Paris climate accord, leaders here have gotten the message loud and clear that the status quo no longer applies—and that at any point Twitter rhetoric could turn into tangible policy.
As political and security leaders, including German Chancellor Angela Merkel and U.S. Vice President Mike Pence, gather this weekend for the annual Munich Security Conference, that shift is felt especially strongly here in Germany. Germans have long considered their relationship with the United States to be a special one: The U.S. helped rebuild Germany after World War II; it supported Germany's reunification efforts after the fall of the Berlin Wall in 1989; and even today, it effectively serves as the guarantor of German security. But Trump and his "America first" mantra have slowly chipped away at that goodwill, leaving Germany feeling abandoned by, and losing trust in, an ally many view as akin to a parent or a big brother.
Where they might have followed the U.S.'s lead in the past, German leaders now acknowledge that they, and Europe more broadly, must chart a course for themselves—and, in Germany's case, step onto the world stage to an extent they've been reluctant to do. And the once-common view of the U.S.'s reliability as a partner, from issues of trade to rising threats from Russia or China, has been called into doubt in a way that creates nervousness in foreign-policy circles here.
"Today we see much more clearly than we did two years ago: Trump represents a turning point in transatlantic, German-American relations," Norbert Röttgen, chairman of the Bundestag's foreign-affairs committee and a member of Merkel's Christian Democrats, told The Atlantic. "In his thinking, the postwar conception of alliances and systems, and the claim of the U.S. to lead and spread these alliances internationally, does not really matter."
In many ways, the world order remains unchanged: The U.S. has not pulled out of NATO or formally called its commitments to the military alliance into question, and the transatlantic bond, while weakened, still consists of shared security, economic, and even cultural ties. Ask any major politician here, and they'll argue that the relationship with Washington remains relevant and important. (Pence is also a more senior official than is typical at the Munich conference, which might also go some way toward addressing European concerns about Washington's commitment to its friends.)
But the dynamic under the surface has experienced a real change. At first, the hope remained that the president's advisers could moderate his more impulsive tendencies. But one by one (from Secretary of State Rex Tillerson, to National Security Adviser H. R. McMaster, to Defense Secretary Jim Mattis) those advisers have left—leaving German diplomats with few strong contacts in the administration, and the administration with hard-line national sovereigntists such as McMaster's replacement, John Bolton, and the divisive U.S. ambassador to Germany, Ric Grenell.
"It's become very difficult for us, as German politicians or the German government, to discuss anything sustainable with the White House and especially with Trump," says Nils Schmid, the foreign-policy spokesman for the center-left Social Democrats (SPD), who are part of Merkel's governing coalition. "We are making contacts, but with limited success."
And though no one would say (publicly, at least) that they worry about Trump pulling the U.S. out of NATO, there's a sense among German leaders and policy types that it's difficult to trust the U.S. to uphold its end of the bargain security-wise—leading to a call for Europe to think about its own security and foreign-policy interests.
"We need to be able to engage, of course, with the United States," says Almut Möller, head of the Berlin office of the European Council on Foreign Relations, "but also realize that the predictability is no longer there."
That is perhaps why Schmid's party is reportedly questioning Germany's involvement in a decades-old agreement to support the deployment of American nuclear weapons in the event of a conflict on the continent. The move came after the Trump administration announced that the U.S. would withdraw from a treaty with Russia that eliminated a class of nuclear-capable missiles in Europe. Though Merkel's Christian Democrats have reiterated the importance of the "nuclear sharing" agreement, the fact that one of Germany's leading parties would so openly question it demonstrates an erosion of trust in U.S. commitments in Europe.
These views aren't just confined to politicians and foreign-policy elites: New polling from Atlantik-Brücke, a transatlantic organization, finds German public opinion turning strongly against the United States. Asked whether they had a positive or negative view of the U.S., 85 percent said they had a negative view; just over 10 percent had a positive view. And when they were asked to choose if the U.S. or China is a more "reliable partner," Germans picked China, by a margin of 42 to 23 percent (with a third of those surveyed undecided). Annual surveys from Pew Research Center show a sharp drop in confidence in the U.S. once Trump took office: In the final months of Barack Obama's presidency, in 2016, 86 percent of Germans believed that he would do "the right thing" regarding world affairs; under Trump, that figure plummeted to 10 percent in 2018.
The response here to Trump's foreign policy, at least publicly, can be summed up by German Foreign Minister Heiko Maas's frequent statement: The answer to "America first" should be "Europe united." But the idea of a united Europe, while something most leaders have supported in theory, is not the easiest prospect at a time when the continent is facing rising populism, continuing challenges related to accepting and integrating refugees, and fears of impending economic slowdown (to say nothing of the fact that one of its biggest economies and its foremost military power, Britain, is leaving the European Union).
Joe Kaeser, chief executive of the German conglomerate Siemens, reflected this doubt during a December visit to the United States. In a kind of geoeconomic manifestation of Newton's Third Law—every action provokes an equal and opposite reaction—he spoke in terms that Trump has injected into transatlantic discussions.
The businessman, who has often accompanied Merkel on foreign trips and been described as the "unofficial captain of Germany Inc.," echoed Trump in describing Europe as not just an ally of America's but also a competitor. And he urged the leaders of his country, Europe's largest economy, to formulate a "Germany first" economic policy as a hedge against the potential failure of his preferred option: the European Union crafting a unified strategy for contending with economic giants such as the United States and China. The term, which Kaeser first used at a conference last fall, is controversial in Germany, where it has been invoked by the German far right to oppose immigration and shunned by many officials.
"Germany needs to have a Plan B," Kaeser told The Atlantic. "If we can't go together, we need to go it alone and understand what exactly does that mean." As an example, he noted that the heads of the three largest German carmakers had been meeting with Trump at the White House amid the president's threats to impose steep tariffs on automobiles imported from the EU.
"That's applying a Plan B already, because a Plan A would be that the Europeans would [jointly] get something done. But in absence of that, there are now people cutting bilateral deals," he observed.
Kaeser has considerable interests in how these questions are resolved. Siemens has been fiercely jockeying with the American company General Electric for multibillion-dollar energy contracts in Iraq. His dissatisfaction with European competitiveness might stem in part from his own frustrations with Brussels. This month, EU regulators blocked a merger between Siemens and France's Alstom, which the companies touted as a way of creating a railway behemoth to rival China's, on the grounds that the deal could stifle competition and raise prices within Europe. He noted that the kind of contingency planning necessary to develop an alternative to a European economic strategy can motivate reluctant partners to get serious about Plan A or risk being "left behind."
But his comments nevertheless indicate just how fluid the debate is about Germany's place in the world—a long-thorny issue within German political circles, given the country's history and subsequent reluctance to take on more active global leadership.
Citing the enormous challenges that Europeans face from the rise of China as a strategic competitor and the reemergence of Russia as a military power, Emily Haber, the German ambassador to the United States, rejected Kaeser's premise.
"The answer in Europe is not 'Germany first,'" Haber told The Atlantic. "Don't fool yourself … We know that we need the much larger shadow of the European Union and of European integration in order to leverage our power. So it's not 'Germany first.' It's not 'Luxembourg first.' It's not 'France first.' Because that's a diminishment of power."
She added that while German policy makers are not treating the United States under Trump as more of a competitor than an ally, there is one worrying exception: the administration's criticisms not of particular EU policies or actions, but of European integration itself, which is "existential for us."
"Do we see eye to eye in regard to the strategic irrefutability of the European Union?" Haber wondered. Asked whether she had arrived at an answer, Haber responded, "Let's wait and see."
In any case, the German (and European) response to the Trump era of American foreign policy is predicated on the assumption that, even if a different president enters the White House in 2021, some of these shifts are more lasting than Trump's tenure.
The current situation "may shift back, or it may change again at the level of style and tone ... but what will remain is this withdrawal from the Near East, the decline of the willingness to engage in international affairs, the withdrawal of America from international agreements," Schmid, of the SPD, says. "This separation will not be changed back so quickly."
Emily Schultheis reported from Berlin, and Uri Friedman from Washington, D.C.