In the 'Year of the Woman,' Many Were Missing From International Reporting
Journalism around the world remains dominated by male reporters and their male sources. But that's starting to change.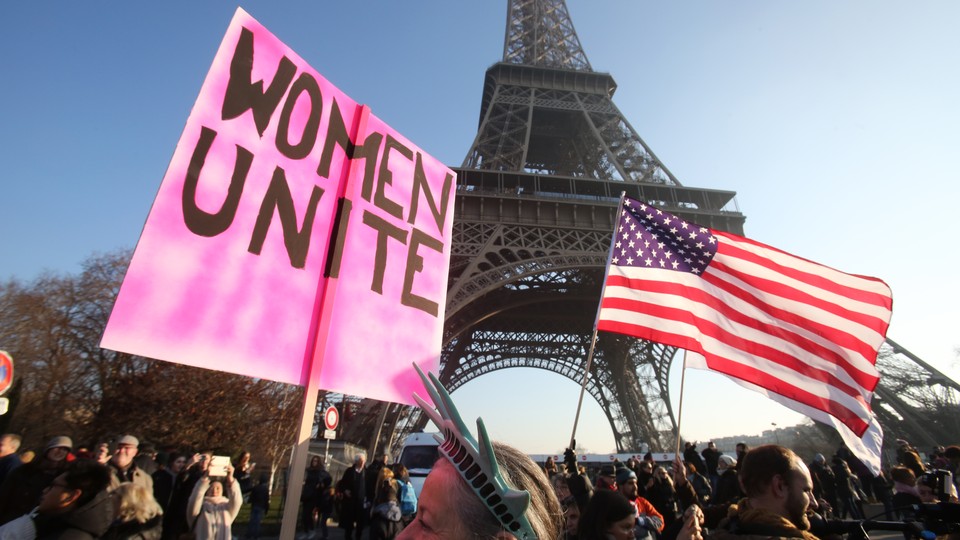 Unless you avoided the internet entirely last year, you probably saw almost every major publication declare 2018 "the year of the woman."
In the United States, Christine Blasey Ford accused the then–Supreme Court nominee Brett Kavanaugh of sexual assault. Two months later, a record number of women were elected to Congress. The #MeToo movement gained steam and sexual-misconduct bombshells rocked nearly every industry, across the globe. People seemed to finally be paying attention to women's voices.
Those voices weren't, however, often included in reported stories. Journalism remains dominated by male reporters and their male sources. A study published recently by the Women's Media Center found that in 2017, 63 percent of bylines and TV credits were those of men. The imbalance is even more pronounced when it comes to international reporting, with men producing two-thirds of the stories in that field. Globally, only 24 percent of news subjects (including people who are interviewed and those whom a story is about) are women, according to a 2015 study. (The Atlantic's Global section fared only marginally better in 2018, with women constituting 27 percent of those quoted. Forty-one percent of people who wrote for the Global section were women.)
The people quoted in major news stories play a crucial role in informing the public, influencing policy makers, and establishing an understanding of what's happening in the world.
Foreign policy, international politics, national security: All of these are notoriously male-dominated fields. So when journalists are on deadline and need a noted expert to comment on a story, finding an already prominent man to do so is easy and fast.
It's a "chicken or the egg" problem, said Elmira Bayrasli, the founder of Foreign Policy Interrupted, an organization that aims to elevate the voices of female foreign-policy scholars. She explained: "If women are not recognized … as experts, how can we call upon them to be sources?" Deciding not to quote a woman simply because she is not yet well known keeps her from gaining the exposure that might make her a recognized expert. "Then we get into again relying on the Rolodex that you have, which is full of white men," Bayrasli said.
Many women—and men—who work in foreign policy and national security have stepped up to help. Tamara Cofman Wittes, who served in President Barack Obama's State Department and who is now a senior fellow at the Brookings Institution, a think tank in Washington, D.C., said including people from diverse backgrounds with a range of opinions helps broaden the public conversation. Wittes cautioned that quoting the same people over and over leads to "a very sterile conversation" among a "narrow little group of people." She regularly and publicly urges her male colleagues to help bring more people into that conversation by pledging not to speak on "manels" (all-male panels). An app from a group called GenderAvenger allows people to record gender imbalances they see among conference and event speakers to "help ensure that women are always part of the public dialog."
Journalists are also taking notice of the gender imbalance in their own reporting. In 2013, my colleague Adrienne LaFrance, now the editor of The Atlantic's website, analyzed gender bias in her reporting from the previous year. When she analyzed her work again three years later, she found that she mentioned even fewer women in her stories, despite having set out to do better. Other reporters followed her lead. The New York Times columnist David Leonhardt declared in a headline last May: "I'm Not Quoting Enough Women." He created several public Twitter lists that contain only female experts on topics including economics, Russia, and national security. Ben Bartenstein, a Bloomberg reporter, wrote a Twitter thread in December noting that half of his sources in 2018 were women and explaining how he got there from an abysmal 13 percent the year before. Earlier last year, senior editors at Bloomberg committed to quoting more diverse sources.
Several people I interviewed told me that the outcome of the 2016 election and the advent of the #MeToo movement have been galvanizing forces for journalists' attention to the problem. Samara Klar, a political scientist at the University of Arizona, said she grew so frustrated with the deluge of male political experts being asked to comment on the 2016 election that she created a website called Women Also Know Stuff. The site now has 1,900 scholars listed in a database to help journalists and event planners find female political scientists to speak with and bring on television and radio.
"It seemed, talking anecdotally, that women were called when Hillary [Clinton] was the victim of sexism," Klar said. She wants women to be asked to comment on stories related to their academic work, not their gender. Her project has sparked offshoots in more than a dozen other fields, including chemistry and philosophy, and it has led to similar networks for researchers of color and LGBTQ scholars.
Most work being done to tackle this problem has come from individuals reflecting on their own work, but some institutions are taking notice. The Financial Times has several initiatives intended to counter gender disparities. In November, it announced its "She said He said" bot, which analyzes pronouns and first names to tell writers how many of their sources are men and how many are women. Another program, JanetBot, alerts editors about how many women and men appear in images on the FT's home page. Last year, the FT tasked Brooke Masters, its new opinion editor, with diversifying the newspaper's columnists. All of this, notably, stems from a desire "to attract more women readers," the FT said in a press release, adding that it has found a "positive correlation between stories including quotes of women and higher rates of engagement with female readers."
The BBC, too, has publicly committed itself to including more women's voices. Its 50:50 program aims to make half of all "expert voices" quoted on air and online be women by April 2019. Two years after one team started the project as a grassroots initiative in 2017, it's been adopted by 400 teams at the British broadcaster.
Public awareness around gender imbalances of all kinds has increased in recent years. And when more people recognize gender bias as a problem, solving that problem becomes a more urgent goal. "It's just less socially acceptable for journalists to write an article that only quotes men," Klar told me. Prominent male journalists email her often to tell her how much they use the Women Also Know Stuff lists of female experts.
But the women and men who want to amplify female voices in the media have a peculiar advantage: the understanding that people, particularly well-known public figures such as professors or journalists, simply don't want to be publicly shamed. "There's a lot of men out there," Klar explained, "who don't want to be perceived as sexist."