The White House's Move on Venezuela Is the Least Trumpian Thing It's Done
The Trump administration's concerted diplomatic effort did not originate on Twitter.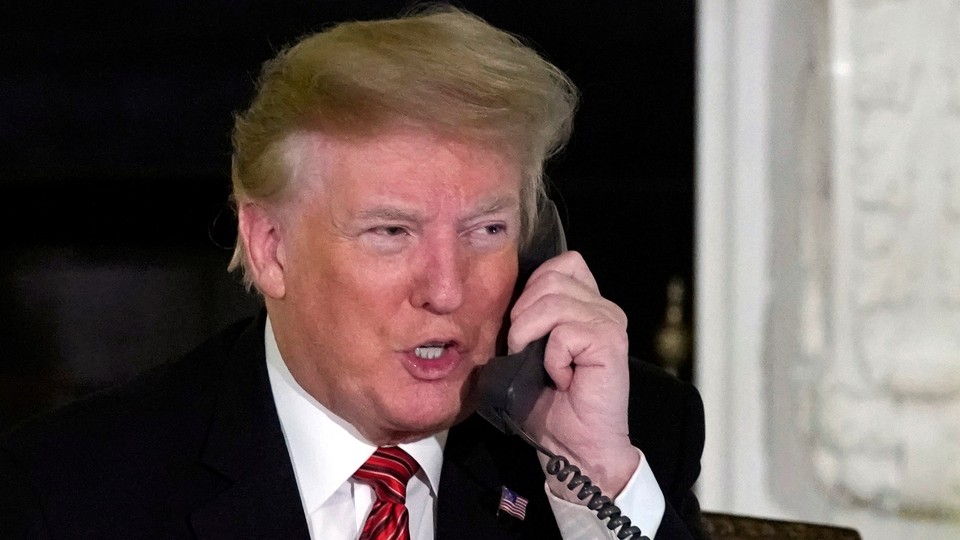 It didn't begin with a tweet.
Donald Trump's decision this week to recognize Venezuela's opposition leader as the nation's legitimate president is surprising on many levels. But one of them is that it didn't arrive as a bolt from the president's blue-checkmarked Twitter account.
No delicate diplomacy with a nuclear-armed nation was blown to smithereens by a couple hundred dashed-off characters from the commander in chief. No advisers jetted off to reassure allies after a presidential proclamation. No one printed out a tweet and handed it to the American secretary of state so that he could turn it into coherent policy.
Instead, as Venezuela's autocratic leader Nicolás Maduro began another term in office after a sham election, Secretary of State Mike Pompeo consulted with U.S. partners in South America and beyond. National-Security Adviser John Bolton affirmed the constitutional right of Juan Guaidó, the head of Venezuela's National Assembly, to invalidate Maduro's presidency. On Tuesday, on the eve of widespread antigovernment protests there, Vice President Mike Pence called Guaidó and in an op-ed and a Spanish-sprinkled video expressed solidarity with the Venezuelan people ("Vayan con Dios," he declared). Within minutes of Guaidó  declaring himself interim president at a raucous rally in Caracas on Wednesday afternoon, the White House released a presidential statement recognizing him as the nation's legitimate leader.
Only then did Trump tweet out the news, just as U.S. officials were briefing journalists and Canada and 10 Latin American countries were joining the United States in expressing support for Guaidó. (European officials acknowledged the National Assembly as the only legitimate democratic institution in Venezuela but stopped short of recognizing Guaidó as a transitional president.)
It was a well-oiled diplomatic campaign, closely coordinated with allies and rigorously on message. It was, in a word, un-Trumpian.
The dissonance didn't end with the orderly process. Here was a president who preaches America First, who rarely invokes democracy and human rights in his unscripted remarks, who has voiced admiration for dictators such as Vladimir Putin and Kim Jong Un, sticking his neck out to restore democracy in a country that doesn't usually figure among the top challenges to U.S. interests.
Asked to explain the president's anomalous stance on Maduro during a conference call with reporters on Wednesday, a senior administration official, speaking on condition of anonymity, noted that both Venezuela and the United States are bound to a multinational charter they adopted in 2001 that enshrines representative democracy as the prevailing political system in the Western hemisphere. But the rationale rang hollow. If we've learned one thing from Trump's presidency, it's that he doesn't feel the least bit tethered to international agreements when he believes they aren't in the national interest.
In his first address to the United Nations, Trump attempted to square the circle of how he could both champion national sovereignty and involve the United States in the internal affairs of other countries. A nation's "two core sovereign duties" are to "respect the interests of their own people and the rights of every other sovereign nation," he stated, implying that shirking either of those duties could invite U.S. intervention.
Trump's Venezuela policy has been carried out by a cadre of advisers who, unlike the president himself, either emphasize American values (Mike Pence) or advocate an interventionist approach to Washington's enemies (John Bolton and, to a lesser extent, his predecessor H. R. McMaster). Bolton, in particular, has articulated a kind of neo–Monroe Doctrine in which Venezuela is of special significance because it falls within the United States' regional sphere of influence. It's "in our hemisphere," he observed on Thursday, when asked why Trump has punished Maduro while praising other authoritarian leaders.
The Republican Senator Marco Rubio, who has called for the Venezuelan military to overthrow Maduro and who brokered a 2017 meeting between Trump and the Venezuelan human-rights activist Lilian Tintori that helped steer Trump in a more hard-line direction, has also played an influential role in crafting the administration's aggressive posture. Rubio met with Trump on Tuesday and urged him to recognize Guaidó as the "rightful president" of Venezuela. The next day, Trump did exactly that.
On Friday, in between lobbying other Latin American countries and world powers to recognize Guaidó, Pompeo added another hawk to the team. Elliott Abrams, who oversaw Middle East policy in President George W. Bush's White House, will serve as the Trump administration's point person on Venezuela, the secretary of state announced. Abrams pleaded guilty (and was later pardoned) for withholding information from Congress about the Reagan administration's support for rebels seeking to overthrow the socialist government of Nicaragua.
In 2017, he took issue with Trump's White House stating that it was not seeking regime change in North Korea. "Why ever not?" Abrams wrote. Though he did not advocate invading, he wrote: "This is generally agreed to be the worst regime in the world. … OF COURSE we want a different regime there. The same goes for other countries ruled by horrendous tyrannies, such as Iran and Venezuela."
Yet what remains remarkably unclear is how U.S. policy will evolve from here. If the Venezuelan security services violently crack down on the opposition and its American supporters, if Guaidó and his international backers struggle to wrest any real power from the Maduro regime, or if Russia comes to Maduro's rescue and into conflict with the United States, will the Trump administration back down and hang Guaidó and his movement out to dry? Or will it double down by resorting to drastic measures like an oil embargo—which would risk plunging Venezuela even further into chaos—or even dispatching U.S. or coalition forces to the country?
The president has reportedly spoken loosely, in private conversations with aides and regional leaders, of taking military action to address Venezuela's economic and political implosion under Maduro, and even once made an off-the-cuff remark in public about a "military option." Administration officials also met with coup-plotting Venezuelan military officers in 2018, according to The New York Times, though the U.S. government did not provide material support to the soldiers and no rebellion materialized. The Venezuelan military, for the time being, has sided with Maduro in his standoff with Guaidó. And despite all the soaring rhetoric of recent days, the reality remains that he who controls the guns controls the government.
But so far the Trump administration's interventions against the Venezuelan government have mainly come in the form of economic sanctions and political isolation, starting with designating Venezuela's then–vice president a drug kingpin mere weeks into Trump's presidency.
"For whatever reason, and honestly I don't know what the reason was ... President Trump started literally on day one asking about Venezuela," Fernando Cutz, Trump's former director for South America on the National Security Council, noted at the Wilson Center last fall.
Perhaps Trump's rationale is that Venezuela's collapse has spawned a refugee crisis in the United States' neighborhood, or that the country has become Exhibit A on the American political right for the nightmarish failures of socialism. (The president has reportedly been affected by cable-news coverage of the deadly protests in Venezuela.) Maybe he was moved by Maduro's virulent anti-Americanism and the alliance between Venezuela and Cuba, which Barack Obama engaged and Trump repudiated as part of his broader rejection of Obama's policies. Regardless of what's motivating the president, he has consistently fixated on the misdeeds of the kleptocrats in Caracas while overlooking those of allied authoritarians like the Saudi royals.
Smooth process, however, may not necessarily translate into sound policy. On Thursday, as critics in Congress warned of the checkered history of U.S. interventions in Latin America and the unintended consequences of economic sanctions for the Venezuelan people, the Trump administration walked back one of its most dramatic acts of the prior day: defying, in lockstep with Guaidó, an order by Maduro kicking American diplomats out of the country in retaliation for the recognition of the opposition leader. The State Department announced that it would be evacuating "non-emergency U.S. government employees," citing security concerns.