The Brexit Deal's Historic Defeat
For years, British Prime Minister Theresa May insisted that "no deal is better than a bad deal." Her adversaries used those words against her in Parliament.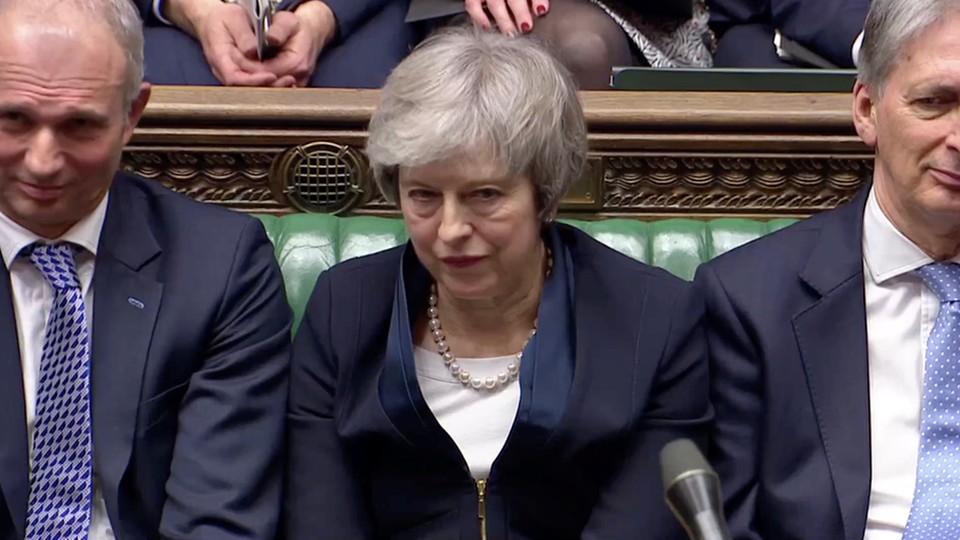 LONDON—The likelihood of Britain leaving the European Union without a deal just got a whole lot higher—and Prime Minister Theresa May is largely to blame.
On Tuesday, British lawmakers overwhelmingly voted against May's negotiated agreement with the EU, delivering a damaging (albeit foreseeable) blow to her Brexit strategy. The deal, which outlines the terms of Britain's withdrawal from the EU and paves the way for the next phase of negotiations that will decide their future trade relationship, was reached by negotiators late last year. But it still needs to be ratified by both the British and European Parliaments before it can go into effect, and without such an agreement in place, the U.K. will leave the bloc without a deal on March 29.
Whether the prime minister will get the chance to lead a government out of the EU, though, is not clear. The opposition Labour Party leader Jeremy Corbyn said immediately after MPs voted against the deal by a margin of 432 votes to 202—the biggest government defeat in decades—that he will move for a vote of no confidence in the government in a bid to force a general election. A vote is set to be held on Wednesday, though it appears unlikely that enough lawmakers would support it.
That the United Kingdom finds itself in this perilous position with barely 10 weeks to go before its scheduled departure from the EU is as much a testament to the lack of the viable alternatives to May's deal (there are none with the backing of a parliamentary majority) as it is to her own failure in recent months to sell her agreement to the British public and their representatives. That task has been made more difficult, paradoxically, by the prime minister herself.
For the past two years leading up to this vote, May has insisted that the only thing worse than leaving the EU without a deal would be to leave it with a bad one. This mantra—repeated over and over again despite grim warnings of the political fallout, food shortages, and economic chaos that no deal would entail—was intended to convince EU negotiators that the U.K. would not be cowed, that it would "be prepared to walk out" of the negotiations if necessary. It was also an attempt by May to establish her own Brexiteer bona fides: to prove to those who voted to leave the EU in 2016 that she, an unenthusiastic campaigner for Britain to remain, was committed to see the result of the referendum through.
May has since distanced herself from this mantra—that no deal was preferable to a bad deal—and negotiated a Brexit agreement of her own. Her parliamentary adversaries are still using her own words against her, though. Some Brexit supporters within her own Conservative Party who oppose the deal's so-called Irish backstop—a mechanism to prevent a hard border on the island of Ireland, which they fear could could keep Britain tethered to the EU indefinitely—have openly embraced crashing out of the EU without a deal.
On the other side of the spectrum, those who oppose leaving the EU at all have used her agreement to push for an entirely different outcome: a new referendum on Britain leaving the EU. "The prime minister has repeatedly told us that the choice before parliament is her deal or no deal," Sam Gyimah, a Conservative lawmaker and advocate for the so-called People's Vote campaign for a second referendum, told journalists last week in London. "This is no choice at all."
The prime minister may have changed her mind, and perhaps no longer believes that no deal is a suitable outcome for Britain, but she has crucially never retracted her claim. And in the meantime, multi-billion-pound contingency plans for such a scenario continue apace. Last month, the British government announced it would allocate an additional 2 billion pounds, or $2.57 billion, for no-deal preparations—a process complete with staged traffic jams, medicine stockpiling, and dubious ferry contracts. May has justified this spending as part of the government's responsibility to prepare the country for every eventuality.
Though the majority of lawmakers oppose a no-deal withdrawal, that may not matter. Without a negotiated agreement, or a revocation or extension of Article 50, the EU's time-limited exit procedure, the U.K. will leave the bloc on March 29 by default.
"No deal is on its way," Philippe Lamberts, a Green Party member of the European Parliament, told me by phone from Brussels last week. The Belgian politician, who sits on the European Parliament's Brexit steering group, noted that an extension to Article 50 would require the unanimous consent of the EU's 27 other member states, and would be granted only if the British government had a "credible game plan" to justify it.
May had been expected to return to Parliament within just three days to present a new proposal on how the government will proceed with Brexit—but her resounding defeat now opens up the possibility that she will not survive that long.
However British lawmakers decide to proceed, the EU urged them to make up their mind—and soon.
"The risk of a disorderly withdrawal … has increased with this evening's vote," Jean-Claude Juncker, the president of the European Commission, the bloc's executive arm, said in a statement. "Time is almost up."