Trump Flirts With Leaving NATO, and 'Zero' Republicans in Congress Are Impressed
For someone who actively avoids criticizing the president, Senator Jim Risch has a lot to say about how he will deal with Trump.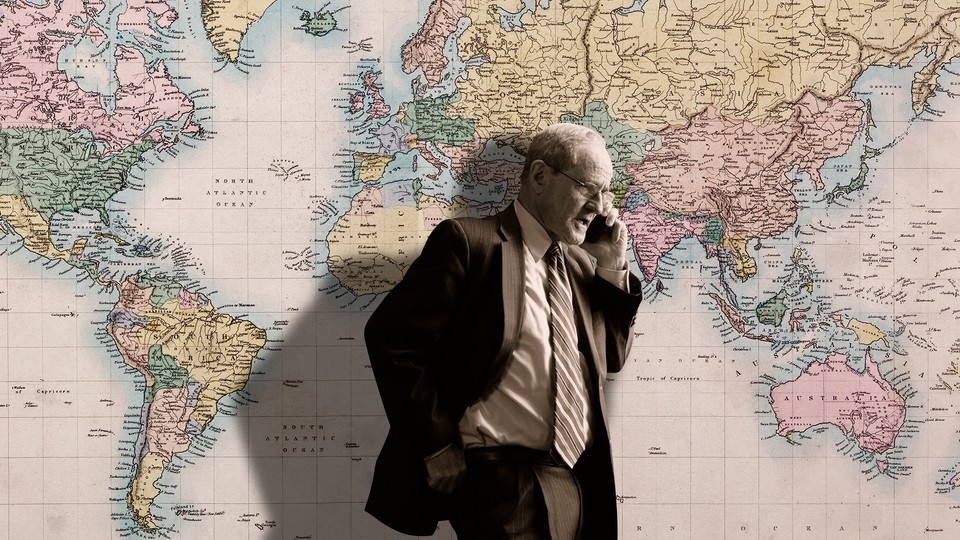 It's a familiar pattern: President Donald Trump's Republican allies disagree with him on a major issue. They send statements and tweets, and repeat talking points on cable news. But will those in positions of power actually stand up to the president when they are at odds with him?
For Jim Risch, the incoming chairman of the Senate Foreign Relations Committee, a big test could come if Trump decides to withdraw from NATO, the military alliance with Europe that the U.S. has led for more than 70 years, as he has reportedly suggested he may do.
"There is zero appetite in the United States Congress to leave NATO," Risch told me on Wednesday. "Fair statement?" he asked, turning to an adviser. "Maybe one voice," the adviser joked. Risch amended his statement: "Almost zero appetite."
Coming from a Republican lawmaker who is often portrayed as a steadfast supporter of the president's, and who is now the most powerful shaper of American foreign policy in the Senate, it was a striking statement. But Risch made clear he wasn't going to get into a public war of words with the president.
"What puts you in a bad place with [Trump] is going out publicly and criticizing him," Risch told me, "and I don't do that."
An exit from NATO by the United States, which is by far the largest contributor to the alliance's military might, was so inconceivable before the Trump era that the NATO treaty actually requires any departing party to give notice to the United States. The alliance has struggled to spread the burden of defense equitably among members and adapt to the post–Cold War world, but an American withdrawal could precipitate the collapse not just of the defense bloc but also of the U.S.-European alliance, inviting Russian aggression in Europe and calling into question the United States' alliances around the world.
Risch's remarks, which amounted to a subtle drawing of a red line, also stood out because the senator from Idaho repeatedly defended Trump's approach to Russia during our interview. Amid reports that Trump has concealed conversations with Russian President Vladimir Putin from even his closest advisers, and as Special Counsel Robert Mueller's Russia investigation continues, Risch said that he does not plan to issue a subpoena to the U.S. government interpreters who attended the president's meetings with Putin in Germany and Finland, or to hold hearings to shed light on what the U.S. and Russian leaders discussed in those one-on-one sessions, both of which his Democratic counterpart in the House is considering doing.
"The president of the United States, like every president before him, has had private conversations with heads of state," Risch said, "and people who are authorized to engage in diplomacy … need to have the free hand to be able to conduct it as they see fit … I trust that President Trump did not take every word that Putin said as uttered in good faith." (Trump has said that he believes Putin's denial of meddling in the 2016 U.S. presidential election.)
On NATO, Risch didn't commit to supporting proposed bipartisan legislation, which may be introduced in the new Congress, to prevent the president from ditching the alliance. (In the absence of such a law, which the White House could still fight in court, many legal scholars believe that the president has the authority to withdraw from NATO without consulting Congress.) "I don't want to go there yet," Risch said, dismissing the prospect of a U.S. exit as mere "talk" and "speculation" at the moment. He (questionably) credited Trump with achieving through rough demands what he and other U.S. officials had long failed to accomplish with polite requests: European NATO members spending more on their own defense. But when I pointed out to Risch that he had once called NATO "the most successful military alliance in the history of the world," he smiled. "That's exactly right," he said.
Risch oversees a 203-year-old committee with jurisdiction over everything from treaties and declarations of war to the president's diplomatic nominees. And the positions he staked out on NATO and the Trump-Putin meetings are illustrative not just of how he may steer the committee, but also of how he and many other congressional Republicans appear to be compartmentalizing two distinct but interwoven issues: Russia as an adversarial actor abroad and Russia as a political minefield at home.
The senator, for example, described the defining challenge for U.S. foreign policy in the 21st century as fierce competition among the great powers: the United States, China, and Russia. He characterized the Russian government's interference in the 2016 election as an "enemy-like" action and Russian officials as cheats and liars, urging additional sanctions against Russia for its "horrific acts" everywhere from the Crimean peninsula to the British city of Salisbury. He said the only reason he didn't join in an unsuccessful revolt this week by Senate Democrats and some Republicans against the Trump administration's lifting of sanctions against three Russian companies, all partially owned by the sanctioned Russian oligarch and Putin ally Oleg Deripaska, is that he felt the Treasury Department was rightly adhering to the letter of a 2017 sanctions law. A similar effort to challenge the lifting of the sanctions passed with overwhelming bipartisan support in the House of Representatives on Thursday, representing another rebuke to the president, but one that won't force him to reverse his decision.
Shortly before I met with Risch, Eliot Engel, the Democratic chairman of the House Foreign Affairs Committee, had told me that Trump's unceasing praise of Putin despite Russian misbehavior "doesn't quite pass the smell test" and necessitates congressional scrutiny. Yet when I relayed these remarks to Risch, he dismissed them as "political" and said he did not share Engel's concerns.
As the senator sees it, while Russia has been a bad actor for a long time and must be countered, the investigations into the Kremlin's interference in U.S. politics and potential collusion with the Trump campaign have caused the president's political opponents to blow the threat from Putin out of proportion.
"Russia is getting an inordinate amount of attention," he argued, despite the fact that its meddling in U.S. elections has been "ham-handed" and "China is a much more able competitor" that is challenging the United States "on every front, whether it's economics, whether it's military, whether it's cultural."
Often, Risch's stance on Russia has softened upon contact with the president. He has voted for sanctions against Russia and introduced legislation to protect U.S. energy infrastructure from the kind of cyberattack that the Russians perpetrated against Ukraine. But when Trump shared classified information with Russian officials, Risch directed his ire toward the "weasel" and "traitor" who leaked the conversation to the press. He sees no evidence that Russia influenced the outcome of the 2016 U.S. presidential election or colluded with the Trump campaign. In the wake of Trump's murky meeting with Putin in Helsinki last summer, Risch's predecessor as chairman of the Senate Foreign Relations Committee, the Tennessee Republican Bob Corker, angrily summoned Secretary of State Mike Pompeo to a hearing to explain what Trump and Putin had agreed to. Risch, however, didn't ask about the summit once during the hearing, instead praising the administration for its approach to NATO and Iran.
"The fortunes of the United States depend on [Trump] being successful," Risch told me. "I want to do everything I can to make him successful. I don't work for him. I work with him."
Corker might have believed that his public critiques would set Trump on a successful path, but Risch claims there's a more effective way to get through to the commander in chief.
"I disagree with [Trump] from time to time. When I do, we talk about it, but I don't do it on the front page of the paper," he continued, comparing his approach to him and his wife not arguing in front of their kids.
Asked whether Corker's retirement and the passing of John McCain, another prominent critic of the president's, had removed Republican constraints on Trump's foreign policy in Congress, Risch rejected the premise of the question.
"The president's already constrained by his constitutional limits and the legislative branch is constrained by its constitutional limits," he told me. "That is wishful thinking by national media that want somebody to stand up and punch the president in the nose … That is not my role." (Of course, there is a middle ground between pulling your punches and punching the president in the nose, such as conducting oversight of the administration's statecraft, which Risch promised to "take seriously.")
A 75-year-old former trial lawyer, state senator, and governor in Idaho, Risch entered Congress in 2009 and boned up on foreign policy by serving on the Senate Intelligence and Foreign Relations Committees. He endorsed Marco Rubio during the Republican presidential primary in 2015 and ultimately voted for Trump even though he said that doing so was "distasteful." While he seems sympathetic to aspects of the president's "America first" agenda, he doesn't come across as a Trumpian nationalist. Nor, however, does he appear to be an internationalist in the mold of Rubio. On the whole, he evinces a somewhat parochial outlook on the world, driven by national and local interests.
In discussing the issues he will focus on in his chairmanship, for instance, he has highlighted Idaho-centric concerns such as a Chinese company's alleged theft of trade secrets from a Boise-based memory chipmaker and the renegotiation of the Columbia River Treaty with Canada. He's said that he won't need to travel much in the role because so many foreign dignitaries pass through Washington, D.C.
Risch said that his first order of business, aside from working on confirming the administration's diplomatic appointees, is to hold a hearing in February on the "challenges to [America's] standing in the world." Corker accused Trump of wrecking that standing by deliberately "breaking down relationships we have around the world that have been useful to our nation."
But if Risch feels the same way, he didn't say it.