A Theatrical Moscow Trial Draws the Ire of Russia's Cultural Elite
Embezzlement charges against a leading Russian theater director come amidst a growing cultural crackdown that mirrors the country's Soviet past.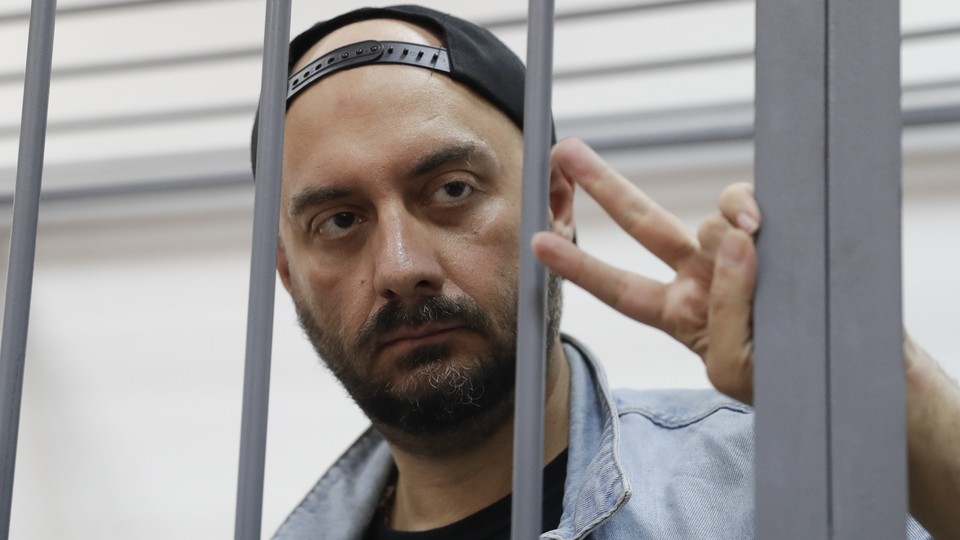 MOSCOW—Outside a courtroom here in the Russian capital, dozens of people crowded along a narrow corridor, some wearing T-shirts calling for those on trial to be freed, others clad in hipster and designer outfits. In many ways, the scene at the Meshansky District Court of Moscow was much the same as when human-rights activists or opposition politicians have gone before a judge, facing an almost certain conviction for having challenged the authority of President Vladimir Putin.
Except this time, the person on trial is not your typical activist. He is the country's leading modern theater director, and those outside the courtroom are not those usually associated with defending human rights—they are some of Russia's best-known celebrities.
The prosecution of Kirill Serebrennikov, the artistic director of the Gogol Center, an avant-garde experimental theater, and three of his associates—the group stands accused of embezzling more than $2 million in government funds intended to support the arts—has captured the attention of Russia's cultural elite. At the most recent hearing on Monday, the 16th day of the trial, the courtroom was packed with journalists, artists, and activists. Russian authorities have been limiting freedom of expression and violating human rights for decades, with little apparent blowback, and an array of cultural icons, from actors to rappers, fear that this crackdown is now being extended.
"In his first presidential term, Vladimir Putin crushed Russia's independent media, and in his second and third terms he moved to suppress business and bend it to his will," Mikhail Zygar, a journalist and the author of a best-selling history of Putin's presidency, told me. "Now the Kremlin is coming for the young and the talented—to control the theater, to push out independent cinema, to cancel concerts."
Unlike previous occasions, though, the backlash this time could be significant. When Putin sought to constrain Russian business in 2003 by arresting and then jailing the energy tycoon Mikhail Khodorkovsky, few in the business community spoke out, Zygar said. In the case of Serebrennikov, however, actors, directors, and musicians have refused to back down, openly criticizing Putin as out of touch and at the head of a system in which justice is given short shrift.
Serebrennikov, a tall and bespectacled 49-year-old whose award-winning plays are often critical of the Kremlin, has been under house arrest for more than a year, ever since police wearing ski masks nabbed him. He has been forced to wear an electronic bracelet, his time outside his small apartment in a historic Moscow neighborhood is limited to two hours a day, and he cannot walk more than a few blocks from his home. His beloved Gogol Center is strictly off-limits, and he is not allowed to leave Moscow.
Hundreds of artists and cultural figures, including Vladimir Urin and Oleg Tabakov, the directors of the Bolshoi Theater and the Moscow Chekhov Art Theater, respectively, have signed letters supporting Serebrennikov and his three colleagues, calling for them to be freed. Zygar and Karen Shainyan, the founders of the Future History studio, which focuses on popularizing Russian and world history, have devised a walking tour in which Serebrennikov, via a Dictaphone recording, describes his own neighborhood, where almost every building echoes with the history of Soviet political repression.
And throughout the trial, many of these artists have shown up in court to offer solidarity. "To go to the court is a matter of dignity and love for a genius director, and our dear friend," Kseniya Rappoport, a leading actor in the Maly Drama Theater, told me at a recent hearing, which she traveled from St. Petersburg to attend.
Serebrennikov's supporters—as well as human-rights advocates—argue that the case against the director is a flimsy one and is instead an attempt to muzzle his art and, by extension, Russia's cultural sector. For centuries, artists have informed Russian political thought, and today both those inside and outside the country mock its corrupt politicians and aggressive foreign policy in their rap lyrics, modern art, and theatrical performances. As fans of these artists have grown in number, the Kremlin has reacted in the only way it knows how: by cancelling concerts and searching studios.
In Serebrennikov's case, colleagues and friends have speculated that, as Putin has promoted a more conservative philosophy, the director was punished for putting naked people onstage (in one performance, men and women wove movements around one another in choreographed dance, all of them nude) or for depicting Rudolf Nureyev's homosexuality in a ballet about his life at the Bolshoi. Still others believe that Serebrennikov either displeased a Putin ally or is paying the price for including a power-hungry character in a play titled Who Lives Well in Russia?, a figure so reminiscent of Putin in his looks and manner of speech that few in the audience missed the apparent parallels.
"Those in power are punishing him for all his honest plays and films, for all his art," Valeriy Pecheykin, a playwright who has attended the hearings, told me. "They are punishing Serebrennikov for his entire life."
The cultural crackdown extends beyond Serebrennikov and the theater. Authorities sentenced Husky, a hugely popular young rapper known for his politically charged lyrics, to 12 days in prison last year for performing on top of a car after one of his gigs was cancelled by prosecutors. The punishment sparked uproar, and other leading rappers held a concert in November in Moscow, called "I Am Going to Sing My Music," to show solidarity with Husky (the authorities eventually canceled Husky's sentence). Young Russians now often quote one lyric from the concert: "This is my game, my game; it belongs to me, and people like me." Music has a history here of being used as a tool of dissent: In a scene from Assa, a perestroika-era film about the late-Soviet musical underground, the rock legend Viktor Tsoi walks out of a lecture by a Communist functionary about the proper role of culture and instead sings his anthem, "Changes!", a soundtrack of political protest in ensuing years. (Putin may well be familiar with this link. At a recent meeting, he advised the government on what to do about protest rap music: "If it's impossible to stop it, you've got to take charge of it.")
Read: Freed Pussy Riot Member Yekaterina Samutsevich: 'Art Must Be Political'
To older artists, the clamping down on culture mirrors an earlier era. The seasoned actors Natalya Tenyakova and Sergei Yursky, for example, have compared Serebrennikov's trial to pressures they experienced in Soviet times. Indeed, for decades Russian artists have had to make compromises with the authorities to be allowed to keep appearing onstage, on-screen, and in print. Now today's generation faces the same dilemma, at a time when the authorities are again reviving the personality cults of Joseph Stalin and Ivan the Terrible by unveiling statues and changing official history books. The theater director's trial, the Russian satirist Victor Shenderovich told me, "is a lesson to all Russian celebrities who kiss the hand of power while thinking it is possible to stay a reasonable person."
Inside the courtroom on Monday, Serebrennikov, dressed in his trademark black hat and designer hoody and a T-shirt with a dragon on his chest, paid little attention to the proceedings, instead working on scripts for new productions on his laptop.
When the hearing concluded, it was already dark outside. Three well-known movie actors were waiting at the door to the courthouse, in the cold (they had forgotten their passports and were not allowed in). When I asked them why they had not left given the weather, one of them, Yana Troyanova, replied: "We artists should be here, when one of us has been trapped by the system."