Indonesia's Rights Struggle: Deciding Which Candidate Is the 'Lesser Evil'
A debate showed that neither candidate in Indonesia's presidential race has any plans to address human-rights abuses.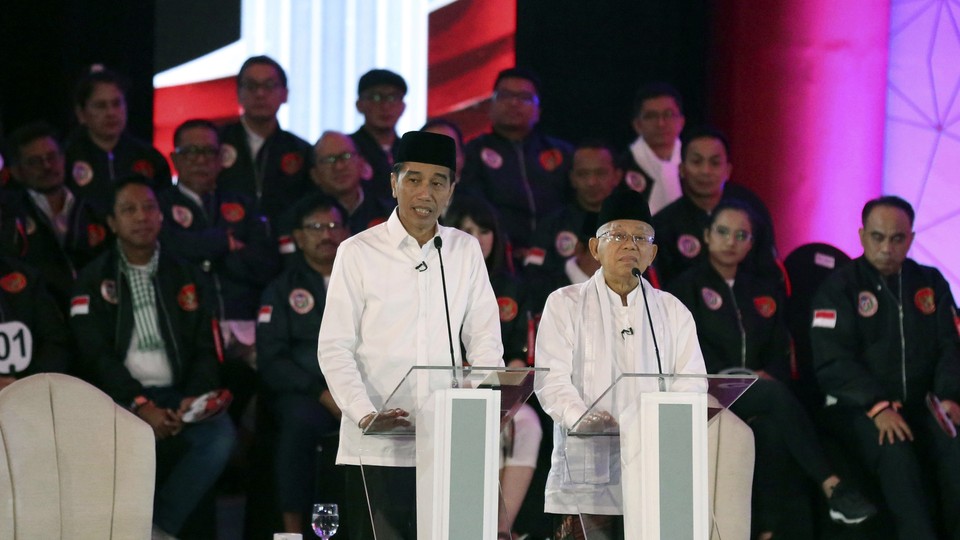 JAKARTA—Standing on a stage in the Hotel Bidakara's ballroom in downtown Jakarta during a presidential debate, Indonesia's incumbent leader, Joko Widodo, meekly defended what has been, at best, a checkered record on human rights.
Widodo, popularly known simply as Jokowi, denied having overseen any rights violations; he pledged, as he did four years ago when he first ran for the presidency, to reshape the justice system; and he promised, as he had four years ago, to push for land reform. And, in the course of the 73-minute back-and-forth on Thursday evening—the first of five such debates ahead of elections in April—he showed how little has really changed here during his time in office.
When Jokowi came to power in 2014, he did so articulating nine priorities, a program he called the Nawa Cita. Among them was a promise to resolve past human-rights injustices. His pledge held out the prospect of at least acknowledging, if not addressing, decades of army abuse, authoritarian overreach, and suppression of minority rights. In a part of the world often beset by a form of moral relativism—Our country is fine; others are worse—it appeared to be a significant step forward.
Little tangible progress has materialized, though. While Jokowi has not been directly linked with any human-rights infractions, his presidency has been characterized by a lack of improvement on the issue (rights groups would go further, saying he has in fact presided over a worsening of conditions). An inquiry into an attack on an anti-corruption investigator has gone nowhere; Jokowi's administration has walked back suggestions that he would formally apologize for a decades-old government massacre; and it has declined requests from international bodies to visit a restive region that wants independence. Though Jokowi now says he wants to address past injustices, human-rights advocates are downbeat about the prospect that he will follow through. And this election has little chance of yielding change: The incumbent is ahead in the polls, and his lone challenger has an even worse track record.
"Jokowi won't dare to solve human-rights issues," said Rivanlee Anandar, a Jakarta-based researcher at the Commission for Missing Persons and Victims of Violence, a rights group here known by its acronym in Indonesian, Kontras. "His administration has displayed a regression on human rights."
Indonesia has a long history of trampling on individual rights. Its first leader, Sukarno, was initially a forceful advocate for liberty as he led the movement that eventually won the country independence, but over his time in power he made more and more authoritarian moves (at one point, he made himself Indonesia's president for life). Sukarno was eventually ousted in a military coup led by Suharto, a general and someone who, like his predecessor and many other Indonesians, goes by only one name. Suharto's decades-long authoritarian rule began and ended in violence: In a tumultuous period between 1965 and Suharto finally capturing power in 1967, huge numbers—estimates vary from hundreds of thousands to 1 million—of Communists and suspected Communists were killed, and his resignation in 1998 came in the face of mass demonstrations and riots that left hundreds dead.
Since Suharto's departure, some progress has been made: New laws were enacted, treaties were signed, and ad-hoc human-rights trials were held, "albeit unsatisfactorily," said Andreas Harsono, the Indonesia researcher for Human Rights Watch, the international monitoring group. One of Jokowi's predecessors, Abdurrahman Wahid, pushed for greater official acceptance of Indonesians who were ethnically Chinese, a minority group that faced persistent discrimination during Suharto's rule, and apologized for the massacre that brought Suharto to power (he remains the only Indonesian president to do so). Wahid was, however, later impeached over an array of other scandals and following a power struggle with his successor. Since then, progress on the rights front has languished.
Jokowi had promised to change all of that. While campaigning for president in 2014, he promised, for example, to lift restrictions on international human-rights investigators and on the foreign press visiting the Indonesian region of Papua, where an independence movement has agitated for decades.
In office, it has been a different story. His government has declined to allow the United Nation's human-rights chief to visit Papua, where rights groups accuse the military of violently suppressing the independence movement, and has restricted access for foreign media there.
And for years, Jokowi eschewed meeting with demonstrators taking part in the "Kamisan" rally, a weekly peaceful protest held in front of Jakarta's presidential palace calling for the authorities to address past human-rights abuses, before finally relenting this past May (that he attended only in the final year of his term was interpreted as a political move, and drew criticism).
Kontras, in a report released in October assessing Jokowi's time in office, said Indonesia had fallen backwards on an array of rights-related issues, from the use of the death penalty and extrajudicial killings to disability rights and the persecution of indigenous peoples and minorities. Defamation lawsuits—often used to suppress critical reporting or criticism of those in power—have spiked in the past four years, while frivolous prosecutions, such as the jailing of an ethnically Chinese Indonesian woman for blasphemy after she complained about the volume of sound from a nearby mosque, have proliferated.
Among the most troubling cases has been that of Novel Baswedan. The senior anti-corruption investigator was in the midst of a wide-ranging inquiry in 2017 when someone threw hydrochloric acid at his face. Baswedan had to be rushed to Singapore for treatment, and after undergoing four operations, he still remains almost entirely blind in his left eye. Yet no one has been arrested or prosecuted for the assault.
Concerns have also been raised about the company the Indonesian leader keeps. Among his ministers is a retired general who was placed on a visa watch list by the United States in 2004 and who has been indicted by the UN over his alleged involvement in a series of abuses, including murders, surrounding Indonesia's withdrawal in 1999 from East Timor, a province it had controlled. Jokowi's current running mate, Ma'ruf Amin, is a leader of Indonesia's top clerical body, an organization that under his leadership issued religious declarations in support of female genital mutilation and condemned religious minorities.
Jokowi's "record on the preservation of human rights, his regard for core democratic principles, his commitment to transparent and accountable government, and his support for a meaningful anti-corruption agenda are all highly dubious," Tom Power, a researcher specializing in Indonesian politics at the Australian National University in Canberra, wrote in a recent analysis.
There is, if anything, a feeling among some Indonesians that these issues are being given short shrift by a leader who had promised to promote them. "Human-rights tragedies," Maria Catarina Sumarsih, whose son died in the 1998 riots and who has since become a prominent activist, told me, "are just a political commodity, used to get more votes."
Jokowi has at least one thing going for him, though: He is not his opponent.
Facing off against the Indonesian president is the same person who challenged him in 2014, the former military commander Prabowo Subianto. Subianto, who was once married to one of Suharto's daughters, was dogged by allegations of human-rights violations during the previous campaign. A recently declassified U.S. diplomatic cable alleges that the one-time head of Indonesia's special forces ordered the kidnapping of dissidents in 1998. He has threatened clamping down on the media, and has warned that if he loses the upcoming poll, Indonesia could "go extinct." (Subianto has, however, appointed former members of Indonesia's National Commission on Human Rights to be part of his new campaign team.)
According to Debbie Stothard, the secretary-general of the International Federation for Human Rights, ordinary voters were beginning to realize that in this election, "it's a question of who is the lesser evil."