Der Spiegel Made Up Stories. How Can It Regain Readers' Trust?
Germany's top news magazine reckons with a star reporter's brazen lies in the age of fake news.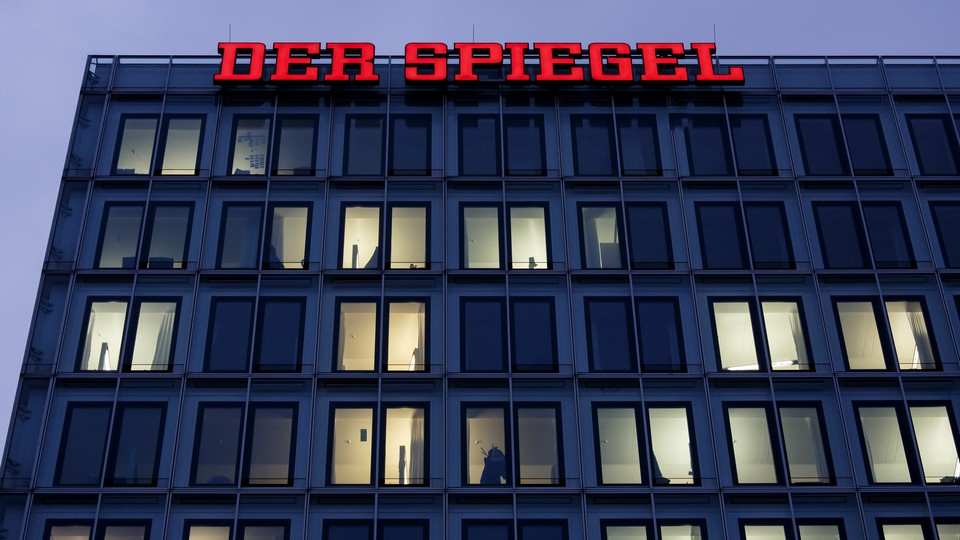 BERLIN—On the Wednesday before Christmas, Christoph Scheuermann apprehensively called up a 99-year-old former member of the anti-Nazi resistance who had been imprisoned during World War II. The Washington bureau chief of Der Spiegel, a German news magazine, needed to ask her a question no journalist wants to reckon with: Did his colleague, a now-disgraced star reporter, invent an interview with her?
"It was the most excruciating call," Scheuermann told me. "I had to call this heroine in Germany after the war and ask her, you know, do you know this man, have you ever met him?"
Spiegel—and the German media world writ large—is still reeling from German journalism's biggest scandal in its modern history: Claas Relotius, a 33-year-old Spiegel writer who was long the envy of his peers, fabricated part or all of many of his biggest stories. His perfectly crafted articles from the United States and elsewhere were, it has become clear, literally too good to be true.
The Relotius incident has prompted self-reflection among German journalists: Spiegel is considered the gold standard among media organizations here, with a prestige that extends far beyond Germany and a supposedly airtight fact-checking department. One of Europe's leading news magazines and known for its investigative journalism, Spiegel also translates many of its articles into English to reach a broader international audience.
So if a scandal like this can happen at Spiegel, many have wondered, what does that mean for everyone else? And what kinds of questions does Relotius—whose evocative prose was so admired that Spiegel editors called it the "Relotius sound"—raise about the merits and pitfalls of narrative journalism and foreign correspondence more broadly?
Spiegel isn't the first high-profile news organization with a staffer who partially or fully made up stories: Over the past two decades, The New York Times, The New Republic, and USA Today, among others, have faced similar challenges to their credibility. But Spiegel's reckoning comes at a time when trust in media is perilously low—and it presents a case study for how a news organization attempts the tall task of regaining reader trust in the age of so-called fake news.
The German outlet broke the news of the scandal itself on December 19. In a more than 6,000-word exposé, the since-suspended editor in chief, Ullrich Fichtner, outlined the scope and range of Relotius's fabrications as well as how a colleague had discovered them. "These revelations come as a deep shock to everyone at Der Spiegel—the editorial staff, the research and fact-checking department, the business side and everyone who works here," he wrote. "We are all deeply shaken."
The next day, Scheuermann found himself on a plane to Fergus Falls, Minnesota, the setting for some of Relotius's most elaborate lies. Relotius had spent more than five weeks living there for a feature story on a small town in Donald Trump's America; in the wake of the scandal, two local activists, Michele Anderson and Jake Krohn, offered a point-by-point rebuttal of Relotius's inaccuracies.
Many of the Spiegel journalist's falsehoods, including those from Fergus Falls, exploited stereotypes of Trump voters as backwards, provincial, and ignorant. His dispatch from Minnesota included characters and details such as a gun-toting city administrator who had never seen the ocean, a sign in town reading Mexicans Keep Out, and a local movie theater that continued to play the movie American Sniper years after its release. (None of these things turned out to be true.)
Fergus Falls was "one of the places where you can really see, hear, and smell what impact a lie and fabrication can have on a small community," Scheuermann told me.
His job there was twofold, as the resulting article demonstrated: to tell the real story of a town that had been completely mischaracterized and felt wronged in the eyes of the international community, yes, but also to apologize for the damage his organization had done. When he sat down with Anderson and Krohn, Scheuermann said, "I soon realized that it's just not enough to do what I always do and just ask questions, try to write a story that's as close to reality as possible—but also that there is a need to apologize."
Since Scheuermann's trip, Spiegel has continued tracking and writing about the scandal, with many of the pieces also translated into English for its audiences beyond Germany. The organization published an open letter to readers from its top editors, posted lists of all Relotius's published articles, and interviewed the Spiegel staffer who first uncovered the fabrications. The magazine's first issue after the story broke devoted significant space to the scandal, with the cover reading, "Sagen, was ist," or "Tell it like it is." And when it came out that Relotius had reportedly embezzled donations he had asked for on behalf of a Syrian family—a charge Relotius has since denied—Spiegel filed a criminal complaint against him.
In today's political environment, it's of course easy to see why Relotius is so harmful: Lawmakers from the far-right Alternative for Germany party, whose supporters have long decried the so-called Lügenpresse ("lying press"), immediately pointed to the incident as proof that Spiegel was untrustworthy. And Richard Grenell, the U.S. ambassador to Germany, accused Spiegel of anti-American bias in a letter to its new editor in chief, Steffen Klusmann (a charge the magazine and its editors have emphatically denied).
"It couldn't happen at a worse time," said Lucas Graves, the director of research at the Reuters Institute for the Study of Journalism at the University of Oxford. "Trust in the press is much easier to tear down than to build up."
With Spiegel still conducting an internal investigation into Relotius's work, it could be months before the full effects of the scandal become clear. The organization has appointed three journalists—two Spiegel staffers and one outside expert—to document the full extent of his deceptions, how they were allowed to happen, and what Spiegel needs to do differently going forward.
After The New York Times' Jayson Blair was fired for making up stories in 2003, the newspaper published a similarly in-depth explanation of the case; it also installed the paper's first-ever public editor, a role intended to listen to reader feedback and take a critical look at the organization's coverage. In addition to Blair, the paper's then–executive editor, Howell Raines, was ousted. Such a departure is unlikely at Spiegel, mainly because a new crop of senior editors—who had been appointed before the scandal broke—took the helm on January 1. Still, Fichtner and another senior editor, Matthias Geyer, have been suspended until the Relotius investigation is complete.
As Spiegel and other organizations ponder changes to fact-checking and editing, the difficulty is that fabrication cases are (to news organizations' knowledge, at least) exceedingly rare: It doesn't make sense to overhaul an entire system to weed out people like Relotius, said Josef Joffe, a member of the editorial council for the German newspaper Die Zeit.
"We could not put together a paper or magazine unless we trusted our colleagues," Joffe told me. "If we had a Stasi or KGB wandering through every line we wrote, we couldn't do what we do."
At the same time, making sure readers understand how Spiegel's journalists do their job could give them greater confidence that the organization is doing its due diligence. "Most members of the general public do not know how journalists know what they know; they don't know much about journalistic process or journalistic methods," said Ruth Palmer, a communications professor at IE University in Madrid. As a result, Spiegel needs to "be as transparent as possible about their processes, and more proactively try to educate the public about how they know what they know and how they go about vetting information."
On that day in December, Traute Lafrenz, the last survivor of the Nazi-resistance group the Weiße Rose, or "White Rose," told Scheuermann that she had indeed met with Relotius at her home in North Carolina last year. Relotius's story resulting from their interaction, however, was riddled with fake quotes and mischaracterizations.
"This was incredibly embarrassing, and already a sign there was much more to come," Scheuermann said. The image of Spiegel has been shaken even for those who work there, he added. "We're not this know-it-all, authoritative magazine that we sometimes pretend to be."