Colombia's Radical Plan to Welcome Millions of Venezuelan Migrants
"I've never seen a government trying this hard to register people and leave the borders open."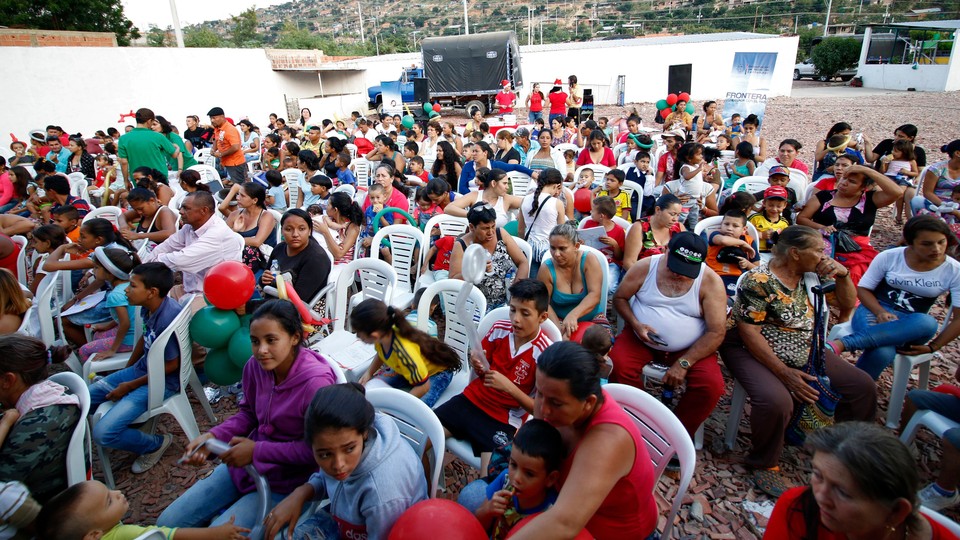 VILLA DEL ROSARIO, Colombia—Thousands of people stand idly about, families sitting near heaps of luggage. Groups cram into every bit of available shade, eager to ignore the shouts of salesmen hawking potatoes or medication. Nearby, bus companies promote "no passport" travel inland.
This is what a migration crisis looks like. For more than two years, a steady stream of people—many toting little more than ragged backpacks and bags—have crossed into this Colombian town and others like it, escaping their crumbling homeland, Venezuela, which has been weathering an economic collapse and, more recently, a political crisis.
Thus far, Colombia has opened its doors as millions of people have flocked to its border. Politicians here know there is no way to keep these migrants out, so instead of railing against its neighbor or raising the drawbridge, they have focused on integrating those who arrive, efforts that have been commended by aid agencies. But with almost 1.5 million Venezuelans here, equivalent to about 3 percent of Colombia's population, and more arriving every day, the country may soon be entirely overwhelmed.
The difficulty is shared the world over by countries bordering troubled states, whether it be Lebanon, Jordan, and Turkey having to cope with the fallout of the conflict in Syria, or Bangladesh erecting refugee camps for Rohingya Muslims leaving Myanmar. While news coverage often focuses on the impact of migration on the United States and Europe, it is these neighboring countries that bear the brunt of the exodus and that must deal with the humanitarian crises they cause. And like those countries, without ample foreign aid, Colombia is near the point where it will not be able to cope.
"I've never seen a government trying this hard to register people and leave the borders open," Trisha Bury, a deputy director for the International Rescue Committee, a migration nonprofit, told me near the Venezuelan border. "Unfortunately, the scale of this crisis, and the speed at which it changes, is more than Colombia can handle."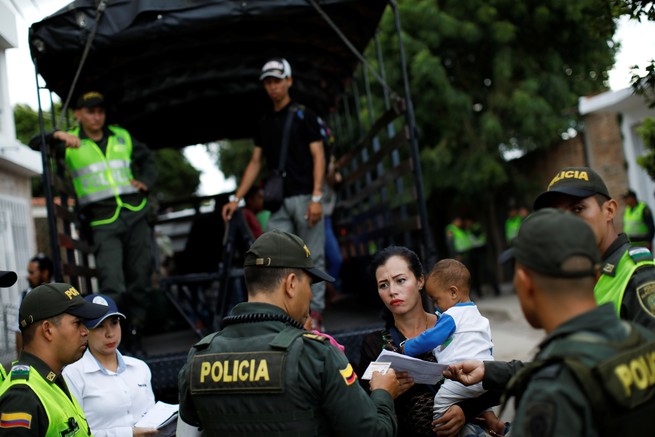 Just 10 years ago, Colombians looked up to their neighbors to the east. Not only were Venezuelans the wealthiest people on the continent, but the country had the most equal income distribution, as well as a fiercely patriotic and charismatic leader and ample energy reserves. Colombians listened with bewilderment and awe as Hugo Chávez, the self-proclaimed revolutionary president of Venezuela, moved the masses and called for a proud pan-Latino identity. Millions even fled Colombia for Venezuela, mostly rural poor displaced by their country's decades-long civil war. No one imagined then that the two countries' relationship would change so dramatically.
When Chávez died, in 2013, his successor, Nicolás Maduro, inherited a country in decline. The economy was cratering, and inflation was accelerating. Maduro, blaming a Colombian conspiracy for the economic problems, expelled thousands of Colombians living in a frontier area and shut the border.
When it finally reopened, the flow of people began going in the opposite direction. Tens of thousands of Venezuelans poured into Colombia on the first Sunday the border was open, in July 2016. Initially, many simply bought medicine and food and returned home to Venezuela, though some stayed. As the situation worsened in Venezuela, that shift became more permanent: At least 65,000 Venezuelans moved into Colombia in the first 90 days after the reopening; a year later, that figure had risen to 470,000; and in November 2018, it surpassed 1 million. An estimated 150,000 people have migrated to or through Colombia from Venezuela each month for the past year. That's about as much as one of the infamous "migrant caravans" that capture attention in the United States per day, every day.
The UN has said it expects the numbers of migrants to become comparable with those crossing the Mediterranean in 2015. By 2021, the Colombian foreign minister has said, his country may be playing host to 4 million Venezuelans. The figures are shocking in any circumstance, let alone for a country that has experienced little incoming migration in recent memory.
Those crossing the border include people such as Gustavo Colón. "I'm going to walk until I find work," Colón, who used to work at a chicken-processing plant in Maracay, Venezuela, told me. "That's my mission."
The 23-year-old was resting by the roadside after a day's walk into Colombia, eating a tamale that a local had given him. The Venezuelan's goal was to make some money to send home to his wife and newborn so that they could eventually take the bus to join him on this side of the border. The tamale, rice and chicken stuffed in a banana leaf, was the heartiest meal he could remember eating, he said.
"I thank all the Colombians for having received us Venezuelans so kindly," he said before resuming his journey, heading down a mountainous highway alongside thousands of his countrymen.
Colombia has never tried to stop people like Colón from coming in. Officials knew they couldn't. The border between the countries, much like the one dividing the United States from Mexico, runs more than 1,000 miles through open country and is punctuated by hundreds of illegal crossings.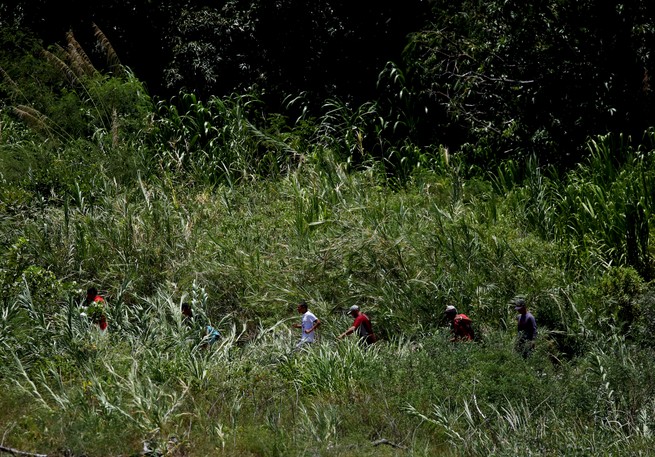 From the very start, the national migration authority here worked to document the new arrivals, but struggled to keep up. It issued hundreds of thousands of identity cards to Venezuelans, allowing them to come and go freely within a specially designated border zone, though not further inland, and created a new immigration status applicable to Venezuelans already in the country. More than half a million Venezuelans were given the right to work. Though officials extended the registration period three weeks past its scheduled conclusion, the program expired in late December 2018. Officials say they are adapting the program; analysts say this is likely because they expected the influx would have slowed by now.
According to Felipe Muñoz, a former official at the Inter-American Development Bank who is now the Colombian official in charge of running the border zone, his country wants to shift the migrant issue from a humanitarian situation to "a process of development" whereby Venezuelans "can produce and earn income." The Colombian authorities, he said, "are developing policy to help them earn."
This influx could present an opportunity for economic growth in Colombia. If properly registered and settled, the new arrivals could start small businesses, generating employment and income across the country. "There is vast literature in economics showing how migrants are entrepreneurs at a much higher rate than locals," said Dany Bahar, a Venezuelan-born economist who studies migration at the Brookings Institution in Washington, D.C. "The act of migrating itself is an act of risk taking, and that's the kind of profile of an entrepreneur."
Colombia has also made a major effort to get Venezuelan children in school. The government understands, aid groups often note, the long-term dangers that result when a generation of youths have to fend for themselves on the streets in a country that already struggles with drug trafficking and violence. In 2017, a decree allowed all foreign children to study in Colombian primary schools.
But here, the pressures are beginning to show. Many schools in the border zone have taken in up to 300 students without adding new teachers. As migrants typically settle in the poorest areas of cities, schools with the fewest resources are bearing the heaviest load. And because Venezuelans have access to only limited emergency care at Colombian hospitals, waiting rooms and wards at clinics across the country have become overcrowded. With local housing stock unable to cope with the numbers of newcomers, many migrants can be found sleeping in town plazas.
Muñoz said the government had prioritized support to parts of the country that had the most migrants. But managing these huge numbers remains a challenge, raising worries that Venezuelan doctors or engineers unable to find work will end up picking coffee on Colombian farms, depressing wages for everyone; that children will be diverted into drug gangs; and that untreated health problems could spread.
"It's impressive that the Colombian government has opened its arms," Provash Budden, the Americas regional director for the aid organization Mercy Corps, told me. "But there has to be a longer-term plan."