Theresa May Lives to Fight Another Day. But for What?
The British prime minister narrowly survived a no-confidence vote, but no one knows what comes next for the U.K.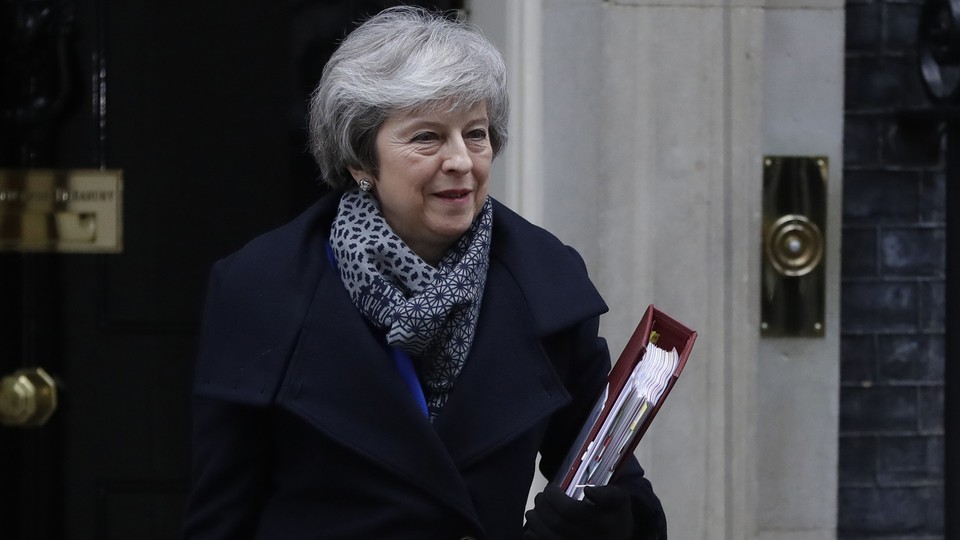 LONDON—Less than 24 hours after suffering a historic defeat against her Brexit deal, British Prime Minister Theresa May survived another vote of no confidence on Wednesday, ensuring that she'll survive to fight another day.
But there is little cause for celebration: More than two years after Britain voted to leave the European Union, its lawmakers are still hopelessly divided. Questions remain over how, or even if, that departure should happen. There isn't a parliamentary majority to support the deal as it stands, nor are there enough lawmakers willing to countenance letting the country leave the EU without a deal.
Absent an alternative plan, however, none of that really matters—if a transitional deal with the EU is not approved by March 29, or if some other compromise is not found, then Britain will leave the bloc by default.
To avoid this scenario, the British government needs a new strategy—and its options are limited. Whatever Britain's fate will be, it must be decided in the next couple of months. Here are the big questions that remain:
1. What will May do next?
In the wake of her Brexit deal being defeated on Tuesday, May told the House of Commons that she plans to hold cross-party talks with senior lawmakers to see if they can reach a "genuinely negotiable" compromise that can command Parliament's support.
Still, it's unclear just how far the prime minister is willing to go. Addressing lawmakers on Wednesday, May signaled that she would rule out a so-called soft Brexit preferred by some Labour lawmakers, which would see the country maintain closer links to the EU's trade rules and regulations after it formally leaves the bloc.
"As things stand right now, the prospects for some sort of cross-party approach to try and find their way out of this mess are pretty meager," John Springford, the deputy director of the London-based Centre for European Reform, told me. "It requires unprecedented cross-party work, which aren't really in character for either [the opposition leader] Jeremy Corbyn or for Theresa May."
While a new British consensus would be welcomed by the EU, which has repeatedly called on Britain to clarify its position, it almost certainly wouldn't lead to the reopening of negotiations over the transitional deal, which concluded late last year. The best London can hope for is to update the political declaration, a nonbinding part of the agreement that sets out the framework of the United Kingdom and the EU's future relationship.
This means that some of the most controversial aspects of the deal, such as the Irish backstop—a mechanism designed to prevent a hard border on the island of Ireland that some British lawmakers fear could could keep Britain beholden to EU trade rules and regulations indefinitely—would remain unchanged. Though French President Emmanuel Macron said on Tuesday that the EU might be willing to "make improvements on one or two things," substantial changes to the agreement are unlikely. "We've reached the maximum of what we could do with the deal and we won't, just to solve Britain's domestic political issues, stop defending European interests," Macron said.
2. Will Corbyn back a second Brexit referendum?
Now that a general election is off the cards—for now—the question facing Corbyn, the leader of the Labour Party, is what he plans to do next.
So far, he has resisted calls for him to swing the party's support behind the so-called People's Vote, a campaign that advocates for another referendum. A lifelong Euroskeptic, Corbyn is unlikely to pivot from his current strategy of simply opposing the government's Brexit plan.
But as support for a second vote increases, some Labour parliamentarians have begun voicing their impatience. "This is not the time for further pussyfooting around or hesitation by Labour," David Lammy, a Labour lawmaker and People's Vote advocate, said Tuesday in a statement. Calling for his party to actively campaign for a new referendum, he added, "Our supporters and members now need the opposition to act."
3. Will Britain leave the EU by March 29?
Under the EU Withdrawal Act, Britain will leave the EU on March 29 by default, with or without a deal. The vast majority are opposed to leaving without a deal—and have signaled their willingness to request an extension to Article 50, the EU's time-limited exit procedure, to prevent it. (Though May told the House of Commons on Tuesday that she does not believe the country should delay its exit from the EU, she crucially didn't rule out an Article 50 extension, either.)
Though prolonging the U.K.'s departure would require the unanimous consent of the EU's 27 other member states, the bloc is already treating this option as the most likely scenario. "What is apparent is that [May] is going to struggle to deliver Brexit by the 29th of March," Neena Gill, a Labour Party member of the European Parliament, told me. "An extension to July is a real possibility."
With or without an extension, Britain has few options: Leave the EU with May's negotiated deal (or a variation of it), leave the EU without a deal, or not to leave the EU at all.
"There are three paths," Henry Newman, the director of the London-based Open Europe, told me, "all of which seem impossible."