Want to Cultivate a Liberal European Islam? Look to Bosnia.
Throughout the 20th century, Bosnian Muslim thinkers offered creative theological interpretations that squared with European life.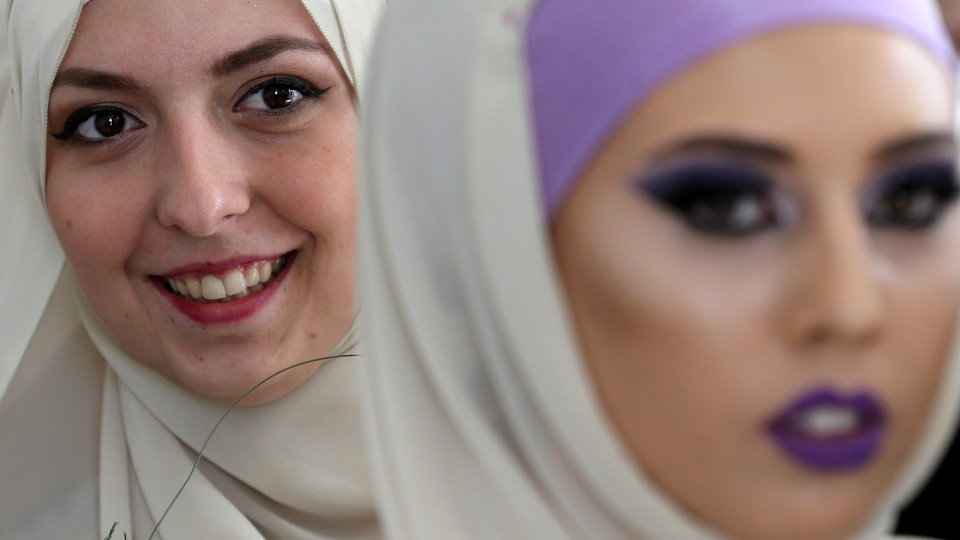 When French President Emmanuel Macron said last summer that he would create a new "framework and rules" for Islamic institutions in France, he was not alone. Other politicians and thinkers have also been involved in a broader effort to find an articulation of the religion that meshes with what they see as European values.
What is too little noticed, however, is that a tolerant European Islam has already existed for centuries—on the southeastern part of the continent, where Bosnian Muslims, Albanians, Turks, and others see themselves as fully Muslim and fully European. A 2013 Pew Research Center study shows that they're among the most liberal Muslims in the world. For example, only tiny minorities of surveyed Bosnian Muslims, known as Bosniaks, think adulterers must be stoned and apostates executed, in contrast with large majorities in favor of both stances among Pakistani and Egyptian Muslims.
The case of my people, Bosniaks, is particularly instructive. It shows how attitudes toward Islam can evolve over time and how its adherents—with the help of progressive theologians and intellectuals—can embrace modernity without abandoning their religious identity. Throughout the 20th century, Bosniak thinkers offered creative theological interpretations of Islam that squared with European life. Yet their contributions are not well known in western Europe today. As anti-Muslim populist propaganda fosters paranoia across several European countries, it's all the more urgent to recover neglected evidence of the compatibility between Islam and modern Europe.
The majority of Bosnians gradually accepted Islam after the Ottomans brought it to the region in the 15th century. They ruled until 1878, when they lost Bosnia to a longtime rival: the Austro-Hungarian empire. Many Bosniaks at that point felt uncomfortable under their new rulers, not least because classic texts of Muslim jurisprudence had banned living in territory ruled by non-Muslims. From 1878 to 1918, an estimated 150,000 emigrated to Turkey.
But prominent Muslim intellectuals voiced arguments that helped stem the tide of Bosniak emigration. Among them was Grand Mufti M. T. Azabagić, who argued in the 1880s that a Muslim can in fact live happily under a tolerant non-Islamic state "where he is neither abused nor insulted for his acts of devotion." In response, Bosniaks accepted Austro-Hungarian rule and began to organize themselves under the secular state.
In 1882, the official "Islamic Community in Bosnia and Herzegovina" was established. The organization's structure continued to evolve in response to shifting historical circumstances, gradually becoming a body that operated with a degree of independence from the state as it sought to govern Islamic affairs such as spiritual education. Eventually, it had an elected leader and its own religious and legislative bodies. It was self-financed, with much of its income coming from membership fees and charitable donations, and was responsible for maintaining mosques, appointing and training imams, drawing up fatwas, and directing theological studies at various schools. (Even today, it is still in place and very much functioning.)
Another pressing issue at the time was the conscription of young Bosniaks into a non-Muslim army. Could Muslims serve in a military led by Christians? The tension was eased when Mustafa Hilmi Hadžiomerović, then mufti of Sarajevo, issued a fatwa in 1881 calling on Bosniaks to obey the draft. He then issued another fatwa declaring that the appointment of judges by a non-Muslim ruler was valid, which led the Bosnian religious leadership to accept the modernization of Sharia courts and their gradual integration into the Hapsburg state judiciary's jurisdiction. This was, notably, based on mutual concession, as the Hapsburgs were flexible enough to allow Sharia to operate in the realm of civil law under their rule. (The Sharia courts were abolished in 1946 with the arrival of socialist Yugoslavia.)
Bosniaks also debated Muslim women's issues, including use of the face veil. One of the most renowned debates on the subject dates to 1928. It began when Mehmed Džemaludin Čaušević, the grand mufti of the Bosniak community and an important religious reformist, argued that the face veil was a product of historical tradition, not of religion per se, so it was possible to change veiling practices without violating Islam. Religious conservatives, who considered covering a woman's face to be a religious duty, reacted harshly. But through a long and vigorous back-and-forth, Čaušević eventually earned the support of notable intellectuals and professionals, some of whom soon became the leaders of a self-defined progressive movement.
After World War II, during Communist rule in Yugoslavia, the "emancipation" of Muslim women was enacted through authoritarian means. The face veil was perceived as backward—an obstacle to women's much-needed participation in the socialist rebuilding of the newly formed country. The Women's Antifascist Front, a state-sponsored organization, organized campaigns to unveil Muslim women in Yugoslavia from 1947 to 1950. At public unveiling ceremonies, women clambered onto stages and removed their zar—a black garment resembling today's burka—en masse.
State-imposed unveiling ultimately culminated in a legal ban on face veils in 1950. The new law was presented to the public as the state's response to Muslim women's mass requests. Although some women did welcome the ban, many ended up more isolated as a result of it; they felt they had to stay home because they couldn't go outside with their heads uncovered. Written and video testimonies confirm the difficulties they endured.
Concerned for the position of Muslim women in society, Bosnia's highest official Islamic religious body supported the unveiling campaigns at the time. It made several statements in 1947 asserting that veiling one's face and covering one's hands up to the wrists was not required by religious code. Ibrahim Fejić, a mufti who then served as the leader of the Islamic Community in Bosnia and Herzegovina, said Islam asks women to dress modestly, but that this does not require face veiling or isolation from the public. He added, "It is a sin in Islam to allow oneself what the religion forbids; it is as much a sin to forbid to oneself what the religion permits."
Today, the history and practice of Bosnian Islam yield a number of noteworthy lessons for those seeking to cultivate a liberal Islam in Europe.
One is that an institutionalized, centralized form of Islam can be highly successful, as seen in the case of the Islamic Community. This probably can't be replicated precisely in other European countries—the Bosnian organization of Islamic religious affairs is distinct in that it is independent of the state and incorporates elements of representative democracy for legislative and representative bodies—but it can still serve as a useful example to the rest of Europe.
The Islamic Community cites the "requirements of time" (in the words of Bosnia's top Islamic legal scholar) as one of the principles animating its religious interpretations: Islamic thought can and should offer Muslims answers on how to practice Islam here and now. The result is that "the institutions are given an element of flexibility, while maintaining Islam's timelessness." The same institution today asserts its credibility to "serve as a constructive partner for other Muslim communities and EU institutions."
Second, forced secularization—including bans on wearing face veils—can be counterproductive. As the testimonies of Muslim women from Yugoslavia revealed, such restrictions can produce deeply negative consequences, including insults and attacks against veiled women. Instead, Muslims' own questioning of the religious foundations of the face veil can yield progressive interpretations that feel authentic because they're coming from within the community. For instance, the Bosniak reformist leadership argued that Islam grants men and women rights and responsibilities, and unveiling is both true to Islam and can facilitate women's access to fulfilling their given rights. Instead of legal bans or enforced dress codes, democratic Western governments would do better to promote Muslim women's freedom of choice.
Finally, Islamic modernism, born in the 19th century as an effort to reinterpret Islam with a liberal spirit, is not as ineffective as some pessimistic commentators on Islam believe. In today's Bosnia, Islam is internally diverse: Many Muslims see it as part of their cultural heritage, while others emphasize the importance of daily religious rituals.
Our modernist Islamic tradition is not immune to global trends, including Salafist currents. But Bosnia's intellectual legacy offers plenty of evidence that Europe and Islam are far from incompatible—in fact, they have been intertwined for centuries.