Cambodian Deportees Return to a 'Home' They've Never Known
America is deporting Cambodian refugees convicted of crimes. Did the U.S. have a responsibility to help them when they first arrived as refugees?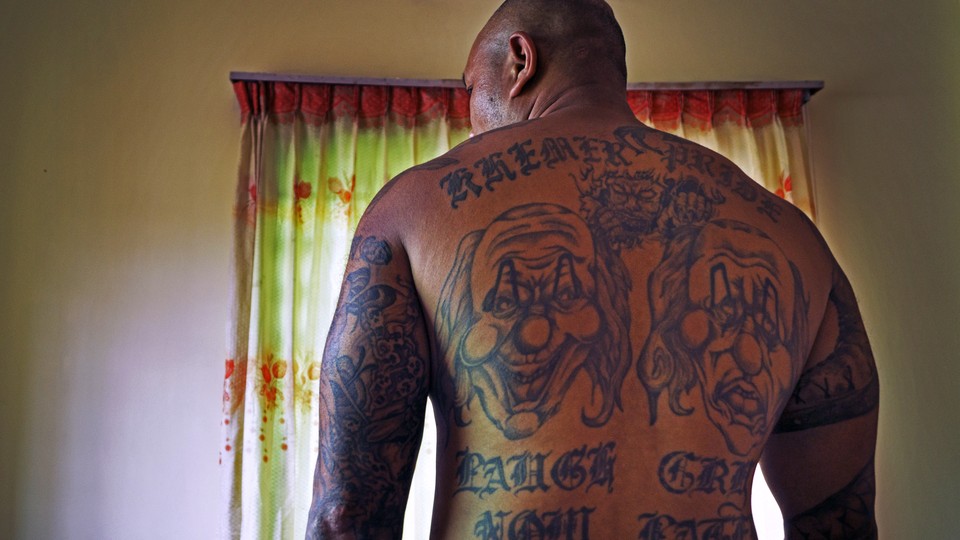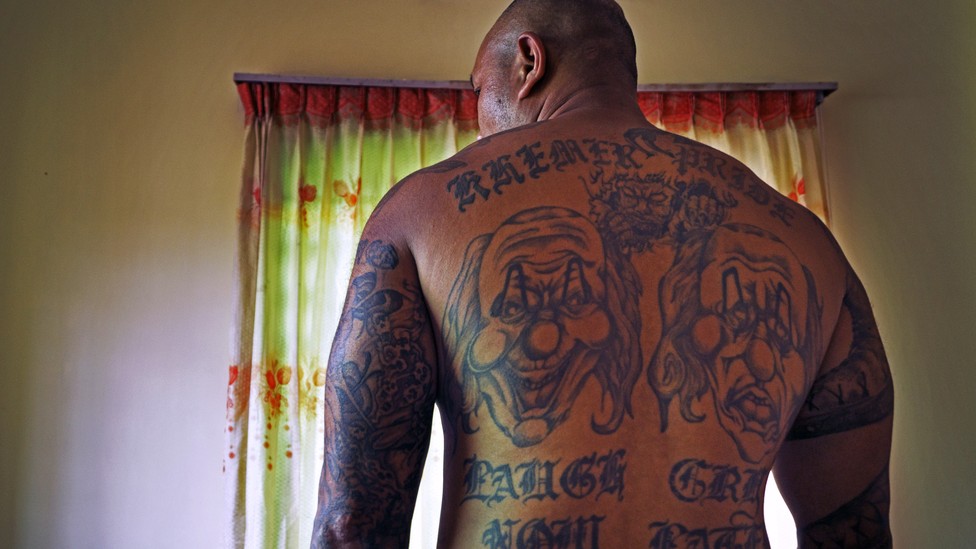 PHNOM PENH—Thuch Sek's skin is an ink-filled canvas, his Cambodian heritage and American life woven across his back and down his limbs. Thug life marks his right forearm; a misspelled tattoo extolling Khemer pride blankets his muscled shoulder blades. The 39-year-old was born in a Thai refugee camp to parents fleeing the Khmer Rouge, the brutal regime that in the late 1970s killed nearly a quarter of Cambodia's population; at the age of 2, he resettled with his family in Philadelphia.
Until last month, he had never set foot in Cambodia. Then the United States deported him here, to his "home."
Between 1975 and 1994, the United States accepted around 150,000 Cambodian refugees, among them Sek and his family. But they were typically placed in poor urban communities with inadequate financial and mental-health support, leading some to drift toward criminality and, eventually, deportable convictions. More than 700 have been sent back to Cambodia since 2002, but the Donald Trump administration is now ramping up deportations of refugees, arguing that they are criminal nationals of Cambodia whom the Southeast Asian country is legally obliged to receive. In the process, officials are sending many back to a place from which they fled or in which they have never lived, raising questions of nationality for people who have spent most of their lives in one state, but are being tied to another. Now Sek must adjust to a country where he has never been, where the culture is wholly alien, and where people view him as a foreigner.
Growing up, Sek struggled to connect with his parents—a common phenomenon among children of Khmer Rouge survivors—and instead found "family" in gangs: the Crips and then the Asian Boyz. At 19, Sek and his friends unleashed a barrage of bullets on a Philadelphia bar whose patrons, he said, had previously bombarded them with beer bottles and racist slurs. He was arrested in 1997, found guilty of attempted murder the following year, and imprisoned until he got parole in May. Less than a month after getting out, though, Immigration and Customs Enforcement detained him; by December, he was in Cambodia.
Each of the dozen or so deportees I spoke with told me a similar story: They grew up poor, joined gangs out of self-defense, and didn't know they were once eligible to pursue American citizenship, prior to their criminal convictions. Those born in Cambodia remember only the Khmer Rouge; those born in Thai refugee camps consider Cambodia little more than an ancestral homeland. All these deportees are visibly American. Locals, citing their tattoos, attire, speech, and swagger, believe them to be monied barang—"foreigners"—or overseas Khmer tourists, rather than true Cambodians.
I met Sek on his third day in Cambodia, at a transitional home on Phnom Penh's outskirts run by a nongovernmental organization known as the Khmer Vulnerability Aid Organization (KVAO). He and many other new arrivals grew up in African American communities and essentially took on that culture, including music tastes, dress, and speech—many, for example, continued wearing baggy NBA or NFL jerseys in Cambodia, while others referred to their friends as "homeys."
"In North Philly, I was dealing with mostly blacks and Puerto Ricans," Sek told me. "That's probably why I talk the way I talk."
KVAO offers deportees temporary housing, medical and psychological support, and employment assistance, and it secures their Cambodian identity documents. It also does something perhaps more important: taking deportees around their unfamiliar homeland, particularly into various sweltering markets, for a cultural crash course on how to dress, act, bargain.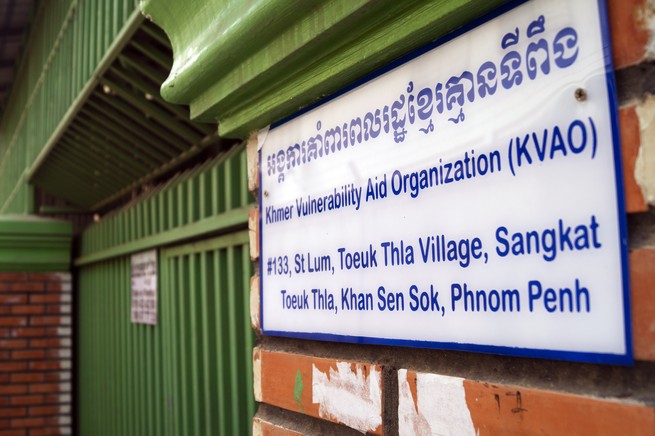 "Many of the deportees left Cambodia as young children and never went back, so they are lost when they are turned loose in Phnom Penh," Phil Robertson, the deputy director of Human Rights Watch's Asia division, told me. "KVAO is really the network that enables them to adapt and survive."
And for many deportees, the transition from the United States to steeply hierarchical Cambodia, where they're expected to show homage to monks, the elderly, and politicians, is difficult. In the early 2000s, one balked when a waitress at a bar served him after another patron, despite having arrived first. The customer who had been served earlier turned out to be an oligarch with close ties to senior Cambodian government officials, and he had his acolytes savagely beat the deportee, according to Bill Herod, KVAO's founder. This past December, another deportee revved his malfunctioning motorcycle outside the home of a military general, whose bodyguards cracked the deportee's skull, Herod said.
Despite those stories, these incidents are now relatively rare, because deportees have learned to lie low and avoid certain establishments and major missteps. Only about 50—around 7 percent—have been incarcerated for crimes committed in Cambodia, according to Herod.
His organization helps these deportees adapt by gently stripping them of their American layer—or at least prodding them to obscure it with "camouflage," according to Samoeun Meach, a KVAO staffer. The 45-year-old was sent back to Cambodia from the United States nearly 20 years ago and told me that, despite his tattoos and Americanized English—and because of his purposeful efforts to blend in—"Nobody thinks I'm a returnee."
Meach arrived in the United States at age 9 and lived there for years as a legal permanent resident. As a teenager in Lowell, Massachusetts, he joined the notorious Cambodian Tiny Rascal Gang in a move of self-preservation, and at 20 took part in a shooting targeting their local Vietnamese rivals. He pleaded guilty to manslaughter, thereby invalidating his permanent residency, and was jailed for eight years. He was released from prison in 1999; the U.S. deported him in 2002.
The Khmer Rouge consumes Meach's pre-deportation memories of Cambodia. He told me, with haunting banality, that when his father tried to flee with his family, the regime had him murdered by his brother, Meach's uncle.
"Back then," Meach said, "if you don't kill him, they'd kill you."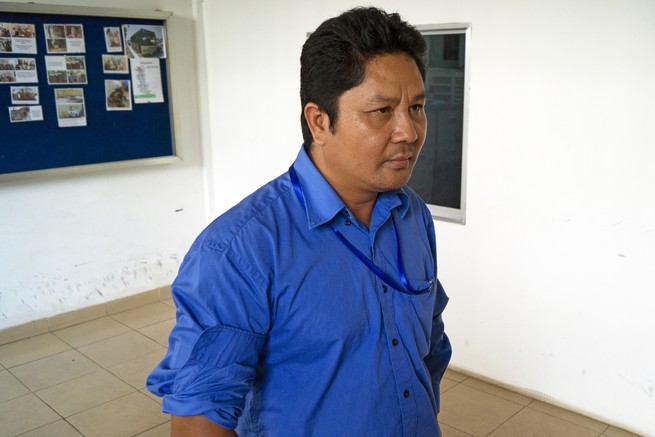 Since returning here, Meach has worked numerous jobs, including as a translator and school principal. In November, he joined KVAO as an employment officer. At the NGO's office, he proudly showed me photos of his former pupils and the pepper plantation he owns with his wife. Many deportees similarly establish themselves: According to Herod and numerous deportees, around 100 teach English; some run popular restaurants; a handful work for KVAO itself. Those in the position to do so regularly hire their compatriots—Meach, as a principal, hired deportees as teachers.
"It's a continuing process," Herod told me of integration. "Even the successful cases can have bad days or years."
Herod, an American who has worked for more than 30 years at various NGOs in Southeast Asia—and has lived in Cambodia for nearly 25—bears the scars of his empathy. In 2005, when one deportee, in a drunken suicidal stupor, tried to guzzle drain cleaner, Herod wrestled away the bottle, splashing the liquid in his own right eye, instantly destroying the cornea. At least six deportees have committed suicide, he told me, although that number could be higher: "If an addict dies of an overdose, we can't tell if it was intentional."
Anti-deportation advocates argue that American dereliction of duty regarding these Cambodian refugees is twofold: The U.S. bombed Cambodia, bolstering the Khmer Rouge's rise and contributing to the creation of this refugee population, whom the U.S. then resettled through a defective program, subsequently priming them for poverty and criminality. (In 2000, 29.3 percent of Cambodian Americans lived in poverty, and the community remains among the poorest in the United States. Post-traumatic stress disorder is endemic.)
"The notion that the United States owed a debt to these refugees is not just metaphorical," Eric Tang, the director of the Center for Asian American Studies at the University of Texas at Austin and author of Unsettled: Cambodian Refugees in the NYC Hyperghetto, told me. "It's U.S. policy abroad, but also the absence of any real domestic policy."
Refugees can be deported if they're convicted of crimes—mostly aggravated felonies, which range from murder to obstruction of justice—that invalidate their permanent-residency status, or if they're convicted of two misdemeanors. These refugees could, preconviction, have become American citizens, but they said that their sponsors didn't emphasize the importance of naturalization. The U.S. sent citizenship-related paperwork in English, a language which the heads of most refugee households didn't speak, let alone read. Many deportees also told me that their parents remained fearful of government and, citing their Khmer Rouge experience, avoided official interactions, even in the U.S., including those with naturalization-related authorities.
As of September, 1,855 Cambodians, 1,362 of whom have been convicted of a crime, are subject to orders of removal from the United States (though not all are refugees). Deportations have largely continued unabated under Presidents George W. Bush, Barack Obama, and Donald Trump, though they have accelerated since 2018. (An ICE spokesman, Brendan Raedy, did not respond to requests for comment, ostensibly due to the government shutdown. Spokespeople from the U.S. Embassy in Phnom Penh also told me they could not comment because of the shutdown.)
For his part, Sek has yet to adopt Cambodian camouflage and instead plans on weaving more tattooed threads into his somatic tapestry: a phoenix symbolizing rebirth and a correction of the misspelled Khemer emblazoned across his back. At the same time, he's also planning his Cambodian life.
"I want to start a family and a business," he said, before referencing what he had planned for life in the United States. "I already have the stuff I wanted to do in the States if I would have been out. I'm gonna try and do that here.
"I was going to open up a cheesesteak spot out in California, 'cause you know, there's no cheesesteaks out there," he said. I offered that I hadn't seen a restaurant in Phnom Penh that served cheesesteaks, the iconic Philadelphia sandwich, to which Sek replied: "Next time you come back, there'll be one."