Africa Is the New Front in the U.S.-China Influence War
Trump's national-security adviser unveiled a new strategy designed to counter Beijing's growing influence on the continent.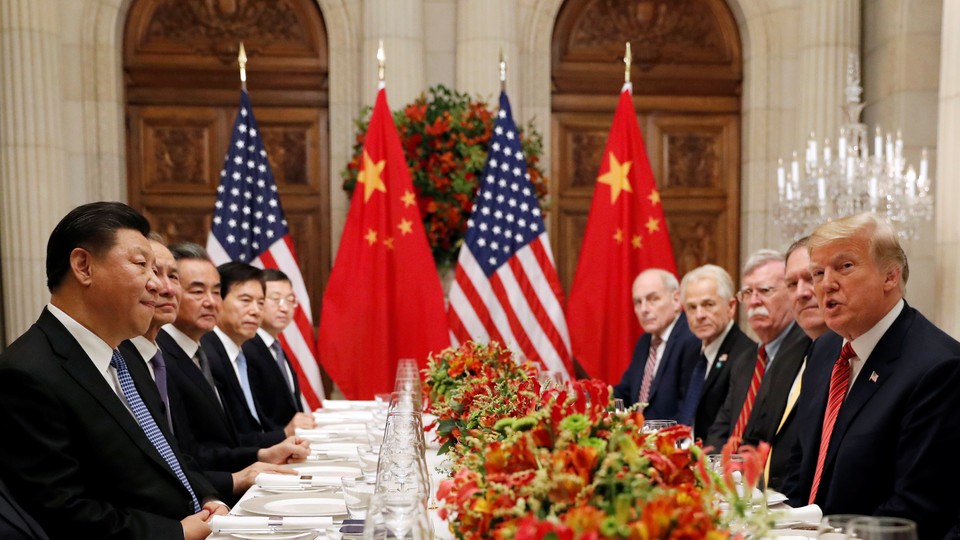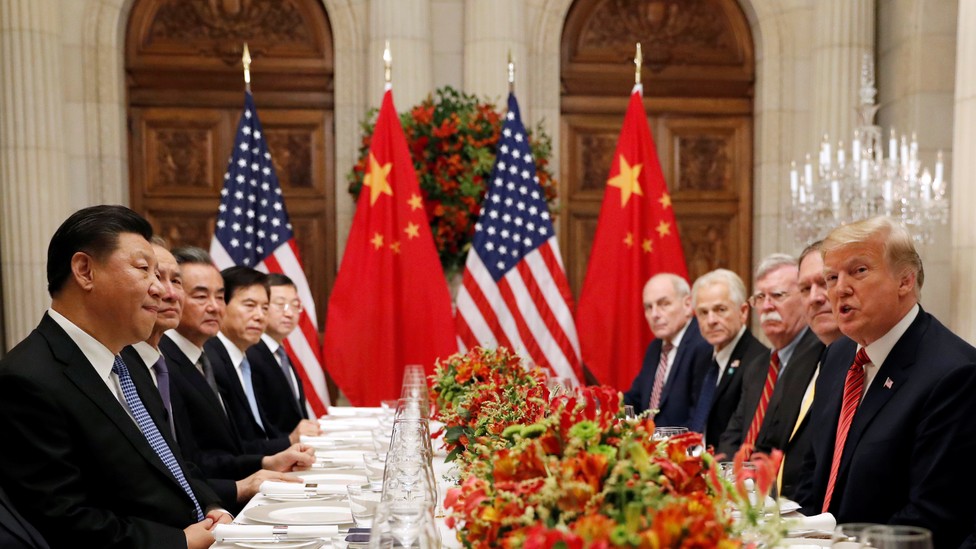 Facing increased competition for influence from China, the Trump administration unveiled a new strategy for Africa focused on commercial ties, counterterrorism, and better-targeted U.S. foreign aid. But it may be too little, too late.
In a wide-ranging speech Thursday at the Heritage Foundation, a conservative think tank in Washington, D.C., John Bolton, President Donald Trump's national-security adviser, explicitly warned that the ultimate goal of Beijing's "predatory" influence over Africa was to advance China's global dominance. This, he said, would leave the continent in far worse shape.
Beijing spends far more money in Africa than other countries do—and with far fewer overt preconditions. This absence of regulatory or political certainty deters other potential investors, including the United States.
In their absence, China has built massive roads, dams, and railways in areas with little to no connectivity; signed lucrative contracts for raw materials with resource-rich governments; and kept mum about the terms of its loans, an obvious plus for corrupt leaders. Its money has had disastrous consequences for some countries. But in the absence of other significant players in Africa, Beijing is, for all intents and purposes, the only game in town.
"China uses bribes, opaque agreements, and the strategic use of debt to hold states in Africa captive to Beijing's wishes and demands," Bolton said. He added that its investments are not only corrupt, but they don't meet U.S. environmental or ethical standards. The new strategy, he said, would benefit both America and African nations.
Bolton's remarks suggest that Africa is likely to become the latest battleground between the United States and China, which have clashed on a range of issues over the past two years. The Washington Post reported Tuesday that the Trump administration was planning to call out China for a campaign of economic espionage and hacking; add to that a costly trade war between the two countries and U.S. concern over China's military activity in the disputed South China Sea, and it's a recipe for a great-power competition with implications that will extend far beyond Africa.
Criticism of Beijing's policies is one of the main areas of bipartisan consensus in Washington: China sits atop the list of U.S. foreign-policy priorities, while Africa occupies a lowly perch. But Beijing's rapidly expanding influence on the continent (where it has its sole overseas military base, in Djibouti) has forced U.S. policy makers to take steps such as the ones Bolton outlined Thursday.
There are other measures, too. In October, the Trump administration created the $60 billion International Development Finance Corporation, or IDFC. Its goal is to increase U.S. investment in lower-income countries in Africa and beyond by providing American companies with products such as risk insurance and loans to encourage them to invest in Africa. But any U.S. spending in Africa will pale next to Beijing's investment there, where it plans to spend $60 billion over the next three years.
Bolton pointed to the "disturbing effects" of Chinese investment in Africa and around the world. Much of China's commercial interest in Africa is in the extraction of natural resources. Its policy in Africa—along with its Belt and Road Initiative across Asia and Europe, and its investments in Latin America—is accompanied by seemingly blank checks to underwrite its investments.
But China's loans to African governments have ultimately left states, including Djibouti and Zambia, indebted to Beijing at unsustainable levels. Djibouti owes China an amount equal to about 75 percent of its gross domestic product—and that figure is hardly atypical. China is reportedly planning to take over Zambia's power utility because of Lusaka's inability to repay loans from Beijing.
Opponents of China's policy say Beijing finances "white elephant" projects that deliver weak economic returns. Indeed, researchers at William & Mary's AidData, an institute that studies international-development aid, found that about 80 percent of China's overseas spending has no obvious effect on economic growth.
It's criticism like this that the Trump administration is hoping will help make the case for the U.S. in Africa and elsewhere.
China is hardly the only non-Western power in Africa—though it is by far the largest player. Russia, which Bolton also called out Thursday for trying to "increase its influence in the region through corrupt economic dealings," is making its own push, offering military contracts in exchange for mineral rights. Turkey has expanded its diplomatic presence and trading, and also operates a military base in Somalia. The Arab states of the Gulf Cooperation Council have spent billions to bolster infrastructure on the continent.
But it is China that is Africa's top trading partner, a development that has coincided with the U.S. and other Western countries pulling back.
Bolton said Thursday that Washington's goal was "for the nations of the region to take ownership over peace and security in their own neighborhood." Given America's challenge in achieving that goal in Iraq and Afghanistan, it will almost certainly take some time for African nations to achieve enough stability to attract foreign investment—one area in which the IDFC could help. But it's far from clear whether this approach of loans and risk insurance can yield results.
That China doesn't disclose details about the projects it funds, reveal how much it lends to whom, or set preconditions for the loans makes Beijing susceptible to criticism that it is using the funding merely to "bend countries to its frequently illiberal goals." The lack of transparency also helps some of the world's most corrupt governments siphon off Chinese funds—contrast this with a new U.S. strategy that calls for ensuring that all American aid to the region advances U.S. interests.
As Bolton said after his remarks, "China thinks over a longer structural timeframe." It might be time for the U.S. to follow suit.