Theresa May Is Running Out of Options
After she canceled a key Brexit vote, few possibilities remain: no confidence, no deal, or no Brexit at all.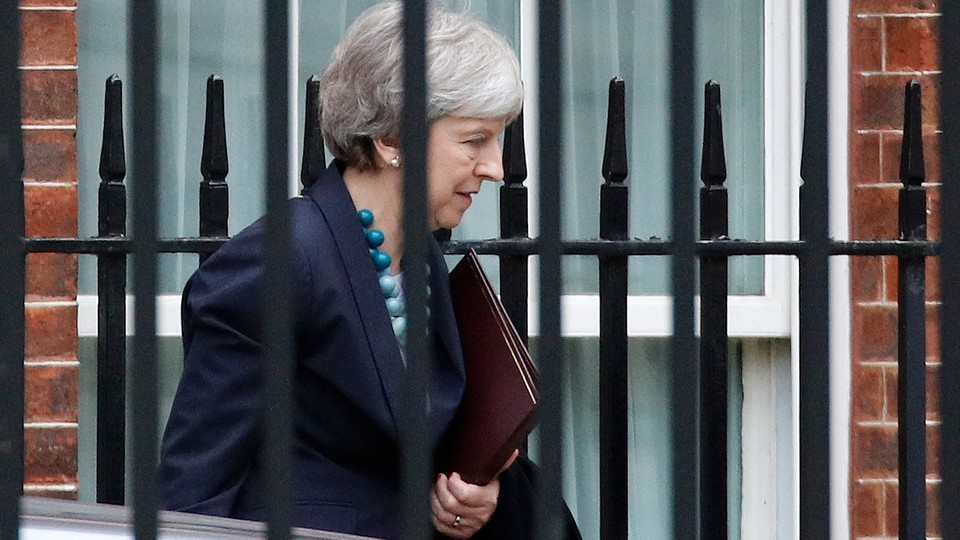 LONDON—British Prime Minister Theresa May announced on Monday that she was postponing a scheduled parliamentary vote on her proposed Brexit deal. The 11th-hour decision follows weeks of speculation that the agreement was doomed to suffer an overwhelming defeat at the hands of British lawmakers in its current form.
What remains unclear is how long the vote will be delayed and, with the end of March approaching, when Britain is due to leave the European Union, what the prime minister can do to salvage her deal.
Facing an all-but-assured defeat for her bill in Parliament, May will return to Brussels with the hopes of renegotiating, in particular the terms of the so-called Irish backstop, a mechanism aimed at preventing a hard border on the island of Ireland, and one that Brexiteers fear could tether Britain to the EU indefinitely. Hard-liners adamantly oppose the measure, and May will have to extract more than just minor alterations to her deal to win them over.
The EU has said there is zero chance of it reneging on the backstop issue, nor has it signaled a willingness to reopen negotiations. Speaking at the G20 summit in Buenos Aires last month, European Council President Donald Tusk warned British lawmakers that rejecting the deal would leave both sides with few alternatives. "No deal or no Brexit at all," he said. "I want to reassure you that the EU is prepared for every scenario."
Even if the EU were willing to renegotiate, "it almost certainly won't involve the Withdrawal Agreement," Anand Menon, the director of the London-based U.K. in a Changing Europe research institute, told me. Rather, it will likely focus on the draft political declaration, a non-binding part of the deal which sets out the framework of the future relationship.
What are May's other options?
1. May is out
Should the prime minister decide she is unable to deliver an agreement that will pass muster in Parliament, she could opt to step down and hand off the task to the next Conservative leader.
Anyone who knows May, however, knows she isn't a quitter. Even in the most perilous of circumstances throughout this long and tired Brexit process, she has proven herself a dogged leader, unwilling to be thwarted by fear of political defeat. Her resilience has earned her praise from political friends and foes in the past, and it may well sustain her into the future.
Resilience alone won't protect May from a coup within her party, though. If 48 Conservative lawmakers submit letters of no confidence in the prime minister, the party must vote on whether she can remain its leader and, by extension, prime minister. If she survives that ballot, party rules state that there can be no further challenge to her leadership for another year. Such attempts to topple her have failed spectacularly in the past, but questions over the viability of her Brexit deal could reinvigorate those efforts.
2. A second referendum  
The prime minister has insisted that her government "will never accept a second referendum," but if Parliament remains in a deadlock, throwing the question back to the people could emerge as a lucrative option. And it wouldn't be the first time the prime minister changed her mind about having a vote. In order for a second referendum to take place, the government will need to bring forward legislation to hold one, and a majority of lawmakers would have to support it.
Though the original Brexit vote took 13 months to organize, advocates behind the People's Vote, which is campaigning for a second referendum, say another could take place in half that time. "We think roughly it would take about six months from start to finish," Chuka Umunna, a Labour lawmaker and People's Vote supporter, told me last month. "Three months to see the legislation through Parliament and three months is probably what the electoral commission will require as a minimum time frame for a campaign."
Regardless of how long a second referendum takes, however, it would almost certainly require an extension of Article 50, the time-limited EU exit procedure that concludes on March 29, 2019, when Britain is due to leave the bloc. The European Court of Justice ruled Monday that the U.K. may unilaterally revoke its Article 50 notification, should it wish to retain its membership in the EU. An extension, however, would require the unanimous consent of the bloc's 27 other member states.
There are other costs, too. "If you want a second referendum to overturn the result of the first," May said in the House of Commons on Monday, "be honest that this risks dividing the country again when as a house we should be striving to bring it back together."
3. A general election
Absent a second vote, a hung Parliament could prompt May to call for a general election. However, she needs the support of at least two-thirds of lawmakers to make it happen, and after losing her party's majority during a snap election last year, her fellow Conservatives likely wouldn't be willing to support it.
The only other foreseeable path to a general election would be if the Labour Party attempted to force one through a vote of no confidence in the government. Then, too, Labour would need to secure the support of enough lawmakers, including members of May's Northern Irish partners, the Democratic Unionist Party, to back the motion. The chances are similarly slim.
Even if a vote were called, however, there is an issue of timing. A general-election campaign must last 25 days, and it could take an additional two weeks for Parliament to resume business as usual.
All of these options assume that whatever path Britain pursues next will be entirely up to May. Should the prime minister fail to present a Brexit deal to Parliament by January 21, lawmakers will then get to vote on the government's next steps.
"If we end up with this deal in tatters," Menon said, "there is nowhere else to go really apart from no deal, a general election, or a [second] referendum."
Regardless of what they or the prime minister decide to do, Britain will need to act fast. Absent an Article 50 extension, the country leaves the EU in just a matter of months—whether it's ready or not.