Four People Who Could Be the Next Defense Secretary
Former generals and powerful senators are likely to be considered to take over as President Trump's next defense secretary.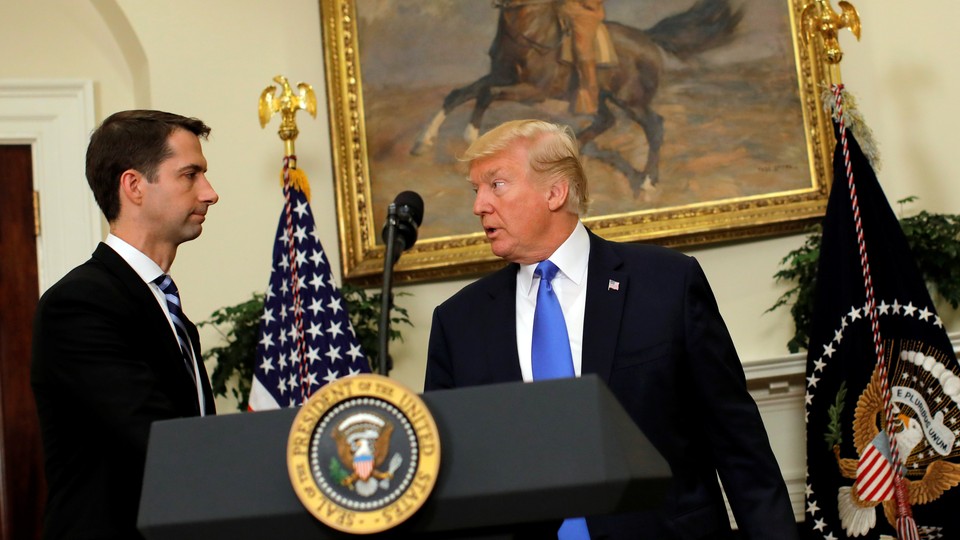 Rumors about James Mattis's impending departure as President Donald Trump's defense secretary have swirled for months. On Thursday, those rumors became reality.
Whoever succeeds Mattis—who resigned in protest over the president's military policy—will face the same challenges as the outgoing defense secretary: an impetuous president, fraying alliances, and rising dangers from adversaries old and new. Significantly, though, the next defense secretary will almost certainly share Mattis's views of the president's decisions to withdraw troops from Syria and drastically reduce the number of American soldiers in Afghanistan. A nominee who doesn't will face an uphill confirmation process, a muscular defense policy being one of the few remaining bipartisan issues in American politics.
Mattis will leave his post at the end of February. If no one is in place by then, Patrick Shanahan, the deputy secretary of defense and a former Boeing executive, will take over in an acting capacity—though the president can name an interim, as he has with other Cabinet posts.
Who are the contenders to be the next United States secretary of defense?
Jack Keane
The retired four-star general is a Vietnam veteran who previously served as a vice chief of staff of the U.S. Army, and is now the chairman of the Institute for the Study of War, a defense think tank in Washington, D.C., and a frequent contributor to Fox News. Soon after he was elected, Trump asked Keane to serve as defense secretary, but Keane declined, citing his wife's recent death. But he did make two recommendations: Mattis and General David Petraeus, the former commander of American troops in Iraq and Afghanistan.
Keane is a defense hawk—and an outspoken one, at that. He recently criticized Trump's proposal (which was ultimately reversed) to cut the defense budget to $700 billion. He also called the withdrawal of American troops from Syria a "huge strategic mistake" that Trump will "come to regret."
The 75-year-old's experience and candor could give him a relatively easy confirmation process in the Senate, but he may not want the job. "I don't intend to go back into public service," he told NPR on Thursday. "I'm confident the president will be able to find ... a capable person to serve the nation."
Senator Tom Cotton
The Republican from Arkansas is a member of the Senate's Intelligence and Armed Services Committees. Cotton, 41, is a veteran of the wars in Iraq and Afghanistan, and was previously floated as a possible CIA director to succeed Mike Pompeo when he moved on to become Trump's secretary of state. (The job instead went to Gina Haspel.)
Cotton is one of Trump's staunchest supporters in the Senate, and particularly shares the president's judgment that Iran is the major malign actor in the Middle East. But on other crucial issues, such as the importance of U.S. alliances, the withdrawal from Syria, and the drawdown in Afghanistan, the senator's views hew more closely to the mainstream. Indeed, he and Senator Lindsey Graham—another potential contender—signed a letter criticizing the Syria decision and urging Trump to reconsider.
Still, his support for Trump could mean a rough confirmation battle. It's also unclear whether he'll want to a leave a position of influence in the Senate for a job that can be thankless, managing an unpredictable president who often veers off the agreed consensus. Additionally, given the president's legal troubles and an incoming Democratic-controlled House of Representatives with subpoena power, Trump might want to keep his most reliable congressional allies in Congress.
Senator Lindsey Graham
The Republican from South Carolina is perhaps the president's strongest backer in the Senate, an unexpected role for a man who began as a critic of Trump.
But Graham, a retired Air Force judge advocate general, is also a hawk who has been a strident critic of the withdrawal from Syria, comparing it to the Obama-era policy in Iraq, and the Afghan drawdown. He has broken with the administration on its defense of Saudi Crown Prince Mohammed bin Salman over the killing of the journalist Jamal Khashoggi. As defense secretary, he would be in charge of navigating the relationship with Saudi Arabia, one of world's largest purchasers of American weaponry.
There is also the question of whether he would leave what could soon be an even better job:  Graham is in line to chair the Senate Judiciary Committee, which has a pivotal role in confirming Trump's judicial nominees.
David Petraeus
The retired four-star Army general served as CIA director during the Obama presidency, and, along with being recommended by Keane for the job Mattis ultimately got, he was also considered for secretary of state by Trump.
Petraeus has said he would join the Trump administration under "certain conditions." As the architect of the U.S. military "surge" in Iraq, which was widely credited with breaking the back of the insurgency wracking that country, he is highly unlikely to have a different view from Mattis about the U.S. military's role around the world.
If nominated, though, Petraeus will face tough scrutiny in the Senate. Once the recipient of bipartisan accolades, the general's reputation collapsed when it emerged that he had shared classified material with his lover, who was working on his biography, and then lied to the FBI about it. The scandal cost him his job at the CIA. In a week in which Michael Flynn, Trump's first national-security adviser, appeared before a federal judge for lying to the bureau, Petraeus's past will almost certainly be up for scrutiny.