The Coming Senate Showdown Over Saudi Arabia
Republican senators positioned themselves against the White House after the CIA director testified about Jamal Khashoggi's death.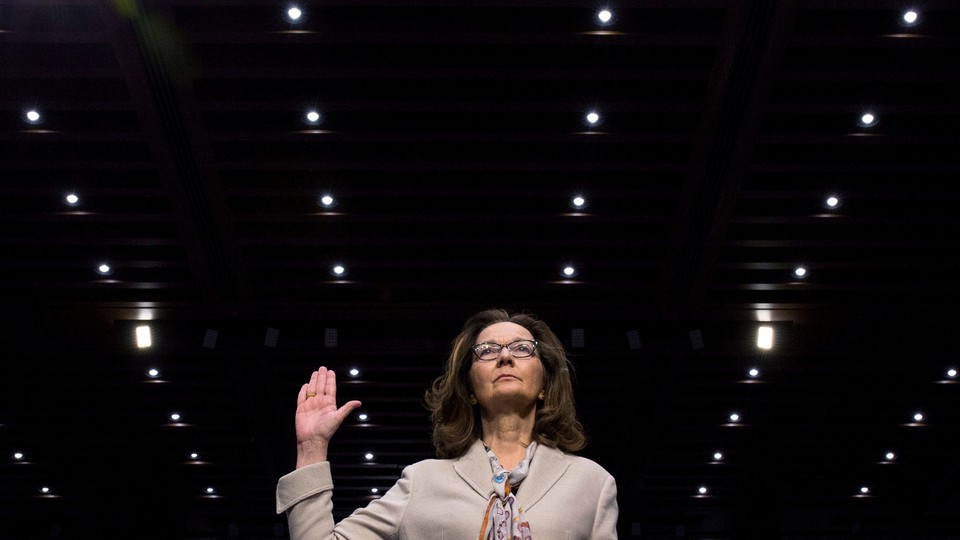 Senate leaders are pitted against the White House in an escalating battle over whether Saudi Crown Prince Mohammed bin Salman himself ordered the hit on the Saudi journalist Jamal Khashoggi. That split grew into a chasm on Tuesday, after CIA Director Gina Haspel briefed select Senate leaders on her agency's conclusions.
Her closed-door testimony followed separate briefings from Secretary of State Mike Pompeo and Secretary of Defense James Mattis last week. Though both officials stated then that there was no direct proof of the crown prince's involvement, senators from both parties cast doubt on that conclusion in public remarks afterward.
President Donald Trump has put himself somewhere in between, claiming that the question of the crown prince's culpability may be fundamentally unanswerable and that even if it weren't, the answer mattered little. "I don't know," he said recently when asked whether MbS, as the crown prince is known, was responsible. "The CIA doesn't say they did it. They do point out certain things. And in pointing out those things, you can conclude that maybe he did or maybe he didn't."
Either way, with Trump and top aides coalescing to emphasize the overriding importance of the U.S.-Saudi relationship—and the perfidy of its regional archrival Iran—the Senate is looking for ways to censure the kingdom beyond the Trump administration's move to sanction 17 Saudi officials accused of involvement in the murder. An upcoming vote on U.S. support for the Saudi-led campaign in Yemen will provide a test.
Haspel's briefing only seemed to reinforce senators' views about MbS. Bob Corker, the Republican who chairs the Foreign Relations Committee, declared that "if the crown prince went in front of a jury, he would be convicted in 30 minutes" of murder. Bob Menendez, the ranking Democrat on that committee, said he was convinced that the crown prince was involved in the journalist's death after Pompeo and Mattis testified, and that he remained convinced. Even Senator Lindsey Graham, the South Carolina Republican who is an otherwise reliable ally of the administration, described the evidence against MbS as not a smoking gun but a "smoking saw," a reference to the implement Turkish authorities say was used to dismember Khashoggi inside the Saudi consulate in Istanbul in October.
Menendez stopped short of saying that Haspel had offered evidence contradicting what Pompeo and Mattis had provided. But it was clear that the secretaries of state and defense had reached a different conclusion than the CIA—and many senators. "Let me just say that what both Secretary Pompeo and Mattis did was, I think, a disservice to the Senate," Menendez told MSNBC's Andrea Mitchell after Haspel's briefing. "I understand what they're driving at—they're trying to preserve a relationship with Saudi Arabia."
The conclusions drawn by the senators from Haspel's classified testimony are at odds with the White House's own version of events. Trump said last month that the agency had "nothing definitive" on Khashoggi's murder. His remarks came after Haspel visited Turkey, where she reportedly heard audio of Khashoggi's torture and murder by a Saudi hit squad. Since Trump's comments, leaks to the news media about the CIA's conclusions suggest MbS was closely involved in the plot to kill the journalist. Among other things, he reportedly communicated with the senior aide who oversaw the team around the same time Khashoggi was murdered.
Haspel's absence at the previous session that included Mattis and Pompeo had irked senators, who responded by focusing their attention on the Saudi-led war in Yemen. The conflict, a signature MbS initiative that relies in part on U.S. intelligence support, has devolved into what the United Nations calls the world's worst humanitarian crisis.
That war has received renewed prominence in Washington since Khashoggi's killing, and is now the ground on which lawmakers intend to fight the administration over his death. Last week, 14 Republicans voted with Democrats to take a crucial step in support of a resolution that would end U.S. support for the Saudi-led military effort in Yemen. Haspel's testimony may placate some, but not all, of those lawmakers.