Russia's Bizarre New Campaign to Define Its National Identity
A Kremlin-backed project to rename the country's airports after historic Russian heroes tries to answer: What is Russia?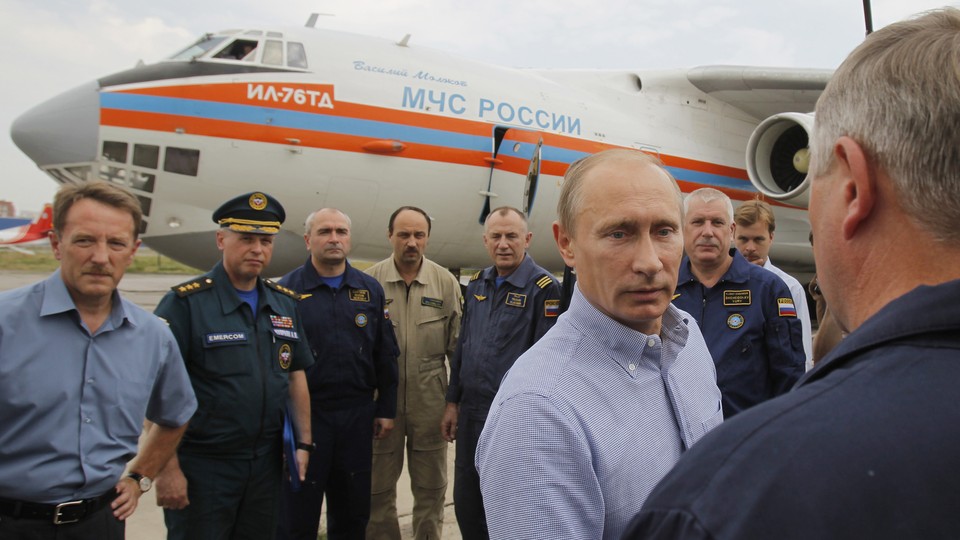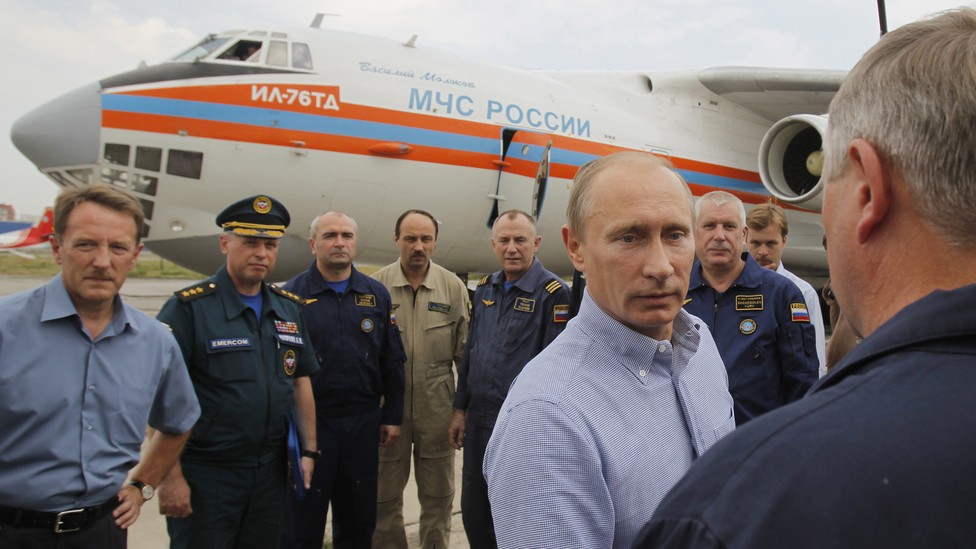 More than 1,000 miles from Moscow, in a city near Russia's border with Kazakhstan, residents have taken up an unusual cause: demanding that they be allowed to name their local airport after a famous rock star from the city.
In October, fans of Egor Letov, a musician who passed away 10 years ago, started a Facebook page as part of a campaign to change the name of the airport in Omsk, a city of just over 1 million people, to Letov International Airport. "Our name is Letov!" became a rallying cry for the movement on social media. One blogger created a mock-up of what the airport would look like, featuring giant portraits of the bearded, long-haired singer greeting travelers upon arrival. But Russian authorities, claiming that Letov's fans were a "marginal audience," blocked the name change.
The Omsk campaign came together after five Russian civil-society groups—at least two of which have ties to the Kremlin—announced a nationwide contest to rename 47 of the country's airports after Russian historical figures. During the so-called Great Names of Russia project, which began in early October and lasted two months, more than 5 million Russian citizens voted for a new name for their local airport. The winning names, officially announced on Tuesday, featured a mix of military heroes, scientists, and artists. The project is the country's latest and perhaps largest-scale attempt to answer the question that has gone unaddressed since the end of communism: What, exactly, is Russia?
In Moscow, officials heralded the project as a public celebration of Russian heroes—a way for the names to be "forever inscribed in history," according to the Great Names of Russia website. In one video segment produced by Vesti, a state-owned media outlet, a news anchor approaches a woman seated with her son on an airplane to ask her thoughts on the project. "We have many heroes," the woman said. "I don't think there are enough airports for all of them."
The project, approved by Russian Culture Minister Vladimir Medinsky, began as President Vladimir Putin faced his lowest approval ratings in six years, stemming from his unpopular pension-reform plan, which raises the age of retirement by up to eight years. Rallying Russians around a nationalistic project that purports to give ordinary citizens a degree of political autonomy might be just what Putin needs.
"It was important for the Kremlin to redirect the attention of the general public away from issues like 'economic development', 'corruption' and 'general frustration' to something neutral," Anton Barbashin, an editor at an online Russian-affairs journal, said in an email. Renaming airports could be, he added, something "entertaining and seemingly important."
But the project lacked grassroots support. Some experts view it as a frivolous expense in a time of economic struggle. "We are not just talking history and culture; we are also talking a lot of money," says Maria Snegovaya, a postdoctoral associate at the Center for International and Security Studies at the University of Maryland. Andrei Kolesnikov, a senior fellow at Carnegie Moscow, a Moscow-based think tank, calls it "one more annoying silliness of this regime."
Another, more cynical motive was behind the project. Its website said that it would operate on the principle of "one vote - one airport - one name," giving Russians the sense of participating in an important democratic process. But, Barbashin added, "much like with Russian elections, there is a state filter that determines if the candidate is eligible."
This helps explain why the musician Letov was left off the final list of names. Russians were allowed to suggest historical figures to include, but ultimately the candidates needed approval from Medinsky, the culture minister. His rationale for choosing not to include Letov, even after he was leading in the first round of voting, was unconvincing: He claimed that Letov's fans were too "marginal" of an audience to warrant his name advancing to the final round.
While Moscow proved adept at convincing Russians that voting in this contest equates to taking part in some democratic process, many saw through that veneer. "The Kremlin creates this kind of substitute that operates as representative of the civil society, but in fact that is totally Kremlin shaped and formed," Snegovaya says.
The airport-renaming project was also an effort by the Kremlin and its allies to create a distinct Russian narrative centered around military heroes, strong-handed rulers, and supposed moral exemplars. The majority of the included names were soldiers or leaders from the country's imperial past. Still, the names on the list did extend beyond those categories—they included, for example, Dmitri Mendeleev, the creator of the periodic table of the elements; the poet Alexander Pushkin; and the playwright Anton Chekhov. In many places, the results countered the narrative that was pushed from the top: The winners included many acclaimed fighters, but also artists and musicians. Yet even these figures had been approved by the project's organizers, and they fit into the broader image, of the grand, Czarist Russia of centuries past.
Glorifying figures from Russia's militaristic and imperial past fits squarely into Putin's goal of narrowing the definition of what "Russian" means. And renaming prominent public infrastructure is only the newest attempt to do so.
In recent years, this goal of shaping a clear Russian identity began to take a more conservative form. The airport-renaming project emerged amid increased Kremlin support for the Russian Orthodox Church—a nominally apolitical institution committed to spreading a Christian, conservative vision of Russia. The initiative also followed the enactment of policies that favor replacing ethnic languages with Russian.
"Making the people more Russian, and understanding that Russian ethnic identity is not only ethnic but increasingly Christian Orthodox, is sort of central to Russia," says Michael Khodarkovsky, a Russia expert at Loyola University Chicago. None of the figures included as possible names for Russia's airports were distinctly Christian, but one of the project's vocal backers was an Orthodox bishop with close ties to Putin.
Khodarkovsky says that the Church has been a driving force behind Putin's embrace of a growing right-wing, "traditional" worldview, in which religion and politics are inseparable. This poses a problem for the nearly 30 percent of Russians who do not identify as Orthodox. In the past few years, the Church has also appeared to embrace Putin's historical sensibilities. A new set of museums around the country, funded in part by a Church affiliate, promises to tell the story of "the creation of one of the strongest empires in the world."
Despite all the suspicions about the organizers' intended motives, the results of the voting showed a deviation from the Kremlin- and Church-backed narrative of Russian military valor. Voters chose "mainly peaceful options," the Russian journalist and political analyst Alexey Makarkin wrote on Tuesday night. Many generals did win, but Makarkin concluded that people want to "be proud of the national culture and science." In a small way, it looked as if the Russian people were able to choose an outcome that represented their desires, not one that conformed only to the Kremlin's vision.
Renaming a few dozen airports won't get people their pensions any sooner. But as Nina Tumarkin, a Russian-history professor at Wellesley College, explains,  the "cynical idea" is that the project might allow Russians to "feel a sense of agency," even if only during the project's brief two-month span.
Giving ordinary Russians a chance to claim some ownership over Russian culture is not necessarily a bad thing. But what if it's the only chance people have to make their voices heard in any public venue? "Symbolic politics is rather lax," Tumarkin argues, "as long as the real politics stays firm and strong in terms of being behind the Kremlin and its policies.