The G20 Communiqué Bookends the George H. W. Bush Era
The joint communiqué addressed U.S. concerns about trade, but that there was an agreement at all was significant.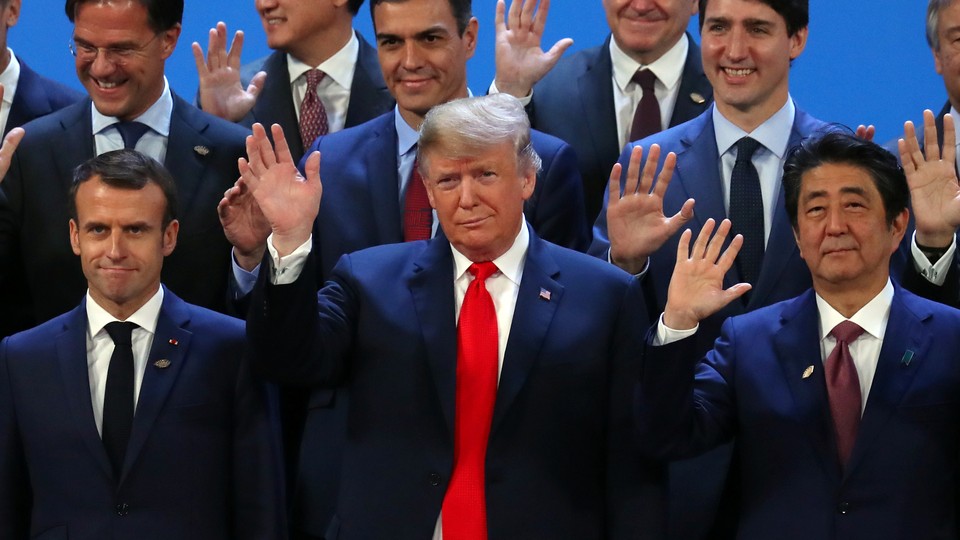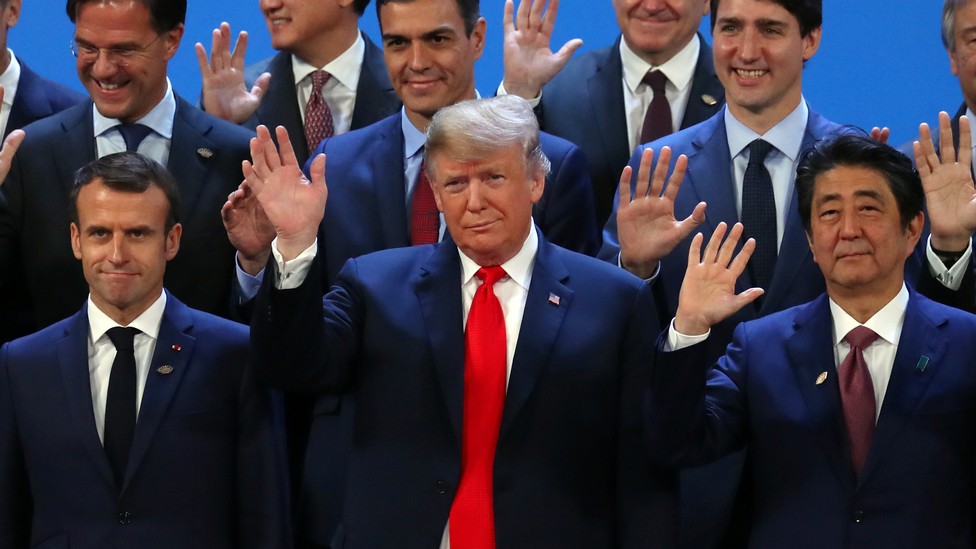 It is somewhat fitting that G20 leaders agreed on a statement hours after the death of George H. W. Bush. In normal times, Saturday's announcement in Argentina would hardly be unusual. Diplomats negotiate the agendas and communiqué of such meetings for weeks and months before national leaders affix their signatures to them.
Donald Trump's administration has been loath to support statements in favor of global trade or efforts to combat climate change. Bush, who died late Friday, was by contrast an architect of the post–Cold War world order, an arch proponent of free trade and a committed multilateralist. The system—built in part by the 41st American president—is now in peril because the 45th appears to think that it is unfair to the United States. Donald Trump says that he believes in what he describes as fair trade, and has levied hefty tariffs on American trading partners, including Western allies, in an attempt to revive employment in the U.S. manufacturing sector. (Most economists say that this worldview is flawed.)
The G20, which draws together economies as diverse as Canada's, South Africa's, and Saudi Arabia's, on Saturday agreed to reform the World Trade Organization and recognized the benefits of multilateral trade, but failed for the first time to speak out against "protectionism," a concession to President Trump. Additionally, the group agreed to implement the Paris climate accord, but noted that Washington "reiterates its decision to withdraw."
"Today is a great day for the United States," a senior White House official, speaking on condition of anonymity, told reporters. "The G20 just adopted a communiqué by consensus. It's a consensus that meets many of the U.S.'s biggest objectives."
The joint communiqué is a departure of sorts for the Trump administration, which has used international summit meetings to chip away at the global order built by the United States after World War II. It's not so much that the president's team is unwilling to reach compromise with other nations on a host of issues such as trade and climate change, but that Trump himself appears to question the usefulness of multilateral diplomacy and the U.S.-led world order.
This year alone, Trump retracted U.S. support for a joint statement at the end of June's G7 summit in Quebec. Last month, the APEC summit in Papua New Guinea ended without a joint statement because of disagreements between Washington and Beijing over the term unfair trade practices, which the president has accused all of America's allies as well as China, its largest trading partner, of engaging in.
Many Western leaders share Trump's concerns about China's trade practices: There appears to be an emerging consensus that China's entry into the WTO, which governs trade rules between nations, in 2001 ultimately ended up hurting Western nations. But because Trump has slapped tariffs on European Union nations, threatened Japan and Germany with levies on their car imports to the U.S., and hit Canada with steel and aluminum duties, he has been unable to forge an effective trading coalition to counter China. (Trump also withdrew the United States from the Trans-Pacific Partnership, the multilateral Obama-era trade deal that comes into force this year and was seen as a counterweight to China's trading practices.)
Bush's approach differed markedly. He played an instrumental role in many of the developments that we now view as historic inevitabilities: the peaceful end of the Cold War, as well as Germany's reunification and NATO membership. For this, he worked with not only the alliance's member states, but also Mikhail Gorbachev, assuring his Soviet counterpart that NATO's expansion was not a threat to Moscow. (Russia's current leaders say they believe that the West broke its word.)
He also forged a broad military coalition of Western and Arab nations that intervened when Saddam Hussein's Iraq invaded Kuwait, scoring what is arguably the last decisive U.S.-led military victory anywhere in the world. The U.S., by that time the lone global superpower, could have achieved any and all of these goals on its own, but Bush engaged America's allies to build a global coalition.
In some ways, his time in office and Trump's presence at the G20 are bookends to a specific era of trade. Bush's biggest legacy—his critics, including Trump, would say liability—was the North American Free Trade Agreement, which created a free-trade zone across Canada, the U.S., and Mexico. Opponents of NAFTA blame it, in part, for the decline of American manufacturing (though automation would have ultimately replaced workers even if NAFTA didn't exist). Trump was elected, in part, on vowing to rip up the deal. This week, he and the leaders of Canada and Mexico signed a new version of the agreement.
For Trump, trade, and indeed international relations, is a zero-sum game in which one nation's rise must mean America's decline. Bush had a different view.
"We know what works: Freedom works," he said in his inaugural address in 1989. "We know what's right: Freedom is right. We know how to secure a more just and prosperous life for man on Earth: through free markets, free speech, free elections, and the exercise of free will unhampered by the state."