France's Fuel-Tax Protests Expose the Limits of Macron's Mandate
France's prime minister announced major concessions on Tuesday, but the "yellow vest" protesters don't plan to quit anytime soon.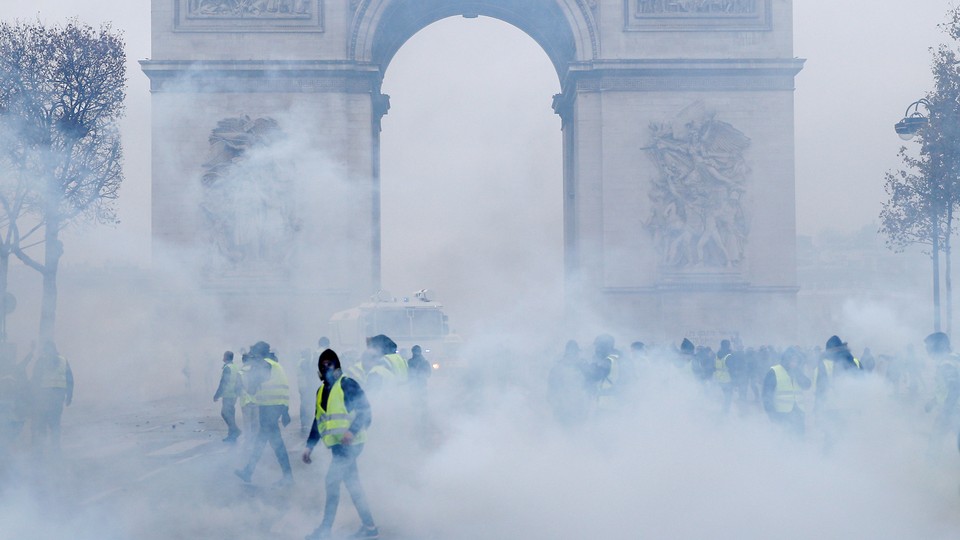 PARIS—The grassroots social uprising that's taken hold across France in the past three weeks is not an ideal crisis for Emmanuel Macron.
The youthful French president excels at lofty, often abstract, rhetoric; at symbolic gestures; at grand moments, such as the one last month for Armistice Day, when he united most leaders of the free world and gave a speech beneath the Arc de Triomphe—a monument damaged by unruly protesters last weekend.
What Macron lacks is a common touch, an ability to charm citizens and make them feel they're part of the story. So it's not entirely surprising that a nascent, leaderless, and sometimes violent popular revolt, the "yellow vest" movement, has caused the first political crisis of his presidency and its first actual defeat. On Tuesday, Macron's government backed down on one of its key policies, announcing a six-month moratorium on a diesel tax that was supposed to go into effect in January and was aimed at reducing France's reliance on fossil fuels.
A cornerstone of the French president's efforts to fight climate change through far-sighted legislation, the levy had met the ire of citizens, especially in car-dependent exurbs and rural areas without public transportation. Diesel now costs about €1.5 a liter in France, or about $6.50 a gallon, and the proposed tax would raise that even higher. The protesters have said that whereas Macron is focused on the end of the world, they are simply focused on the end of the month. And so for the past three Saturdays they've taken to streets and roadways across France, wearing the yellow vests that all motorists are required to own, in a series of escalating protests.
These rallies have been driven by a range of different agendas, but they have certainly been effective in eliciting a government response.
Finally, after weeks of building tension, Prime Minister Édouard Philippe addressed the nation on Tuesday. "No tax merits endangering the unity of the nation," he said. "I have listened to the French."
"It's the anger of a France that works, that works hard," he continued, "and that has trouble making ends meet." Philippe announced that the government would suspend the carbon-tax hike for six months, align diesel and gas taxes, raise the minimum wage by 3 percent in January, and delay a hike in electricity and gas rates that was set to go into effect this winter.
The government had to do something. A Harris poll this week found that 72 percent of French people supported the "yellow vests," while 85 percent disapproved of the violence that erupted last Saturday, when some demonstrators smashed shop windows, burned cars, defaced monuments, and scuffled with police, who responded with tear gas. Four people across France have died as a result of the protests. Monday's headline in Le Parisien, France's best answer to a tabloid, said simply: "Mister President, We Need Answers."
It was telling that it was Philippe, and not Macron, who announced the policy changes. A bearded, reassuring man of the right, Philippe is a career politician accustomed to the give-and-take of party politics. Macron is instead a technocrat whose election in 2017 was almost a fluke, and whose République En Marche party still lacks a base or deep roots in France. Macron may be on the right side of history with many of his policies, like the fuel tax, but to many French citizens, even ones who supported him, he comes across as tone-deaf and out of touch. This fall, for instance, he was criticized for telling an out-of-work gardener who had lamented how hard it was to find work that he should just try harder.
This week's Harris poll found that the vast majority of French people find Macron "arrogant," "disconnected from the reality of French people," and "too authoritarian." Only 17 percent found him "reassuring" and less than a third said he was "credible."
In the French media, the yellow-vest movement has been described as a jacquerie, or a "peasants' revolt." The term evokes centuries of French history and class struggle, and it also speaks to the divisions in French society today between Macron, the all-powerful president in Paris, the highly centralized capital, and the rest of France. A recent study in the Journal du Dimanche, a weekly newspaper, found that Macron's République en Marche party had received more donations from the U.K.—€800,000—than from all French regions outside Paris combined. His support is from cosmopolitan areas, not from people in the provinces who may feel left behind.
In his address on Tuesday, Philippe went further than the government has ever gone in expressing a kind of humility. He said he had heard the concerns of the French, and understood that French citizens felt their taxes were too high for the level of services they receive. He said he had learned two things: that the yellow vests love their country, and that they want lower taxes. "That is also what we want. Those are also our values," he said of the government. "If I didn't manage to explain that, then we need to change something."
Philippe said the government would hold a series of meetings with union leaders, community leaders, nonprofit organizations, citizens, and their representatives in the coming months, to try to take the pulse of the country and translate citizens' concerns into concrete measures. The suggestion is a way of trying to diffuse the tension, of kicking the can down the road, but also of trying to harness some of this political discontent ahead of elections for the European Parliament in May, which are likely to see right-wing parties triumph across Europe.
These new measures and conversations may curb the protests, but they probably won't put an end to them. What's happening in France has gone far beyond the fuel tax and spiraled into something more. It has become a vast and unpredictable reservoir of discontent that many other forces—political, apolitical, violent, nonviolent—are eager to draw on. The leaders of the far-right National Rally (formerly the National Front) and far-left France Insoumise want to capitalize on the demonstrations. The head of the center-right Républicans party has accused Macron of creating the anger.
Mobilized through Facebook groups, the yellow-vest movement has gone from a minor irritant for the government to a major destabilizer. Some protesters simply want a reduction of fuel taxes. Others want Macron to resign. Brigitte Bardot, whose politics are to the right, supports them. So does Dieudonné M'Bala M'Bala, the provocateur whose YouTube videos have a huge following, especially among young men in France's troubled suburbs, and whose anti-Semitic riffs have run afoul of French laws against hate speech. Everyone is piling on.
Macron's majority in the National Assembly is solid. The French system grants the president enormous executive power. There are no midterm elections, so the next time he'll be tested at the polls is in national elections in 2022. Still, with every yellow-vest protest, the chances grow that at some point Macron will have to adjust his agenda and his cabinet. On Tuesday, Stanislas Guerini, the spokesman for the République en Marche party, said that the government would stay the course. "Our ambition is to transform the country, and that hasn't changed," he said.
That may well be. But France has always been resistant to change, and the French street is not to be underestimated. This protest movement may yet force the government to transform, too.