The Blurring Boundaries Between Hong Kong and Mainland China
Chinese investment in Hong Kong's infrastructure comes at a cost.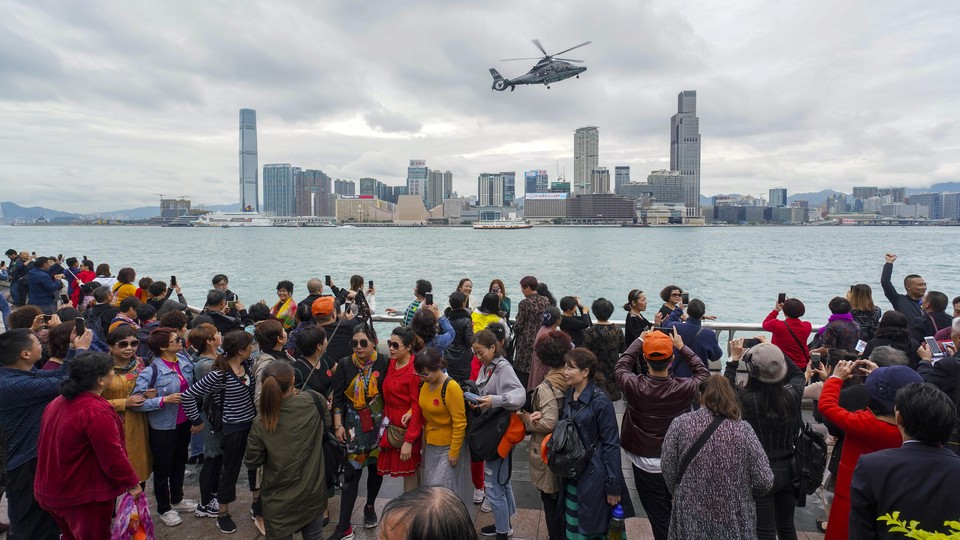 HONG KONG—Lau Wing Yin has a curious weekend pastime. He slips through malls and stakes out bus depots on the northwest corner of Lantau, Hong Kong's largest island. Armed with his mobile phone, he hunts for illegal tour guides, collecting photo evidence to turn over to police—what he believes is his part in curbing the sudden and swelling inflow of mainland-Chinese day-trippers here.
It was not always like this. Lantau was once a haven for pirates and, later, anti-Japanese fighters during World War II, but the island saw a surge of construction in the late 1990s as a new airport was developed. Even today, only around 45,000 people live in Tung Chung—a Lantau neighborhood near a bay that flows into the South China Sea—which remains relatively quiet compared with Hong Kong's bustling, frenetic center. Marked by hills covered with thick vegetation and capped with meadows, the island is home to several popular hiking trails.
Then, seemingly overnight in Lau's eyes, Tung Chung turned into a crowded extension of the mainland. In October, a 34-mile megaproject opened, linking mainland China, the former Portuguese colony of Macau, and Hong Kong by bridge and undersea tunnels—the world's longest sea crossing—via Tung Chung. Thanks to what is officially called the Hong Kong–Zhuhai–Macau Bridge, hundreds of thousands of visitors from the mainland can now cross into Hong Kong more easily.
The bridge is, critics in Hong Kong fear, the latest physical actualization of a more authoritative Beijing.
When Britain handed Hong Kong back to China in 1997, Beijing promised to allow the "special administrative region" to retain a "high degree of autonomy." Hong Kong is mostly made up of hundreds of islands, though it is also connected by land to China. As part of what is called a "one country, two systems" policy, the city has an independent judiciary, as well as separate financial and immigration systems from the mainland. Hong Kong has its own passport and currency, and its residents have rights denied elsewhere in the country, such as the freedom of speech and protest. Mainland-Chinese visitors to Hong Kong pass through a border, though many can be in the city visa-free for up to seven days.
A string of moves in recent months—from the opening of major infrastructure projects to the expulsion of a British journalist and the stifling of dissident voices—has, however, raised urgent questions about the sustainability of Hong Kong's unique status and culture.
"Beijing is speeding up the homogenization of Hong Kong into another Chinese city and escalating its crackdown on Hong Kong freedom," Ho-Fung Hung, a political-economy professor and expert on Hong Kong–China relations at Johns Hopkins University, said in an interview. "The physical infrastructure is definitely an integral part of the homogenization, as one common characteristic of these projects is to erode the Hong Kong–mainland China border."
Until the opening of the Hong Kong–Zhuhai–Macau Bridge, the most obvious example of this effort had been a high-speed-rail terminal. The station opened in September, connecting Hong Kong with the nearby mainland cities of Shenzhen and Guangzhou. Both the bridge and railway are part of Beijing's broader plans for development of what it calls the "Greater Bay Area," a long-running strategy that envisions linking Macau, Hong Kong, and nine of the most developed cities in Guangdong, a southern Chinese province, into a sprawling economic hub.
Under an agreement signed with Beijing, a portion of the rail terminal is designated a "mainland port area." Despite being physically located in Hong Kong, this section of the station is subject to Chinese laws enforced by police from the mainland. The U.S.-China Economic and Security Review Commission, a bipartisan congressional group that monitors national-security and trade issues between the United States and China, has called the terminal agreement a step toward "undermining Hong Kong's legal autonomy." (The Hong Kong government has dismissed that finding, saying in a statement that the commission's report was rife with "biased conclusions and unfounded accusations.")
As the physical border between Hong Kong and mainland China appears to blur, the space for dissenting views is rapidly shrinking, too. Last month, authorities in Hong Kong barred Victor Mallet, a British journalist working for the Financial Times, from entering the city after refusing to renew his work visa in October. Officials have offered no explanation for denying Mallet's visa. But his difficulties arose only after he moderated a panel in August at the Hong Kong Foreign Correspondents' Club with Andy Chan Ho-tin, a pro-independence activist, despite demands by Hong Kong and Beijing officials to cancel the event. Chan's Hong Kong National Party was banned in September by the government on national-security grounds, the first such expulsion since the 1997 reunification.
Additionally, a show by a well-known Chinese political artist, Badiucao, scheduled as part of a week of free-expression events was abruptly pulled after "threats made by the Chinese authorities relating to the artist," organizers said. And Ma Jian, a Chinese dissident writer, had two of his Hong Kong International Literary Festival speaking events at a government-backed arts center canceled. The venue said it did not want to be a platform for "political interests," but ultimately reversed course and allowed the author to speak after outcry from free-speech advocates.
And last week, the trial of nine leaders of the 2014 pro-democracy "Occupy" protests continued. They are facing public-nuisance charges in closely watched proceedings that underscore Beijing's efforts to politicize Hong Kong's courts. Each faces up to seven years in prison and has pleaded not guilty. The trial marks a continuation of the legal fallout for those behind the "Umbrella Movement," which brought tens of thousands of demonstrators into the streets of Hong Kong for rallies that drew comparisons to Beijing's Tiananmen Square protests of 1989.
"The whole thing is to make sure that Hong Kong is not a particularly outstanding identity at the end of the day," Claudia Mo, a pro-democracy Hong Kong lawmaker who has been a vocal critic of the infrastructure projects and an outspoken press-freedom advocate, told me.
People in Hong Kong say they have few options of recourse through the political system. There are no free elections in selecting the region's highest office; instead, Beijing wields significant influence on who gets the job, and what his agenda will be. "If they want something done in Hong Kong," Mo said, referring to Chinese authorities, "they just do it."
Despite these grievances, Hong Kong maintains a complicated, and codependent, relationship with the mainland. China has been Hong Kong's largest trading partner for more than 30 years and, in turn, Hong Kong is China's third-largest trading partner, behind only the United States and Japan. The quasi-autonomous city has long served as an important bridge between the mainland and the larger global economy, and so preserving its political status is also expedient for Beijing. But there are fears that as Chinese cities like Shanghai grow in importance, Hong Kong's position—and the freedom that comes with it—will diminish.
So some, such as Lau Wing Yin, have taken on the issue of the mainland's encroachment on Hong Kong themselves. In recent weeks, the 27-year-old hotel recruiter has gathered other Lantau residents into a loose neighborhood watch. They photograph people they believe are operating tours without a proper license and pass these photos along to police. Mainland China is Hong Kong's largest source of tourists, who are drawn in large part by the city's proximity and duty-free shopping. But Lau has been irked by these visitors—rather than the well-heeled tourists who flock to glitzy malls, those he views as "low class" shoppers looking for daily necessities such as shampoo and milk powder have been attracted to Tung Chung.
The majority of tourists from the mainland politely declined to speak when approached to be interviewed, and those who did talk refused to be named, fearful of drawing attention to themselves on the mainland. A group of elderly women who had arrived in the morning from outside Guangzhou sat with shopping bags filled with moisturizing cream and peppermint toothpaste near their feet. They were eager to see the bridge, they said, and for the chance to shop. "It's not about how much you buy," one said. "It's more about the quality of the products that you can purchase here."
Frustrations are already boiling over. On a recent weekend, opposing groups of protesters—Beijing supporters and those angered by the influx of tourists—scuffled near a shopping center in Tung Chung. Two people were arrested, and dozens of police now regularly patrol the area.
Roy Tam Hoi-pong, a district councillor from the pro-democracy Neo Democrats party, handed out flyers of a map showing red arrows from the mainland pointing toward Hong Kong, making the city appear not unlike a country under a wartime attack. Tam said there needed to be a strict limit on the number of mainland visitors. Those who only wanted to see the bridge did not need to set foot in Hong Kong, he said, and could instead visit an artificial island at the end of the crossing.
"After that," he said, "they can directly go back to Zhuhai."
Jessie Pang contributed additional reporting for this story.